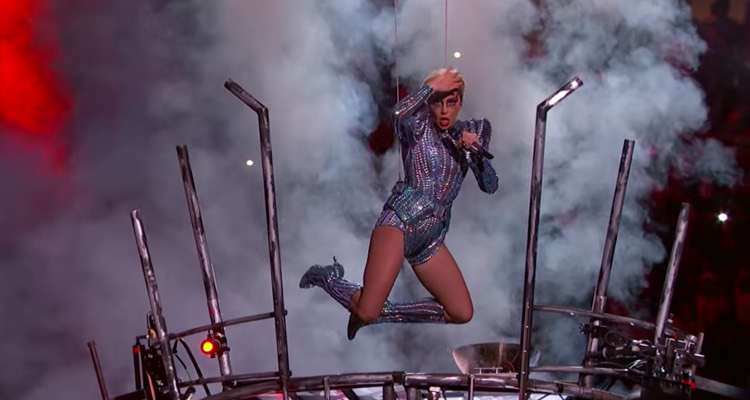 The second-string quarterback on a losing Super Bowl team gets paid $53,000.  Halftime performers like Lady Gaga are still getting paid $0.
Is this fair?  
Last year, the NFL admitted that it doesn't pay its marquee, halftime Super Bowl performers.  Now, it looks like a long-standing tradition of not paying musicians is continuing.
According to a source involved in Lady Gaga's performance detail, the superstar has been paid exactly $0 for her Sunday evening performance.  That is, a performance that included a 'dive' from the roof of Houston's colossal NRG Stadium, endless theatrics, fire, multiple songs, and even pre-performance interviews and press conferences.
By stark comparison, every player on the losing team from Sunday's Super Bowl LI got a $53,000 spot bonus from the NFL.  That includes everyone, even those that never play a down.  Members of the winning team, whether Tom Brady or his backup quarterback, get $107,000 each.
In total, that means the NFL pays a total of $2.81 million to the losing players, and $5.67 million to the winning players.  And that is just the players.
+ Bruno Mars Receives $0 for His Superbowl Halftime Performance…
This isn't a new development.  Back in 2014, leaked information also showed that Bruno Mars received nothing for his Super Bowl Halftime performance.  "Though the league has attracted acts as varied as Beyonce, Paul McCartney and Michael Jackson to perform during its biggest game in the past, it has never paid any of them," Time reported after receiving similar tips.
Other recent performers, including the Red Hot Chili Peppers, Beyonce, and Katy Perry have also reportedly been paid nothing for their shows.
"It's a pretty good deal.  It's the famous win-win for both parties."
In response, the NFL has actually admitted that halftime performers are paid nothing.  But, they responded that the exposure was well worth it.  "We're putting someone up there for 12 and a half minutes in front of the largest audience that any television program garners in the United States," NFL Director of Programming Lawrence Randall said at the time.
"It's a pretty good deal.  It's the famous win-win for both parties."
That said, Lady Gaga did ink a multi-million dollar deal with Pepsi, also a Super Bowl LI sponsor.  While that money isn't directly paid to Gaga for her performance, it probably wouldn't be possible without it.  The Pepsi deal is expected to continue through much of 2017, with the Super Bowl blasting things off.
And, blasting Lady Gaga's comeback.  That's important for an artist like Gaga, who probably peaked several years ago and needed the boost.
Super Bowl LI was watched by more than 111 million people, according to Nielsen stats.