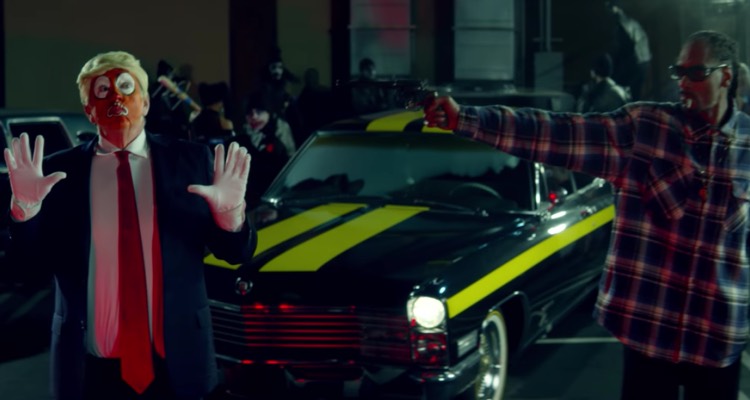 This is what you might call 'serious f—king beef'.  Donald Trump has now personally responded to Snoop Dogg's mock assassination video, demanding justice.
Rapper Snoop Dogg is now facing serious heat for releasing 'Lavender,' a music video that simulates an assassination of Donald Trump.  After initial warnings from both Marco Rubio and Donald Trump's attorney, the President has now personally responded to the video.
In a rage tweet issued this (Wednesday) morning, Trump demanded justice, including 'jail time' for the rapper.
Threat of felony charges.
The timing of the tweet may not be accidental.  And given Snoop Dogg's stature, serious felony charges may be next.  At this stage, involvement by federal law enforcement seems likely, with Class E Felony charges potentially filed.  That could potentially put Snoop Dogg behind bars for decades, if not for a life sentence.
Separately, YouTube itself may face pressure to pull the video, based on direct threats to assassinate the president.  At present, the video still stands.
+ Trump Attorney Issues Warning Against Snoop Dogg Over Assassination Video
A threat of this nature, from a rapper of this notoriety, is a first.  But there's already precedent for clamping down on perceived threats.  Earlier, little-known rapper Renizance was interrogated after releasing 'Trump Dies,' which contained detailed plans to kidnap and murder the President.  The hair-brained scheme was almost laughably impossible, but still attracted federal enforcement scrutiny.
Inside the White House, fears may be escalating over continued, high-profile death threats.  And into that climate enters Snoop Dogg, an extremely high-profile and influential rapper.  Accordingly, the Trump Administration, FBI, and Secret Service may opt to press charges against Snoop, if only to create a stark example for others.
Meanwhile, the video now has 2.3 million views (and counting) after 48 hours.  The mock assassination happens shortly after the 3 minute mark.
More ahead as this develops.