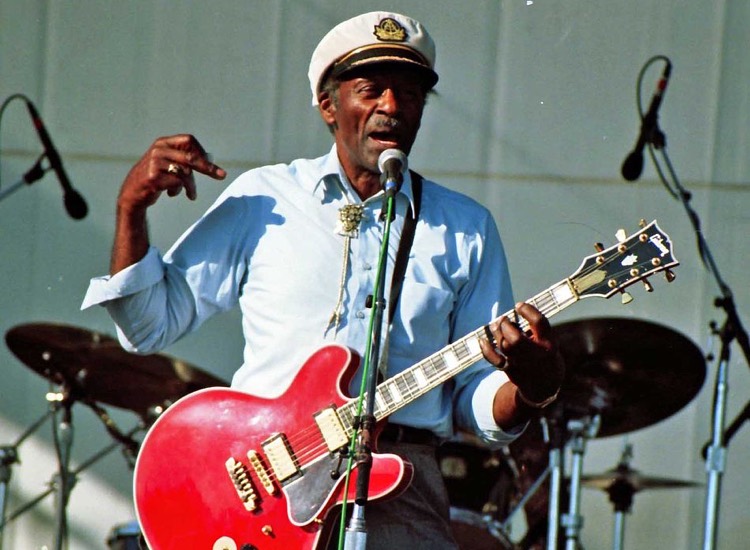 Nice: Not only did Chuck Berry avoid the perils of poverty, he actually died a very rich man.  That is, $50 million rich, bitch!
You know the sad story.  Pioneering musician influences millions, but doesn't make millions.  Dies penniless, the victim of one brutal scam after another.
Throw some drugs and alcohol into the mix, and the depressing story is complete.
Well, none of that applies to Chuck Berry.  Just days after rock n' roller's death, figures reveal a $50 million fortune.  According to a net worth estimate published this morning by Billboard, that $50 million dollar figure is conservative and spans recordings, publishing, and even real estate assets.  Turns out Chuck Berry was just as focused on his business as he was his groundbreaking music.
The 'conservative' estimate was offered by attorney Bob Baldori, who worked closely with Berry.
Underneath that $50 million figure is a tough negotiator, and someone willing to correct mistakes.  After signing his first deal with Chess Records, Berry admitted that he didn't know that publishing and recordings generated separate revenues.  "I didn't understand most of the terms of arrangements of publishing," Berry admitted in his 1987 book, Chuck Berry: The Autobiography.
"I didn't know that a person got compensation for writing as well as recording a song."
$2,500 in a paper bag.
Chuck Berry also started full-proofing his royalties with a system of checks-and-balances.  Sometimes, that came at the detriment of the quality of his music, and made the singer look rude and cheap.  In one famous story, Berry insisted on receiving $2,500 in a brown paper bag before appearing in Hail! Hail! Rock 'N' Roll, a documentary commemorating his 60th birthday.
+ Chuck Berry's Family Reveals an Unreleased Album
In many other scenarios, Berry demanded upfront cash — and flat-out refused to play if he didn't get it.  That helped to forge a tough reputation, though the reality is that those tactics undoubtedly saved Berry from endless non-payments.
The hands-on musician also negotiated and reviewed many of his own contracts, with specific instructions handed to tight-leashed attorneys.
Fast-forward to the present, and Berry's considerable stable of hits is still generating income.  Even on Spotify — a platform that was unimaginable in Berry's 1950s heyday — both publishing and recording royalties are being generating across both publishing and recording channels.
+ Chuck Berry, Rock n' Roll's Greatest Musician, Dead at 90
Currently, Berry's considerable catalog is owned by Universal Music Group, BMG and the artist's own Isalee Music.  And conservatively speaking, the aggregate of mechanical, performance, recording, and other rights are likely generating low millions in revenues per year.