Death threats against Kpop superstars BTS have now prompted heightened security measures at the Honda Center.  The group is playing in just a few days but will not be canceling. Here's the latest.
Please note: the following is a developing story.  Please check back for ongoing developments.  Last updated: March 27th 11:15 am CA time.
A series of nasty and specific death threats against BTS member Jimin is prompting security alerts at the Honda Center.  The venue in Anaheim, California will host BTS for two sold-out dates on April 1st and 2nd.
The attacks coincide with an ambitious, far-reaching BTS global tour.  Recent dates include Japan, South America, Mexico and the United States, among other markets.  Separately, the group has been collaborating with rapper Wale and pop singer Charlie Puth, all part of a meteoric 2017.
The Honda Center, managed by Anaheim Arena Management, has a capacity of nearly 19,000 for music events.  Fans will come from all over Southern California, including Los Angeles and San Diego.
The shows themselves have not been canceled.  But Honda Center security has responded and will be elevating alerts.   BTS just concluded a string of successful US dates, including shows in Chicago and Newark, NJ, without incident.
+ BTS Outsmarts China With a Sold-Out Worldwide Tour (See Dates)
Nature of the threats.
The threats themselves have been directed at BTS member Jimin.  They also include specific information about methods for killing Jimin during an upcoming Honda Center performance.  That includes shooting the singer from the rafters, with seats specified.
Earlier, trolls started accusing the BTS member of hating international fans, and disrespecting them on tour. Exactly where the accusations are rooted is unclear, though heated exchanges ultimately led to threats.  Though the troll (or trolls) remain anonymous, the threats included pictures of guns, knives, a bloody hand and a murdered pig.
These aren't garden variety threats.  Instead, the hatred includes the creation of specific Twitter accounts dedicated to Jimin death threats.
Here's just a sampling of the threats captured by Allkpop; Twitter has deleted the accounts in question.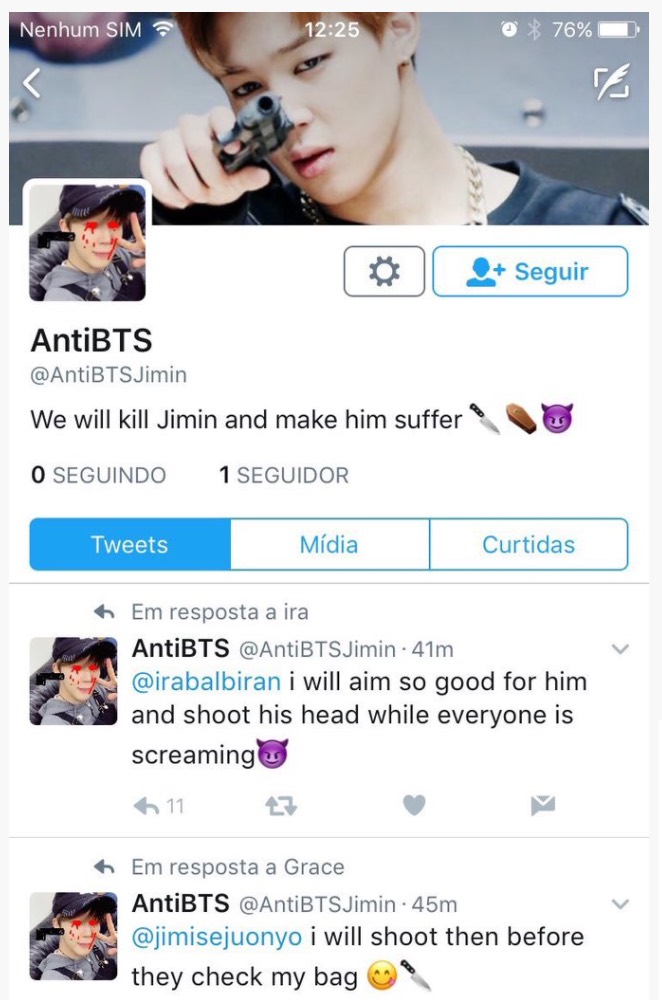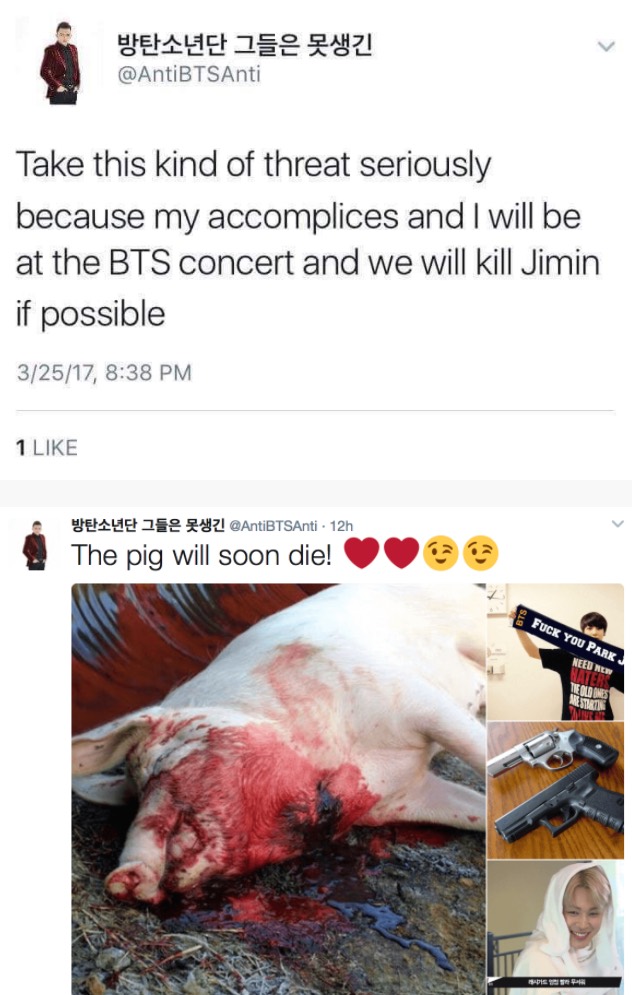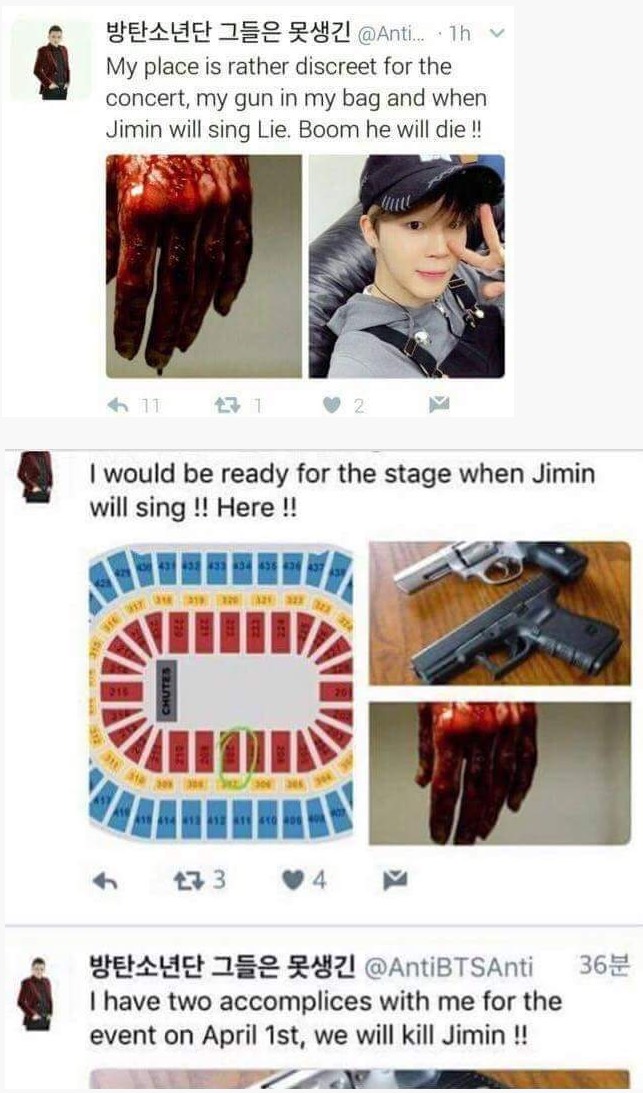 Reaction by Honda Center.
On the ground in Anaheim, Honda Center officials have also committed to stepped up security.  "We are aware of the situation and have notified our security team," the Honda Center responded.  At this stage, we're unclear whether the arena has examined threats involving specific seats.
Undoubtedly, intensified entrance checks are being ordered.  Bags will be thoroughly checked for knives, guns, and other suspicious contents.
+ 'Low Life' BTS Fans Accused of Ruining KCON '17 In Mexico
Big Hit: Taking This Seriously?
The group's label and management firm Big Hit Entertainment has now responded.  And frankly, it doesn't sound like the label is taking this too seriously.   In a statement issued over the weekend, Big Hit noted that the entire thing is probably a joke by 'anti-fans,' but is taking precautions nevertheless.
"We believe that it is a joke by an anti-fan.  But just to be sure we are taking measures," Big Hit told Soompi.   "We are working with the local staff and police to enhance the security."
So far, no reports of arrests or suspicious activity.  More as this develops.