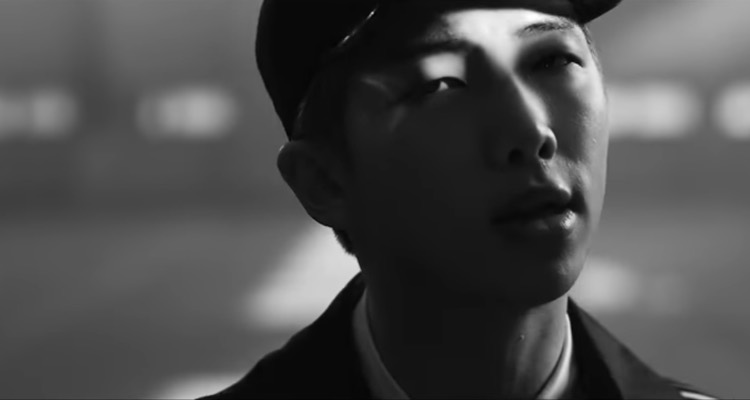 Justin Timberlake didn't need 'NSYNC anymore.  But would Rap Monster be anything without BTS?
Rap Monster is the biggest and most visible member of fast-rising group BTS.  But does that mean he can venture into treacherous solo waters?
For now, that looks like a sure-fire path to career suicide.
According to data on the just-released 'Change,' Rap Monster carries little weight outside the BTS group.  The track, a collaboration with DC-based rapper Wale, has garnered a modest 4 million views after about 10 days.  By stark comparison, the Bangtan Boys' two previous videos are both approaching 60 million views — each.
+ Bangtan Boys Battle More Plagiarism Charges as Rap Monster Confession Surfaces
Those videos — 'Spring Day' and 'Not Today' — were both released in February.  But both smashed one-day viewing records for a kpop group, and blasted interest ahead of an ambitious tour.  The Wale track, meanwhile, garnered far less attention and hype from the loyal ARMY fanbase.
'Change' is a solid track, and Wale a charismatic rap partner.  But without the full-blown Bulletproof cast, the track simply lacks the explosive energy that BTS brings.
As a collective, the Bangtan Boys want to conquer the world.  As a soloist, it seems that Rap Monster almost has one-fifth the energy.  As a result, dedicated ARMY fans failed to show up!
+ BTS Death Threat Update: Honda Center on Heightened Alert; Label Responds
Meanwhile, global recognition on BTS is just getting started.  So naturally, people are finding out about Rap Monster only after becoming BTS converts.  And despite a big surge, name recognition in major markets like the United States is almost nonexistent.  All of which explains why interest around 'Change' was dramatically lower.
So take it from me, kid.  Don't ditch out on your Bangtan Boys just yet, Rap Monster!  You need them a lot more than they need you.
Written while listening to Future and Lil Uzi Vert.