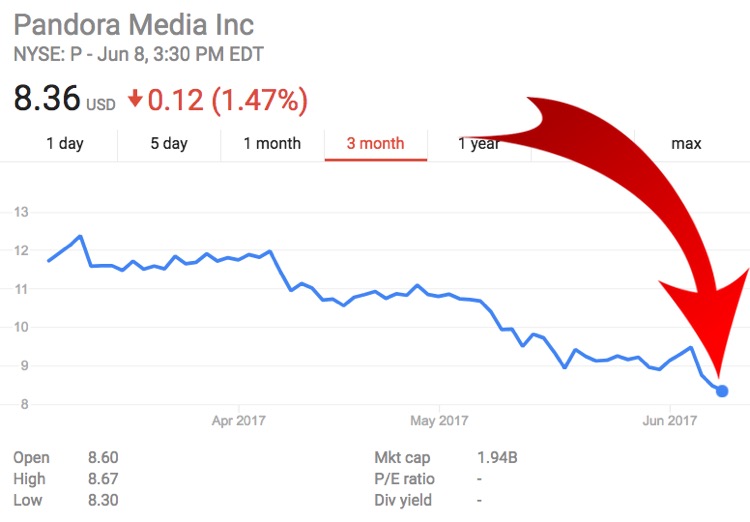 Maybe this is all Spotify's fault.  Maybe Pandora only has itself to blame.  Either way, Pandora is now battling a tailspin in valuation as Sirius vultures overhead.  Here's the latest.
Falling subscribers.  Sagging subscriptions.  A surging Spotify.  Welcome to the daily nightmare endured by Pandora, once the darling of music streaming.
Now, the company is battling to stay afloat as Wall Street hammers it southward.
On Thursday, Pandora's stock assumed a tailspin as an expected buyer failed to materialize.  What buyer?  Early last month, Pandora inked a complicated $150 million loan agreement with KKR Holdings pending an acquisition within 30 days.  That day has now arrived, without the expected suitor.
The cash injection has plenty of unsavory strings attached, but offers a lifeline.  And with annual losses topping $334 million, it's never been more expensive to keep the lights on.  Hence Pandora's arrangement to take the cash, if it couldn't get anything else.
Unfortunately, that 'better deal' has yet to materialize.
Now, the company is scrambling to buy some breathing room and extend KKR's window.  And Sirius XM, whose offer was rebuffed before, may be looking for a bottom-of-the-barrel bargain.  Actually, the online radio streamer has only referred to a 'strategic investor' in the wings, though many have tied that to Sirius.
Specifically, Pandora noted that the extension would allow the company to "explore interest expressed by a strategic investor in making a substantial minority investment."
Fun times!
Separately, Pandora launched its 'Autoplay' feature today.
Basically, 'Autoplay' shuttles premium users into a recommended playlist after a playlist ends.  Sounds cool, and somewhat similar to a recommendation feature offered by Spotify.  Which is exactly the problem: Pandora's premium tier is good but late, and not properly differentiated to make a dent against Spotify or Apple Music.
At present, we're not sure what Pandora's premium subscriber numbers are.  But the company has pointed to some encouraging early stats.  For starters, premium trials are largely from those under 35, suggesting a coveted Millennial grab.  But trial users also seem to be enjoying recommended playlists, with 97 percent checking out a playlist created for them.
Meanwhile, the stats remain impressive on both Amazon Alexa and Sonos.  According to CEO Tim Westergren, the company accounts for roughly 40 percent of all Alexa listening and 50 percent of Sonos listening.
Whether any of that addresses sagging subscribers number is a difficult guess.  At present, active users are at a two-year low, with at least one accusation of outright reporting fraud.
More as this develops!  Stay tuned.