Katy Perry releases her first album in four years.  Taylor Swift releases 1989 and her entire back catalog to all streaming services (including Spotify) on the same day.  Just a coincidence?
Is Taylor Swift being, well, petty as f—k?  That's the accusation now dogging the singer, especially given Swift's reputation of ruthlessly swiping at her rivals.
And so we have a case of some very curious timing.  Enter Katy Perry, who just debuted her first album in roughly 4 years.  It's a pretty strong release, and one accompanied by a major publicity push.  Then, on game day, Swift suddenly decides to release her entire back-catalog to Spotify, Amazon Music, and every other streaming service.
Swift could have done this on any day, really.
Take that, bitch?
Perhaps just a coincidence.  Though Swift's decision on streaming completely contradicts earlier declarations.  Back in 2014, Swift blasted Spotify for being a 'startup with no business model' and an enemy of artists.  She also railed against free content access, while imploring artists to know the value of their art.
"Music is art, and art is important and rare," Swift wrote in the Wall Street Journal.  "Important, rare things are valuable. Valuable things should be paid for.  It's my opinion that music should not be free, and my prediction is that individual artists and their labels will someday decide what an album's price point is.  I hope they don't underestimate themselves or undervalue their art."
So, if music shouldn't be free, why is Swift's entire catalog now available — for free?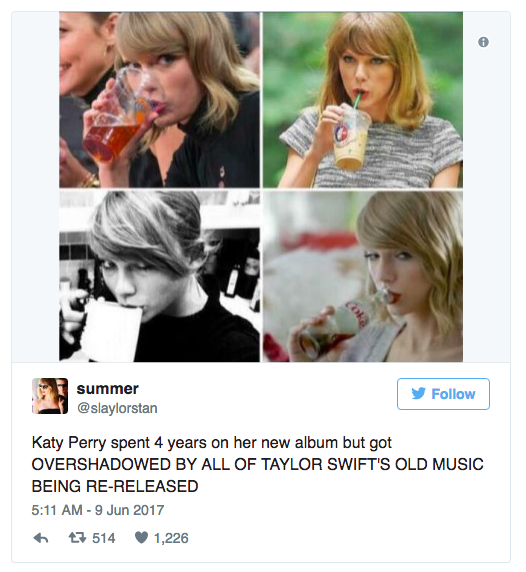 The timing wasn't lost on Katy Perry fans.  "Taylor Swift releasing her full back catalog on Spotify the same day Katy Perry drops her new album is the level of petty I aspire to be," one Twitter user blasted.
Meanwhile, Katy Perry is accusing Swift of attempting to 'assassinate' her character.   So, is a blast of releases on Spotify just another attack?  "I'm not Buddha – things irritate me," Perry told NME. "I wish that I could turn the other cheek every single time, but I'm also not a pushover, you know? Especially when someone tries to assassinate my character with little girls. That's so messed up!"
Others theorize that Swift decided to release her older material as part of a structured release strategy.
In that approach, newer content is initially restricted to paid platforms.  After the excitement and demand dies down, ad-supported, free platforms like Spotify can offer albums like 1989.
It's a less controversial explanation, but a possibility nonetheless.  Or, maybe just another reason for Swift's decision.  Curiously, Spotify just inked an agreement with Universal Music Group to restrict frontline releases to paying customers.  So maybe Taylor Swift is planning to restrict her next release to premium Spotify users.  Let's see.
Beyond that, there's this: Spotify may simply be winning.
Once upon a time, artists could hold out and win.  Now, maybe even the biggest superstars need Spotify to survive, because everyone is on Spotify.  And holding out on Spotify means losing relevance (see above).
Maybe she needs them, more than they need her.