Sick of stand-alone turntables but hate the all-in-one crappiness?  Now, it's time to go into the future with a serious built-in speaker alongside Wi-Fi and Bluetooth connectivity. Oh, and don't forget the kevlar fiber.
The Seed Turntable wants to bring vinyl records into modernity.  And they're doing it by combining vinyl records with WiFi, streaming, and other modern musical amenities.
Produced by HYM Seed Audio, the Seed Turntable aims to provide an all-in-one, multifunction solution for your vinyl turntable needs.  It provides wireless streaming in a standard turntable with an external speaker.  According to its Kickstarter page,
"No need to bother with complicated or expensive audio devices.

"Combining high-end turntable with speakers, Seed is a complete solution to enjoy both great vinyl experience and excellent audio quality all at once."
The Seed Turntable provides high-fidelity analog sound with 70W output.  It also supports streaming via Bluetooth and Wi-Fi.  It can also connect to larger systems thanks to standard RCA and optical outputs.
This combo-platter provides two 1" silk tweeters along with two 4" subs.  HYM Seed Audio adds,
"Seed is able to drive 70W output, and the dynamic range is increased by 20% more than full-range speakers.  So from subtle gasps to grand orchestra performances, Seed presents all the details in the sound and immerses you completely in the music."
The manufacturer adds that the Seed the all-in-one "produces audio accurately to the original source."  Just to ensure the best sound quality, HYM "applied ballistic, Kevlar fiber to enhance deep bass response."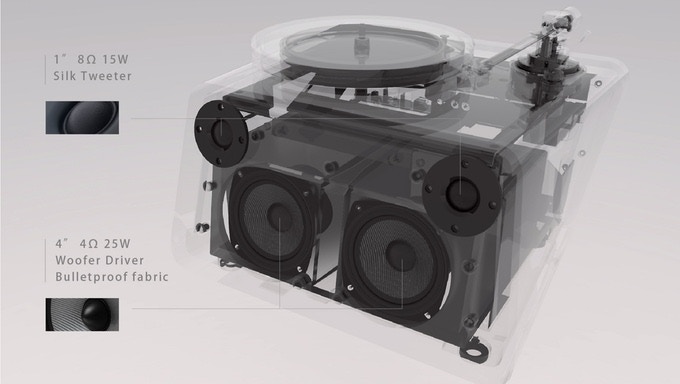 Seed's creation has surpassed its $40,000 Kickstarter goal.  With just under 18 hours left to go, it has earned $350,925 as of writing.
HYM Seed Audio will start shipping their vinyl turntable starting in August.  Just don't take it to the beach.
Featured image by HYM Seed Audio