Looks like 'The Gathering' scammed artists and fans with a sham music festival.  The organizers have been accused of skipping town.
2017 hasn't been a great year for music festivals.
First, fans that attended Ja Rule's $12,000-a-ticket music festival quickly found half-built tents, piles of garbage, and feral dogs.
One month later, the Pemberton Music Festival in Canada abruptly declared bankruptcy.  Fans who had purchased their tickets in advance found that they wouldn't receive refunds automatically.
Now, a festival organizer and his wife have been flat-out accused of scamming artists with a sham music festival in South Carolina.
Lighting that will melt your face and visuals that will blow your mind!
Relatively unknown company EDM United Events had organized the music festival in Charleston.  In a flyer circulated on Facebook and Twitter, organizers had promised fans "impressive sound and lighting."  Twenty "amazing" DJs and producers would perform across "four themed stages of sound."
The company had also promised music fans "50,000 watts of sound, amazing lighting that will melt your face, visuals that will blow your mind, an Oxygen BAR, Food vendors and a Beer Cave."
Leah Culver and Ralph Louie were among those who would headline the October 7th event.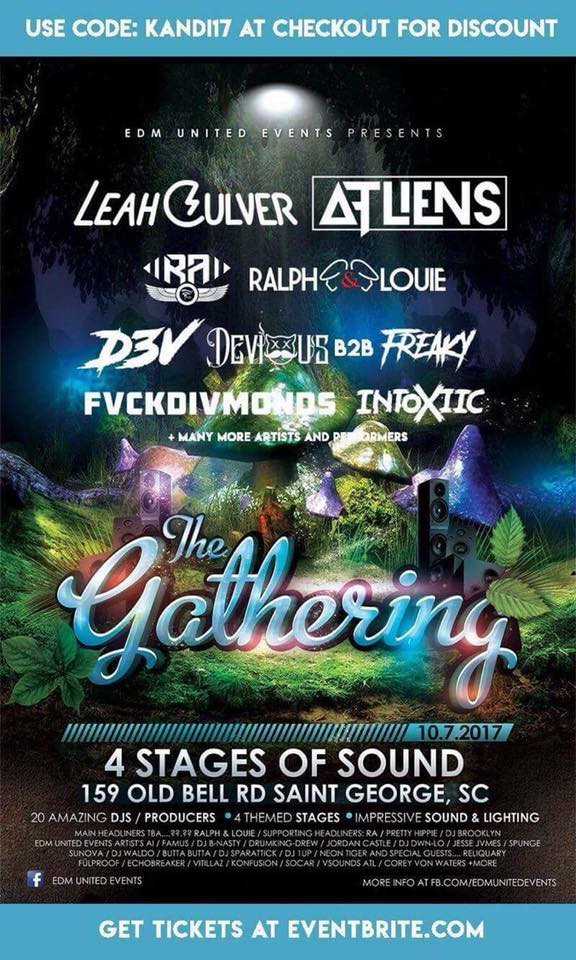 Fvckdivmonds, an EDM DJ, had also promoted the event on Twitter.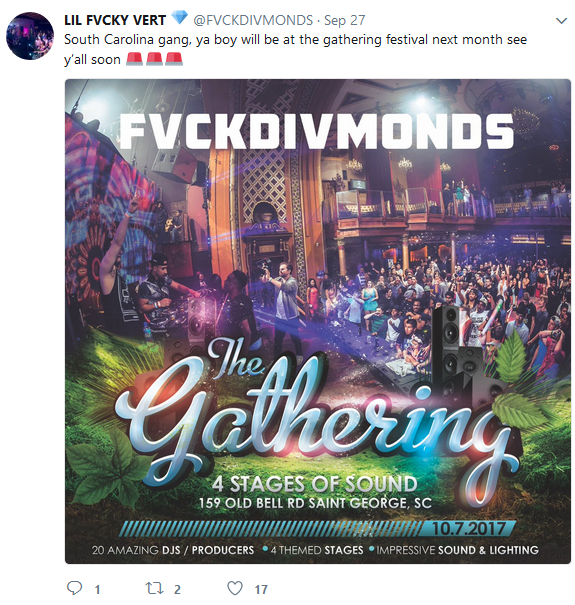 There was just one problem: the entire festival was a scam.
You pay $130 for a wooden stage and a few speakers.
EDM Confessions, a popular Facebook page, posted an image showing how the event unfolded.
Only four to five people had set-up a poor-quality stage and eleven speakers.  Confirming that The Gathering festival had taken place, ATLiens, another event headliner, wrote,
"We had no idea what we were getting ourselves into."
Tickets cost around $130 each.
Other scheduled performers quickly took to Facebook to decry the event.  Matthew Bartlett (DJ B-Nasty) and Carlos Alvarez explained what had happened.
Andrew Murdock, owner of EDM United Events, has become a focal point of inquiry.  Murdock has been accused of telling artists and producers that he had done business for "17 plus years."  With multiple promises, he also reportedly lined up investors to back the show.
Once The Gathering festival rolled around, Murdock, along with his wife, were accused of skipping town.  Alvarez thanked those who managed to provide payments to artists.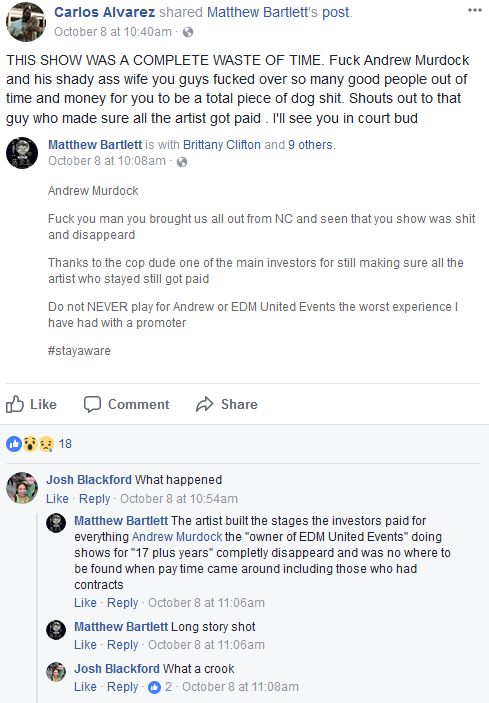 Another DJ, Josh Ware, who helped set-up the stage, wrote,
"I didn't get paid for DJing or setting up.  Me and like four or five dudes are the only reason anyone had a stage to even play on.  I'm giving him until Friday to pay me.  I don't want my money from anyone else but Andrew or His Wife."
It remains unclear how many artists actually received payments.
EDM United Events' Facebook page was completely deleted.
The company's Twitter page is still up.  However, it has remained noticeably quiet after the event.
A Facebook page with the name 'Andrew Murdock' remains active with a profile photo updated one hour ago.  As with the Twitter account, the page had promoted The Gathering.  The owner had also promoted ATLiens and other festival headliners on his Facebook page.  It's unknown whether the page belongs to the owner who set-up the failed music festival.
More as this develops.
---
Image by EDM Confessions (Shared on Facebook)