Google has now received billions of takedown requests for infringing piracy links.  Actually, 3 billion and counting.
The battle against digital piracy always seems to be a losing one.  Yet, in a seemingly uncelebrated milestone, Google has now received over 3 billion takedown requests.
The massive number was reported by Google itself.  It's all part of a tracking and 'transparency' project by the search giant.
So who sends in the most requests?
Currently, Google has received 3,004,747,844 takedown requests for infringing links.  And counting.
Rivendell, BPI, and Degban rank as the top reporting organizations.  Collectively, they've submitted a big portion of the takedown demands.
Rivendell submitted the most takedown requests for infringing links.  The organization has focused on links from unblocksites.co, deep-warez.org, and israbox.net.  The organization has sent the most requests for content belonging to Metropolitan, CPP, SACEM, and Citel Video.
On the music side, the BPI (British Phonographic Industry) submitted the most takedown requests for infringing links.
Most of those infringements came from dilandau.eu, popular cyberlocker 4shared.com, and chomikuj.pl.   Most of the requests were done on behalf of the three major labels — Sony Music Entertainment, Universal Music Group, and EMI.
Degban requested that Google take down links from torrenthound.com, unblocked.pw, and ExtraTorrent clone site extratorrent.cc.  Degban has sent the most takedown requests for content belonging to MG Premium, Froytal Services, and RK NetMedia.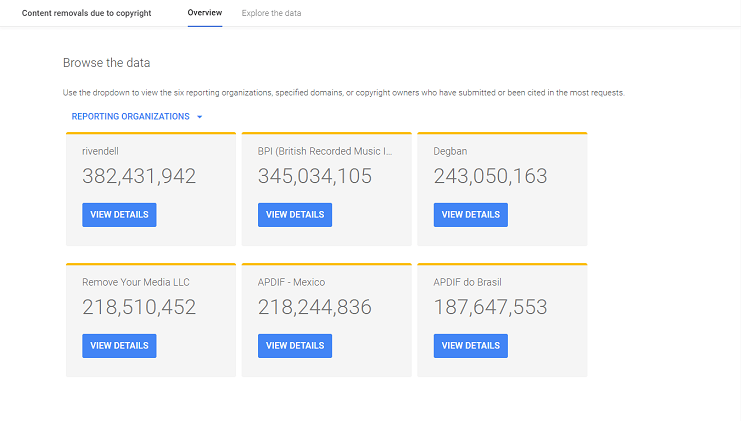 3 billion takedown requests and counting.  But how effective is any of this?
Despite reaching the 3 billion milestone, copyright groups say that Google simply doesn't do enough to address rampant piracy.  And the reason is that infringing links frequently reappear — often within hours.
Of course, the infringing site itself remains, because Google controls its search engine, not the entire web.   So a 'takedown' only means that the search giant will de-index the site.  Accordingly, users may still find other links to infringing content on Google.
That sounds pretty obvious to most people.  But Google contends that it gets blamed for a piracy problem it didn't create.  It's just indexing what's out there.
In addition, in true whack-a-mole style, when one popular piracy site goes down, several clones take its place.  Earlier this year, after ExtraTorrent mysteriously vanished, site 'moderators' and 'admins' resurrected the site.  The clone site has now reached over 9 million unique visits.
A quick Google search shows several cloned ExtraTorrent sites.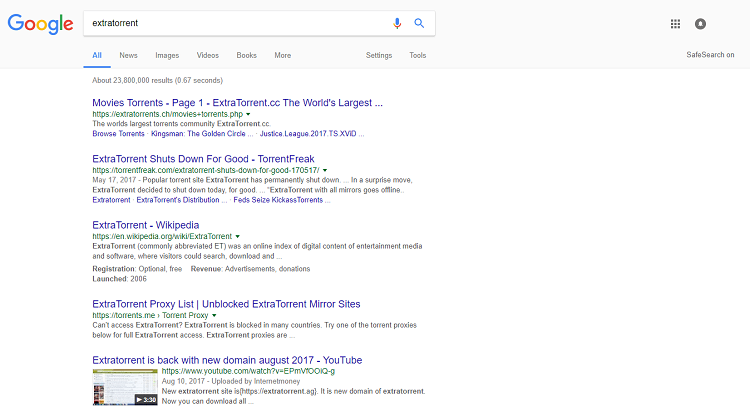 Accordingly, content creators and entertainment industries blame Google for not doing enough to block piracy websites.  In response, Google says it's not the internet police.
In a statement to TorrentFreak, BPI's Chief Executive Geoff Taylor spoke about the uphill battle that copyright owners face.
"This 3 billion figure shows how hard the creative sector has to work to police its content online and how much time and resource this takes.  The BPI is the world's largest remover of illegal music links from Google, one third of which are on behalf of independent record labels."
Those claims notwithstanding, the British music organization acknowledged that top search engines have done more to take down pirate sites.  Accordingly, Google and Bing have reportedly changed their algorithms to take down "the worst pirate sites."  (The Pirate Bay, the world's largest torrent site, still remains heavily indexed on both search engines.)
"Other intermediaries should follow this lead and take more responsibility to work with creators to reduce the proliferation of illegal links and disrupt the ability of illegal sites to capture consumers and build black market businesses that take money away from creators."
But with clone sites rapidly appearing on search results, will the music industry (or any other) ever win the fight against rampant piracy?
---
Image by Jon Aslund (CC by 2.5)