It was a rare viola de gamba built in the 17th century.  Sadly, the instrument was crushed after being forced into checked luggage by Alitalia Airlines.
We've heard of airlines destroying guitars and flattening tubas.  But this one takes the cake.  The incident occurred earlier this month to viola de gamba virtuoso Myrna Herzog, regarded as a worldwide expert in viols.
Accordingly, Herzog is the owner of one of the rarest viola de gambas in the world.  According to Herzog, the instrument was one of two viola de gambas built in the early 1660s.  Both instruments were created from the same tree — and actually, Herzog owns the pair.
Classical musicians with larger instruments typically reserve an extra seat to protect their instruments.  That offers the greatest insurance against damage, because it's basically as safe as a human.
So that was Herzog's plan, and she purchased the extra seat 40 days in advance.  She also arrived three hours early for her flight, per the instructions of Alitalia Airlines (the flight — with a connection — was from Rio de Janiero to Tel Aviv; Herzog is a Brazilian-born Israeli).
+ The Next Time an Airline Makes You Check Your Guitar, Show Them THIS
Unfortunately, Alitalia refused to allow the viola de gamba onto the flight, insisting that it was not permitted.
Apparently baby strollers and wheelchairs make it on, but larger instruments don't.  Or at least that was the ruling of the Alitalia crew on the ground in Rio.  Maybe they overbooked the flight — or just didn't like Herzog (who knows).
So Herzog reluctantly checked the instrument.
That proved to be a serious mistake.  When Herzog arrived on the other side, she couldn't find her viola de gamba.  Eventually, this came out: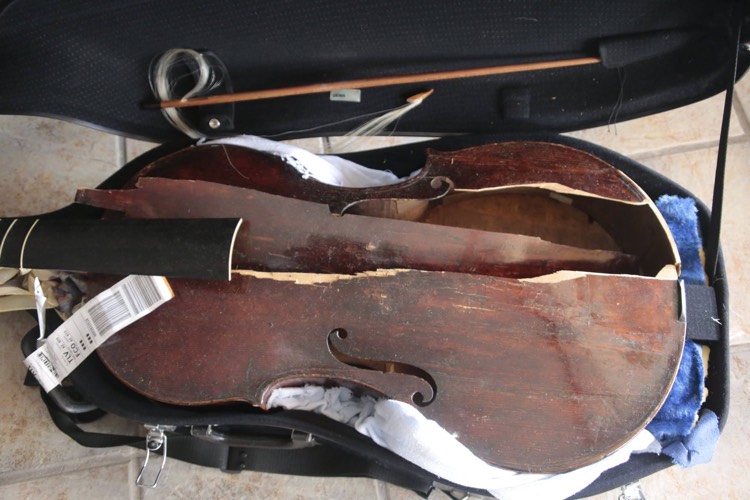 What happened next was even worse.
According to Myrna Herzog's Facebook account, Alitalia initially refused to release the instrument until she signed a release.  After signing the release paperwork, the mangled instrument was presented.
(Without seeing the paperwork, we can only guess that Herzog was waiving her right to sue Alitalia for damages.  By refusing to hand over the damaged instrument until she signed the document, Alitalia created extra pressure to sign the release without a proper review.)
After that, the musician couldn't contact anyone at the airline.
In fact, it was only until an uproar emerged in the classical community that an Alitalia representative reached out.  The reaction has included coverage across a number of classical music sites, including classical.fm, with pictures of the smashed instrument prompting outrage.
But Alitalia only offered partial compensation for the error.  According to Herzog, the 'reimbursement' won't cover the price of the instrument or a new case (which was obviously smashed and useless).
+ 2008: United Airlines Smashes a Customer's Guitar. 2017: United Airlines Smashes a Customer's Face
But there's some good news.  After the situation died down, Herzog reported that a repair was possible.  The restructured instrument might have some playability differences, but at least it's not dead.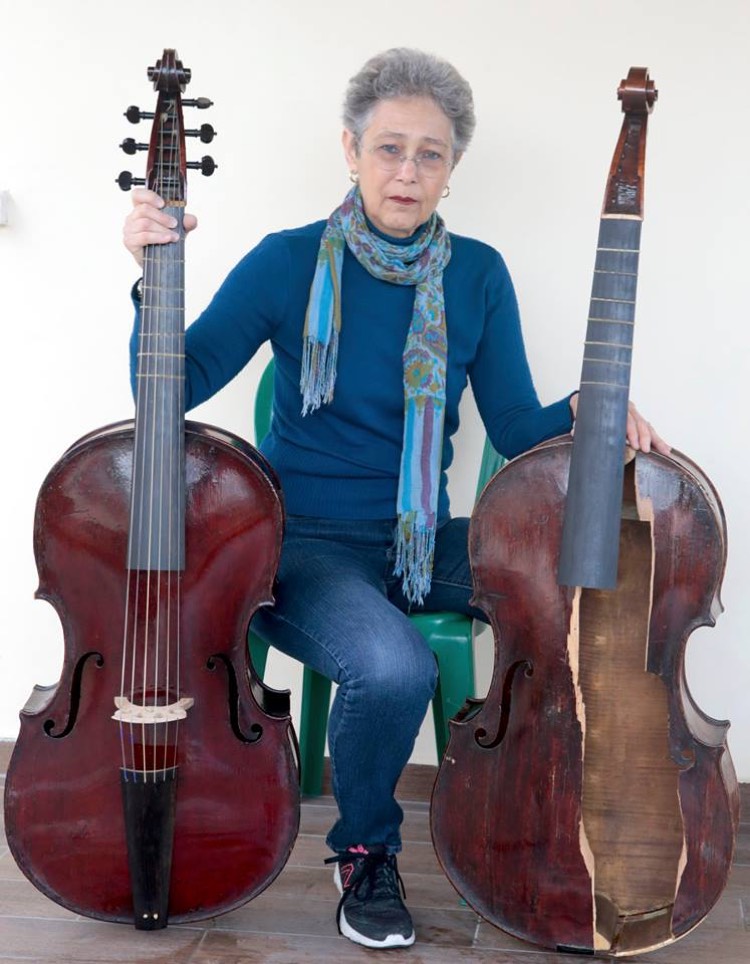 Earlier this week, Herzog offered this detailed set of answers to a barrage of questions about the damaged instrument.
Here's the letter.
AN OPEN LETTER regarding the damage of the Lewis viol on Alitalia flights AZ673 and AZ806
"Before answering the many questions voiced over facebook, I wish to heartily thank all the amazing, outstanding people from different parts of the world who generously offered support and help, with concern and empathy. I would like also to stress that no unfortunate event will ever change my great love and admiration for Italy, its people, culture, and music.
First question: can the Lewis viol be repaired?
Yes, it can, and with luck it will be singing again in next season's concerts, marking 20 years of the Israeli PHOENIX ensemble.
Second question: is the Lewis really a viol 

 viola da gamba)?
Yes, it is. Since 1994 I have been writing articles on the subject of viols with violin/cello features (like the Lewis), that were published in the Grove's Dictionary of Music and Musicians (Quinton entry), Early Music (cover article of the Feb 2000 issue), the Journals of the British and the American Viola da Gamba Societies, and of the Galpin Society, and in the book The Italian Viola da gamba. I also wrote a doctorate thesis on the subject which aims to enable the location and restoration of instruments like the Lewis, that have been transformed into celli due to their cello-like features: see https://independent.academia.edu/MHerzog
Third question: are there 2 Lewis viols?
Yes. The viol which was broken is one of 2 twin viols made by Edward Lewis, which my husband Eliahu Feldman and I have located, identified, bought and restored over the time span of 15 years. According to the dendrochronology made by John Topham, the two viols were cut from the same tree around 1661/2, as was another extant Lewis viol (in the usual viol shape). See https://www.academia.edu/3197…/The_Division_Viol_an_overview
Fourth question: do these viols belong to any institution?
No, they were bought privately by my husband Eliahu Feldman and myself over the years, restored and maintained with our own resources.
Regarding the Alitalia event: 
Fifth question: when, and how did Lewis viol get to Brazil? 
Seven years ago, shortly after its restoration, I took it to my native-town Rio, which I visited twice a year to see and play for my elderly parents.  The viol got there through El-Al (flight from Israel) and then one of its partners (from Europe to Brazil). It was taken by hand to the hold at the check-in in Israel (where its Gewa hard case got 4 "fragile" red stickers) and arrived safely to Rio, where it has been since then.
Sixth question: why was the viol taken from Brazil to Israel?
With the death of my parents, I decided to bring Lewis II home to join Lewis I for recordings and concerts.
Seventh question: why didn't I in the first place buy a seat for the viol?
Because of my previous experiences of flying with viols. During 48 years of professional life, I made many flights with viols, which were accommodated in the wardrobe of the plane or taken by hand to the hold. Only once I had a problem when transporting a cello, but it had nothing to do with being put in the hold. After my viol arrived in delay after some concerts in Germany 10 years ago, I established a norm for performing trips, that the people who hire me pay an extra ticket for the viol or provide a local instrument for me to play, to fear that the instrument would not arrive on time. My last flight with a viol dissociated from performance had been the one bringing the Lewis to Rio.
Eight question: are there airline guidelines for those carrying big instruments in the hold?
Yes, and I followed British Airways' ones to "carry your musical instrument in a hard case and ensure you are properly insured" and arrive early at check-in (I arrived 3 hours before the flight): https://www.britishairways.com/…/sporting-goods-and-musical…. 
In addition, I removed from the viol all the items which could cause internal damage in case of a fall: sound-post, bridge, tailpiece, strings, pegs.
The hard case I used to and from Rio was a reliable German Gewa (bearing four "Fragile" stickers). The Gewa company wrote to me regarding the damage made to instrument and case on Alitalia flights AZ673 and AZ806: "that's really something what I never seen in such a damage kind like the shocking photos. The fiber from this case is really strong, to destroy it that must be one extremely pressure and impact on this case. We travel very often with our cello cases by plane, always by oversize luggage, but never happened something like this."
Ninth question: what happened at the Alitalia check-in in Rio?
Alitalia claims that "Our representatives at check-in in Rio airport advised to buy an "extra seat" to guarantee the safe carriage of the instrument but this solution was not accepted by you." This is NOT TRUE. What happened was the opposite: when I asked to take the instrument inside the cabin, they told me that the plane was full and even if I wanted, I could NOT buy an extra seat. And they told me not to worry, the instrument would be carried BY HAND into the plane. 
Would Alitalia have warned me of any danger, and offered me the possibility to buy a seat for the viol, I would have done it without hesitation. They gave me a paper to sign acknowledging that my instrument was too big to be accepted in the cabin. This is NOT A PERMIT TO BREAK IT into pieces. Nothing in the world justifies handling of a fragile thing – bearing at least four big red fragile stickers – with such violence.
Tenth question: what happened at the final destination, Tel Aviv?
As the viol was not brought and did not appear in the odd size section, I addressed the Lost & Found desk in order to locate my instrument. The clerk went to look for the instrument, and got back empty-handed saying that it had arrived broken, and that I had to fill a form. After I filled the form, they brought it, and the sight was shocking. The instrument, bow and hard case had been violently broken and the instrument was in pieces. No hard case would have resisted to what it was submitted, as if it had been run over and crushed by a heavy vehicle.
Eleventh question: what has been Alitalia's attitude?
Until now, Alitalia never bothered to give me a phone call. No human voice, no human contact. After four days they sent me a letter through my travel agent, saying: "We would like to express our deepest regret for the INCONVENIENCE you experienced while traveling on Alitalia flights AZ673 and AZ806 last January 2 from Rio de Janeiro to Tel Aviv." They propose to give me a compensation according to the Montreal Convention – which does not cover even the cost of the instrument's case.
Should we musicians really be obliged to pay for extra seats for our big instruments or should airlines consider that we exist and have special problems? Why can't cellos and viols be stored inside the plane, in the same closet that stores the manual folding wheelchairs? Why can't cellos, viols, guitars be handed at the door of the plane (to be taken straight down to the hold making them far less likely to be damaged), and returned at the door after landing, exactly like baby strollers?
Fellow musicians in the world, we should NOT accept the present draconian rules that scorn our professional necessities.
The younger musicians do not have even a clue of what kind of treatment was dispensed to us in the past. They think it is normal that airlines treat instruments worst than suitcases (mine, by the way, arrived unscathed!). But it is NOT normal. It is our duty to demand a change in this one-sided policy. For things are getting worse all the time, and nowadays, even violin cases are being rejected into the cabin of the planes.
Yoyo Ma, Steven Isserlis, Jordi Savall, maybe you can help us out?
---