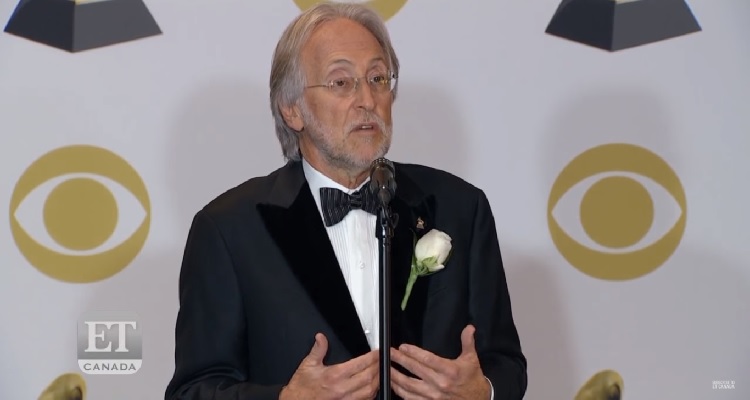 Grammys chief Neil Portnow has yet to "step up" to the calls demanding his resignation.
Why did the Grammys present only a few women with a prestigious music award this year?  Responding to #GrammysSoMale, a trending topic on social media following the Grammy Awards, Recording Academy President Neil Portnow implied that women had to work harder for wider recognition.
"It has to begin with… women who have the creativity in their hearts and souls, who want to be musicians, who want to be engineers, producers, and want to be part of the industry on the executive level…  [They need] to step up because I think they would be welcome.  I don't have personal experience of those kinds of brick walls that you face."
Portnow's ill-conceived statement only served to spark another controversy.  Top female musicians in the industry and their fans immediately lambasted the Grammys President's comments.  A petition created on Care2.org urged Neil Portnow to step down immediately.  In less than two weeks, it's reached nearly 14,000 signatures.
Then, several days ago, the six most powerful women in the music industry wrote a letter condemning his 'step up' statement.
Oh, and another thing happened: 'Despacito,' the song famously snubbed by the Grammys this year, scored another huge milestone.  As first tipped by DMN, the track recently became the first Spanish-language song to ever cross 1 billion streams on Spotify.
The record-smashing song also has more than 4 billion plays on YouTube.  That's easily an all-time record, and makes it one of the most successful songs in history.
Most importantly for this discussion, 'Despacito' was also written by a woman — and bluntly dismissed by the Grammys.
Amidst the growing pressure, Neil Portnow hasn't backed down.  Instead of issuing an apology, he accused people of "misconstruing" his comments.  He then announced the creation of an independent Grammys task force to "address biases against women."  In a public letter, Portnow vowed that the Recording Academy would better represent them.
"We can do more to overcome the explicit barriers and unconscious biases that impede female advancement in the music community."
According to a new report, however, the pressure to resign may have finally gotten to Portnow.  Variety reports that he has unexpectedly pulled out of a speaking appearance this Thursday at the Pollstar Live! Conference.
Portnow was slated to appear on a panel called "Behind The Grammy Awards Show."  On Pollstar's website, the session description reads,
"In a Pollstar Live! exclusive, Grammy show producers will provide a behind-the-scenes look at the 2018 Grammy Awards in what is sure to be a compelling, informative session."
The complete panel information listing Neil Portnow as a speaker remains live on its website.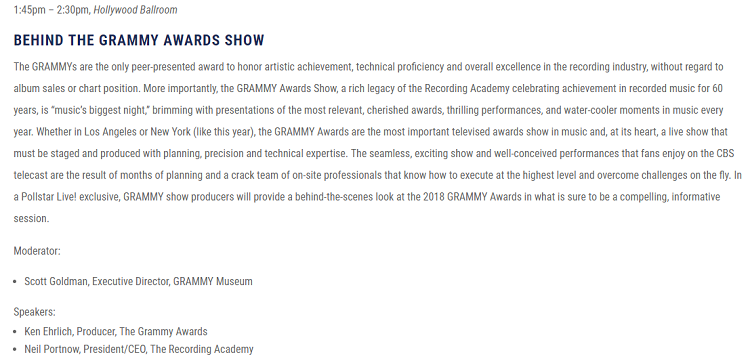 A rep said that Pollstar has yet to schedule a replacement.  Portnow has yet to comment on the abrupt cancellation, signaling that the Grammys President may soon resign.
---
Featured image by ET Canada (YouTube screengrab)