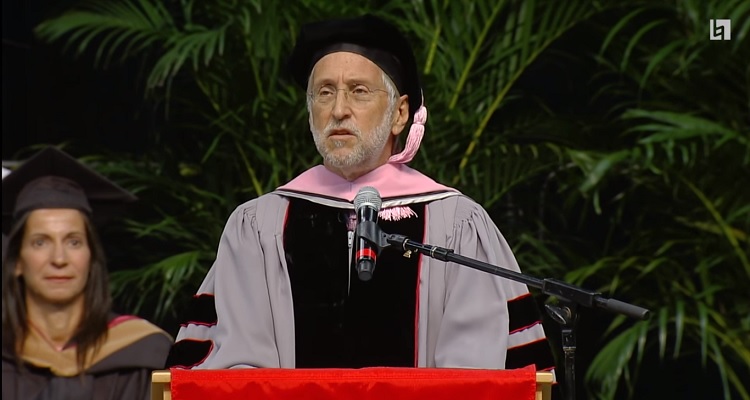 Despite what critics have demanded from the Recording Academy, Neil Portnow won't resign anytime soon.  A lot of people don't actually want him too.
Iggy Azalea wants Neil Portnow to step down.  Pink, Halsey, Vanessa Carlton, other top female musicians, and six of the most powerful women executives in the music industry feel the same way.  As do nearly 14,000 protestors who petitioned for Portnow's resignation.
But elsewhere within the music industry itself, most people actually stand behind the beleaguered Recording Academy president.
Reflecting the organization's sentiments, a poll conducted by Digital Music News found that 50% of respondents stand behind Portnow.  They feel that he shouldn't resign.  Underscoring a bitter divide in the music industry, however, 45% expressed that he should step down immediately.  The remaining 5% couldn't decide what should happen to the beleaguered Grammys Chief.
Portnow may not have a lot of friends among women in the music industry.  Male executives have also been critical, though few seem to be demanding his resignation.  Several weeks after Portnow's much-maligned "step up" statement, a group of 38 male executives penned an open letter  to the Grammys boss.
But instead of asking him to step down, the group  asked the Recording Academy to "mirror the rich gender and cultural diversity of our community."  The male executives also pushed for the Grammys chief to make "necessary changes to the population" of the organization.  These, they wrote, would help to better reflect the diverse voices that the Academy should represent and serve, not criticize.
The Recording Academy and Billboard have also signaled that they will stand behind Neil Portnow, despite his much-maligned comments.  This, however, may not put an end to a firestorm of criticism calling for his resignation.
The Recording Academy has also stated in a public letter that female representation remains higher than the industry average.  Yet, it conceded that it hasn't done enough to "reflect the community."
"We must be leaders in moving our industry toward greater inclusion and representation.  Women are 50% of our world.  We need their voice and presence at every level."
A second, more-direct letter addressed the problems caused by Neil Portnow's ill-chosen remarks.
"We recognize the impact of the unfortunate choice of words from our President/CEO, Neil Portnow, in a post-GRAMMY interview.  In the many letters and statements that we and our Board have received… the message is clear.  Our Academy and our industry must do a better job honoring and demonstrating our commitment to cultural, gender and genre diversity, in all aspects of our work."
Listing the senior positions that women have previously held, the Recording Academy stopped short of calling for Portnow's resignation.  Instead, it emphasized his commitment to addressing the problems of female underrepresentation in the industry.
"Our Board of Trustees is committed to creating a comprehensive task force that will take a deep look at these issues and make material recommendations on how we can all do better.  Accordingly, we are pleased that our task force announcement has been well received, with many people offering to participate in work that will yield tangible results."
---
Featured image by Berklee College of Music (YouTube screengrab)