Gold medal-winning snowboarder Shaun White is now at risk of losing multiple, high-value sponsorships.  The reason: a previously-buried sexual assault accusation filed in 2016.
It should have been one of the greatest days of his life.  Shaun White, one of the world's most celebrated snowboarders, grabbed the gold medal in the Men's Halfpipe in Pyeongchang after an electrifying performance.
The win further cemented White's stature as one of the greatest snowboarders of all time, and he certainly has the most Olympic gold medals.  But the press conference that followed quickly veered towards sexual assault accusations from 2016.  That's when White was hit with a major lawsuit from former bandmate Lena Zawaideh, a case that was ultimately settled out of court.
+ Olympian Shaun White Accused of 'Extreme' Sexual Harassment…
Zawaideh drummed in White's band, called Bad Things, but says she battled a torrent of sexual abuse at the hands of White.  Over a period of years, White is accused of the following in court filings:
Sending sexually explicit and graphic images to Zawaideh of engorged and erect penises.
Forcing Zawaideh to watch sexually disturbing videos, including videos sexualizing human fecal matter.
Making vulgar sexual remarks to Zawaideh such as, "Don't forget to suck his balls!" when commenting about Zawaideh's boyfriend.
Sticking his hands down his pants, approaching Zawaideh, and the sticking his hands in her face trying to make her smell them.
That filing was originally shared by Zawaideh's attorneys with Digital Music News.  The case itself disappeared after the parties forged an out-of-court settlement.
We're not sure how Zawaideh was compensated as part of that deal.  But most of White's fans were either unaware of the incidents and accusations, or forgot about them.
That ended abruptly after the gold medal win, with reporters grilling White on the accusations.  In response, White called the allegations 'gossip,' while the PR agent for the US snowboarding team shut down follow-up questions.  Women reporters in the room were apparently shut out of the questioning.
"I'm here to talk about the Olympics, not gossip and stuff," White said, before the PR person stepped in.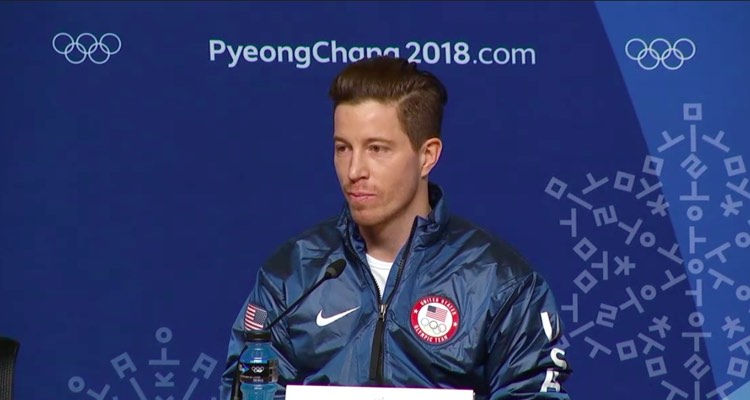 Now, at least one major sponsor is considering a flat-out termination.
Others appear to be reviewing their relationship with the snowboarder.  According to a source speaking with Digital Music News early this morning, sponsors AT&T, GoPro, Inc. and Burton Snowboards and are all putting White 'under review' pending fallout from the 2016 allegations.
One of the those sponsorships is seriously considering a 'preemptive pullout,' according the source, who has knowledge of multiple brand relationships.  As for which sponsor that might be, the source was 'not at liberty to say at this time,' though warned of 'an announcement in the next few days if it's going to happen.'
The source was unable to answer questions related to a long list of other sponsors.  In some cases, relationships were 'inactive' so not 'pressing or anything beyond maybe simple damage control or something.'
Accordingly, White has apologized for brushing off the questions, saying he's 'truly sorry' for minimizing the issue.
"It was a poor choice of words to describe such a sensitive subject in the world today," White subsequently told the Today Show. "And, you know, I'm just truly sorry. And I was so overwhelmed with just wanting to talk about how amazing today was and share my experience."
White also has a long list of other sponsors, many inactive, and we're unclear how those relationships will be affected.
More as this develops.
---