Kanye West is back to proclaiming his love for the President.  But… Lucian Grainge and Lyor Cohen?
Guess Kanye West has found some unexpected supporters of his pro-Trump re-election efforts.  Or maybe it's just a strange selfie.  Either way, the music industry was just treated to an extremely unexpected 'MAGA' trifecta involving West, Universal Music Group chairman and CEO Lucian Grainge, and YouTube Global Head of Music Lyor Cohen.
Strange alliances in these modern times.  But hey: whatever it takes to win signature of the Music Modernization Act.
Meanwhile, Kanye's love for Donald Trump appears unflagging.  After dumping his longtime manager Scooter Braun, West focused on a blast of pro-Trump messages.  Because that was the natural next step.
For those lacking midday time constraints of employment, Kanye's Twitter blasting started like this:
"You don't have to agree with Trump but the mob can't make me not love him. We are both dragon energy. He is my brother. I love everyone. I don't agree with everything anyone does. That's what makes us individuals. And we have the right to independent thought."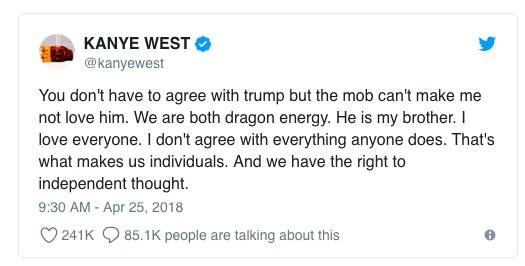 Then, the crowd was awed by the ultimate souvenir: a MAGA cap signed by The Donald himself.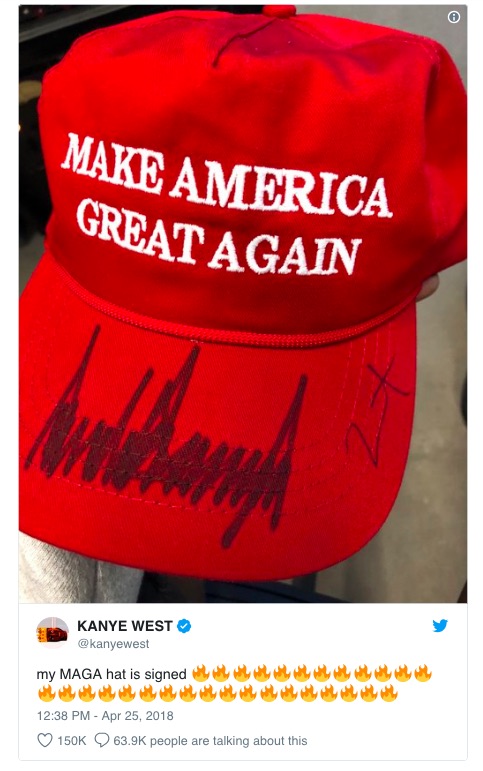 That drew hearty approbation from the Commander-in-Chief himself, who thanked Kanye for his continued support.  "Thank you Kanye, very cool!" Trump replied.
West didn't actively campaign for Trump, but became an active supporter after Trump's win in 2016.  It's quite possible that West will become a supporter for Trump's upcoming 2020 re-election bid.  Though strangely, Trump excluded Kanye West form his Inaugural festivities for not being 'traditionally American enough'.
+ January 17th, 2017: Trump Inauguration Says Kanye West Isn't 'Traditionally American' Enough
Onlookers continue to question whether Kanye is suffering from worsening mental health issues.
The pro-Trump adulation is perhaps typical Kanye erraticism, though West also severed ties with longtime manager Scooter Braun earlier that day.  Last year, the rapper abruptly canceled tour dates, and spent extended time in a Los Angeles hospital to treat a mental collapse.
On that point, Kim Kardashian West leapt to her husband's defense.  Perhaps tellingly, Kardashian countered the mental health speculation head-on, arguing that the outbursts are merely expression.
---
Send confidential tips to [email protected].