Sonos is betting big on a three letter word to finally turn things around.  To prove it, the wireless speaker manufacturer has fired 96 employees.  Here's why the company will likely see more firings down the line.
Ahead of the company's rumored IPO in June, wireless speaker manufacturer Sonos has laid off 96 employees – 6% of its entire workforce – to boost profitability.  Sources close to the company told Bloomberg that Sonos has filed confidentially for an IPO and has targeted a market value of $2.5 billion to $3 billion.  It had employed around 1,500 employees prior to the firings.
In a statement, Sonos confirmed the news.
"Like any healthy business, we occasionally make adjustments to the size and structure of our teams to stay nimble and align resources with market opportunities."
The cuts occurred across several departments.
Keep in mind that this marks the second time in two years the wireless speaker manufacturer has laid off a significant number of employees.
The company had first announced it would lay off an "unspecified" number of employees in March 2016.  Then-CEO John MacFarlane had recently admitted that the wireless speaker manufacturer misjudged voice recognition technology, prompting the layoffs.  In a blog post, he wrote in March 2016,
"These last few weeks have been tough for everyone at Sonos.  We're a tight bunch, so saying goodbye is particularly painful.  But I know that making these changes is the right thing to do for Sonos as we look to the future."
But, has the company truly turned things around?
No, not really.
Historically, Sonos has fiercely guarded its sales figures.  It's also reiterated that the company is 'growing and profitable.'
So, why hasn't the wireless speaker manufacturer released any sales figures to back up its statements?  Simple.  As I explained last April, because it's an underperforming company.
According to Strategy Analytics, thanks to Alexa's runaway success, Amazon has experienced a 77% increase in volume demand in the global smart speaker market.  In fact, Amazon and Google shared 92% of the market in the third quarter of 2017.  Strategy Analytics tracked 100,00 shipments for JD.com, as well as for Xiaomi and Alibaba Group.
So, how did Sonos fare?  Well, the company landed in the "Others" category.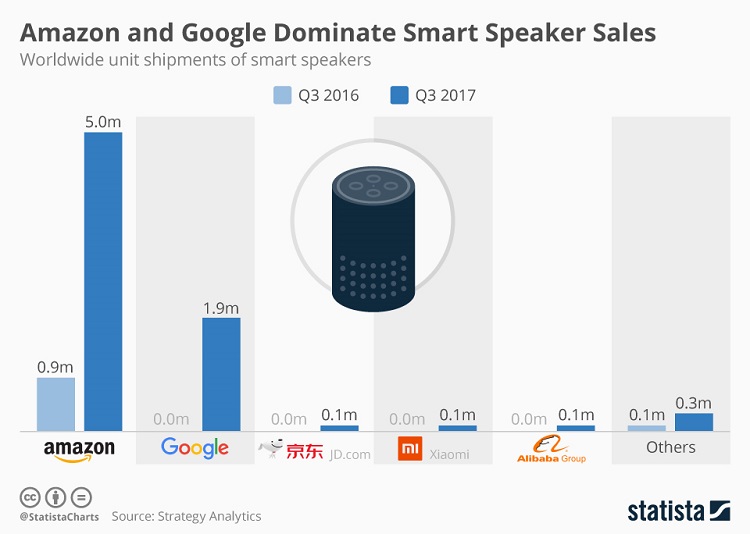 Underscoring the company's poor standing, prior to the launch of Apple HomePod's, users took to Twitter to ask John MacFarlane whether Sonos had a superior product.  Likely to the chagrin of company executives, McFarlane flat-out admitted that the Homepod "handily beats a single Sonos One, at full, acoustically."
Not exactly what potential investors want to hear.  Nor consumers shopping at the company's new stores in New York, Shanghai, and London.
Then, why the IPO?
Simple.  Because the wireless speaker manufacturer believes it has a successful product.  But more likely because it has no other choice but to turn things around with an IPO.
According to the Financial Times, Sonos hopes to raise $200 million from the IPO alone.  Ignore the fact that the wireless speaker manufacturer has likely already spent millions to achieve SOX 404 compliance – something only companies preparing to go public do.  Once it launches its IPO next month, Sonos may end up breaking even.
For the company to survive in the long run, Sonos will have to tap into the growing smart speaker market.  To accomplish this extraordinary feat, the wireless speaker manufacturer will need the financial backing of public investors to take on Amazon and Google.
But, here's the problem – it just won't work.  Both companies have the global smart speaker market locked down.
Research firm Canalys expects that major companies will ship around 56.3 million smart speakers around the world this year.  So, how many does this firm expect Sonos to ship?  See for yourself.
Once again, Sonos doesn't even appear.
That apparently hasn't discouraged the wireless speaker manufacturer.  At least not publicly.
Again, without sharing any financial figures to back up his statement, current CEO Patrick Spense told Variety last month,
"We are considering whether an IPO would be the next best thing.  We are in a strong place, growing, profitable."
The company, oblivious to what research firms and sales figures have clearly shown, reiterated its baseless optimism earlier today.
"Sonos is growing and profitable."
The company has now fired 96 employees to "stay nimble and align resources with market opportunities."  Yet, a key question remains unanswered, one that will likely haunt Sonos once it goes public.  The same one that will ultimately lead to even more firings in the near future.
If the company is so successful and profitable, why hasn't it proven it?
---