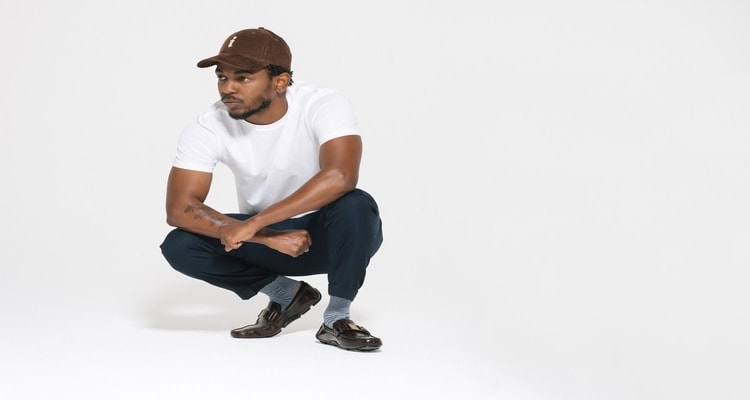 At Hangout Festival in Alabama on Sunday night, Kendrick Lamar invited a white, female fan on stage to help him perform his hit track, "M.A.A.D City."
Things apparently took a turn when the fan repeatedly used the N-word during the track, causing the rapper to interrupt her by stopping the music.  The racial slur is featured multiple times in the lyrics throughout the track, but Lamar apparently wasn't okay with the fan saying the N-word.
And neither was the audience, who booed her after hearing her rap the word three times.
Kendrick stepped in shortly after the track started.
"Wait, wait, wait, wait, wait," said the rapper as the music cut off.

"Aren't I cool enough for you? What's up bro?" Asked the fan when the music stopped.

"You got to bleep one single word, though," answered Lamar, referring to the fan's use of the N-word.
The fan apparently didn't realize that she was saying the word, and suggested that it was an absentminded mistake.
"Oh, I'm sorry. Did I do it? I'm so sorry…I'm used to singing it like you wrote it," replied the fan.
Despite the incident and the audience demanding the fan be kicked off stage, Lamar gave the fan a second chance to redeem herself by letting her continue rapping and censor herself.
And in fairness, Lamar is partly responsible for the issue, given that the song uses the offending word over twenty times.
Of course, there were mixed comments on social media.
Some tweets defended the fan:
"Kendrick Lamar stops his concert because the girl that he brought on stage to sing HIS song says all the lyrics & because she's white she's not supposed to say the N word that's in the song? Kendrick can take the L for that. Don't use the word if you don't want ur fans saying it."
Other comments supported the rapper:
"Honestly how did that girl at the Kendrick Lamar show think it was okay to use the N word? Even after he told her not to she was still gonna say it. I'm glad he cut her off after that."
Lamar's most recent album, DAMN, earned him a Pulitzer Prize in Music in April. He is the first non-classical or jazz musician to win the esteemed award.
---