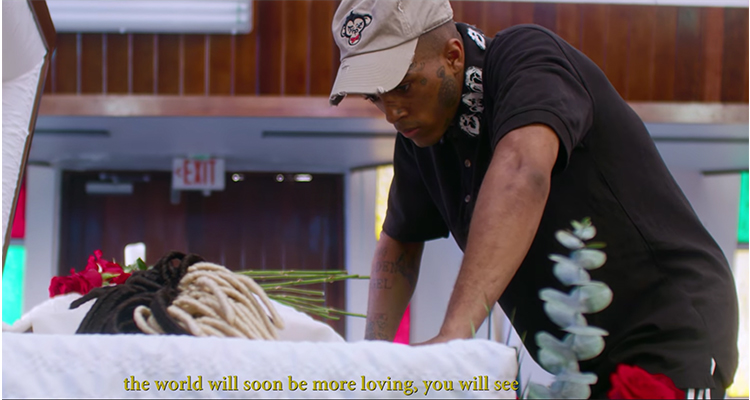 XXXTentacion's just-released music video 'SAD!' shows the rapper visiting his own casket.
In a video that's so coincidental it's scary, late rapper XXXTentacion sadly predicts his future with eerie precision. Written and "creative directed" by X himself, "SAD!" features X attending his own funeral.
The video showcases a fight between living X and an alter-ego.  The fight takes place in the church and later moves into an alley. Throughout the video, symbols are peppered alongside an incredulous handwritten message.  It reads:
"People change, things change, and so did I. As long as the outcome is good for family and myself I'm not complaining."
The music video was released on Thursday morning.  Earlier, the single rose to number 52 on the Billboard Hot 100 after X's death.  That post-mortem success beats a similar rise by The Notorious B.I.G.'s "Mo Money Mo Problems" in 1997.
The eye-opening 'SAD!' music video comes 10 days after his death and one day after his open-casket public memorial.
XXXTentacion was fatally wounded in a shooting just before leaving RIVA Motorsports in Deerfield Beach, Florida. One of the two suspects shot at X, and ultimately killed him before fleeing in a black SUV.  When authorities arrived on the scene, X was then taken to a local hospital, where he succumbed to his injuries.
Authorities believe the shooting may have been part of a robbery.  The assailants escaped with a bag full of cash, but didn't have any known beefs with the rapper.  Just recently, one of the suspects was apprehended, and pled not guilty.
Prior to his death, X shared multiple videos of himself talking about his immortality and a myriad of varying life issues.  Prior to his murder, the rapper had a long rep sheet of physical violence, false imprisonment, and battery, with the latter two charges involving his pregnant ex-girlfriend.
Here's the video.