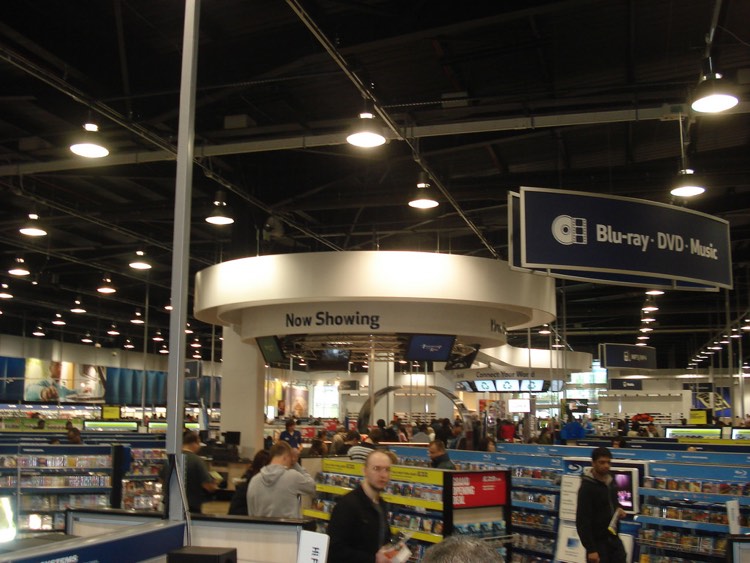 Reports claim that Best Buy has already gotten rid of CDs on their floors.  Best Buy begs to differ.
Last week, it was reported by numerous sources, including Billboard, that Best Buy would be removing all compact discs from their stores by July 1st.  That rumor  is simply not true, according to Best Buy management.
Instead, the big retailer has made the decision to keep CDs in their retail locations, but reduce the inventory and devote less shelf space to them.  And while CDs are likely to disappear at some point in the future, apparently a core buyer group still exists.
"The way people buy and listen to music has dramatically changed and, as a result, we are reducing the amount of space devoted to CDs in our stores," Best Buy offered in a statement.  "However, we will still offer select CDs, vinyl and digital music options at all stores."
Meanwhile, Best Buy is also stocking up on vinyl, not to mention record players.
That's the result of a decade-plus resurgence in the format, with lower- and mid-priced turntables also surging.
All of which has prognosticators wondering about the retro appeal of CDs.  Most consumers have touched, played, and experienced CDs in their lives, and attribute little value to the obsolete format.  But younger generations often pine for the past, and could eventually find nostalgic appeal in their grandparents' format of choice.
+ Vinyl + CD Sales Were Bigger Than Music Download Sales In 2017
Perhaps the most endangered species isn't the CD, but the paid download.  Recode recently reported that iTunes download sales decreased 24% in 2017.  And sources to Digital Music News have pointed to a complete shutdown of iTunes music downloads in 2019.
In 2017, U.S. sales of compact discs stood at $1.1 billion, according to the RIAA.  That's more than 12% of all recorded sales in the U.S., despite monstrous declines since 2001.   And when you consider that Best Buy had a big chunk of those sales, maybe a slower phase-out makes sense.
---