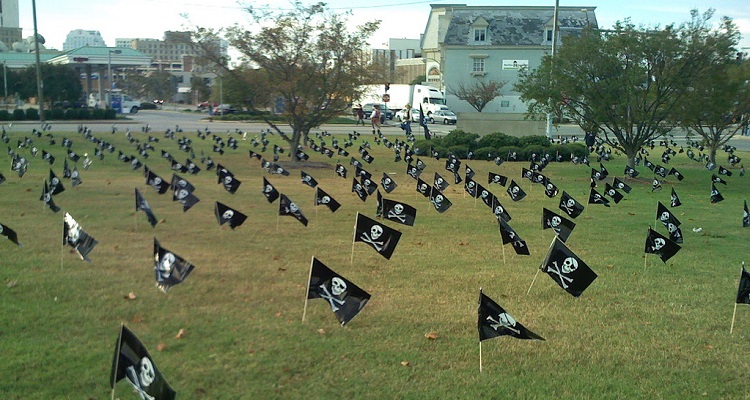 Grande Communications argues that no, American internet service providers shouldn't have to do the music industry's job.
Yesterday, a federal judge dealt Cox Communications a fatal blow in its bitter case against BMG.
Judge Liam O'Grady ruled in favor of BMG, stating the music company can call copyright infringement "stealing."
The decision came several weeks after a slew of major labels, including Sony, Warner, and Universal, sued the ISP for allegedly refusing to disconnect repeat offenders.
Now, one American ISP has fought back against the music industry.
No, ISPs shouldn't become copyright enforcement agents, argues Grande.
High-speed internet service provider Grande Communications has accused the music industry of attempting to turn ISPs into "copyright enforcement agents."
The Texas-based ISP was sued by 18 major music companies, including Warner, Universal, Sony, and Capitol Records, last year.  According to major labels, Grande has allowed its users to "engage in more than one million infringements of copyrighted works over BitTorrent systems."
The music industry wrote that Grande has failed to "take any meaningful action to discourage this continuing theft."  Organizations, including the RIAA, wanted the ISP to suspend and terminate subscribers who allegedly infringed on copyrights.
Calling the industry's claims "absurd," Grande states it has received "unsubstantiated and unverifiable allegations of copyright infringement."
"To further this effort, the recording industry enlists a third party to bombard ISPs like Grande with hundreds of thousands of such allegations per year," argues the ISP, adding it's "more than any ISP could ever reasonably investigate and attempt to verify, even if it had the practical ability to do so."
The third party in question refers to controversial anti-piracy company Rightscorp.
The curious case of Rightscorp – a company standing up for the music industry or just a copyright troll?
Last week, the ISP revealed that the RIAA had paid Rightscorp $700,000 for notices related to Grande Communications.  The anti-piracy company has a long history of preying on alleged copyright infringers, or pirates, according to Grande.
Via IP scans, Rightscorp determines which users have likely downloaded infringing material.  Once a user has been tagged as infringing, Rightscorp sends the owner of the account a notice.  Disguised as DMCA-style letters from ISPs, users are given an ultimatum – pay between $20 and $30 to avoid litigation or face a major lawsuit.  Users, fearing their ISPs have spied on them, pay out of fear to avoid a hefty lawsuit.
Speaking with Ars Technica, Chief Operating Officer Robert Steele explained the payment is a "socially fair way to create a deterrent."
"For most people, a $10,000 judgment is a really tough thing.  We're giving an opportunity for people to resolve the matter and recoup some loss to the creative, for a relatively small amount of money."
Rightscorp has had some success.  In 2015, for example, the company had entered into an agreement with Sony/ATV Music Publishing.  Yet, going after pirates hasn't proven a lucrative business.  The anti-piracy company has consistently posted net losses in the past several years.  In 2017, the company lost well over $1.45 million.
To turn things around, Rightscorp planned a new, more aggressive strategy.  Using technology called Scalable Copyright, the company would hijack users' browsers, preventing Internet access until they paid the company.
Rightscorp explained the purpose of Scalable Copyright.
"Single notices can be read and bypassed similar to the way a software license agreement works [but] once the internet account receives a certain number of notices over a certain time period, the screen cannot be bypassed until the settlement payment is received."
The RIAA has heavily depended on Rightscorp's claims in court.  In 2016, its partnership with the anti-piracy company accounted for 44% of Rightcorp's revenue.
Using Rightscorp's notices, the RIAA has accused Grande of failing to terminated subscribers' accounts.  But according to Grande, the anti-piracy company hasn't revealed exactly how it tracks suspected copyright infringement activity, nor has it presented verifiable information.
An impossible situation for internet service providers?
Using these notices as evidence in courts puts ISPs in a very difficult situation, argues Grande.
"This puts ISPs in an impossible position: either terminate subscribers based on unverified allegations of infringement, or face litigation for the secondary infringement of thousands of copyrighted works."
The ISP argues that existing US copyright law "does not and cannot allow for secondary liability in these circumstances."
Grande also claims the music industry's case against the ISP has "fatal evidentiary flaws."  These include lacking verifiable evidence of copyright infringement by its users and relying on the dubious notices from Rightscorp.  No evidence exists that proves a subscriber "ever reproduced or distributed work on Grande's network."
"These failures," writes the ISP, "entitle Grande to summary judgment for numerous reasons."
In its request for a summary judgment, Grande Communications has laid out six arguments.
First, plaintiffs – the music industry – can't directly prove direct infringement from the ISP.
Going on the offensive against Rightscorp, the ISP alleges the company's technology has numerous flaws.  Rightscorp's system can only detect when an infringing file "is made accessible."  It can't "detect when, or even whether, a file has ever actually been copied."
"Because Rightscorp's system cannot detect actual instances of a file being uploaded or downloaded by anyone, the notices it sends do not evidence any instance of actual infringement of a copyrighted work.  Even the date and time on the notice are misleading – they merely reflect the moment at which Rightscorp's system performed its scan and not any recorded instance of a work being copied."
Rightscorp's system can't prove "substantial similarity" to a copyrighted nor defend its alleged claims of infringement on Grande's network.  It also can't prove subscribers violated copyrighted reproduction, distribution, nor public performance rights on its network.
In order to validate direct infringement, the music industry "must come forward with specific evidence for each asserted copyright."
Second, the industry can't prove contributory liability.
To prove this, music companies must prove Grande had knowledge of specific instances of infringement on its network.  Rightscorp's dubious notices don't count, claims the ISP.  So, music companies and organizations must present evidence Grande actually induced the infringing conduct from its users.
In its second argument, the ISP has used the inducement theory of contributory infringement.  This theory states defendants who distribute a product or service with substantial non-infringing users aren't liable unless they offer the product or service "with the object of promoting its use to infringe copyright."  Grande argues it hasn't shown a clear expression or taken affirmative steps to foster infringement on its network.  The ISP also claims no evidence exists to show the contrary.
Citing BMG v. Cox, Grande states the music company had conceded in its litigation that it couldn't prove Cox induced subscribers to commit copyright infringement.
Third, plaintiffs can't prove willful copyright infringement.
According to Grande, the music companies haven't presented any evidence of willful copyright infringement on the ISP's behalf.  Jurors can't conclude the ISP's conduct constitutes secondary copyright infringement.  In addition, the music companies can't use Rightscorp's notices as evidence because the anti-piracy company hadn't sent any notices on their behalf.
Fourth, the music industry can't prove the 'discovery rule' expands the statutory damages period.
In Texas, the discovery rule serves as an exception to the usual statute of limitations for damages.  In this case, the music industry used the discovery rule to expand the three-year period for damages.
Grande argues the industry can't prove the discovery rule, as the companies have yet to demonstrate they "were unaware of the factual basis of their claims" of the ISP's infringement until January 2016.
Fifth, the industry can't prove actual damages or that Grande profited from copyright infringement.
According to Grande, no such evidence of infringement on its network exists.  And, the music industry hasn't proven the ISP profited from this infringement.  Thus, the music industry can't seek damages based on non-existent infringement.
Sixth, the industry can't prove ownership of the copyrights it has asserted in the case.
The music industry detailed 1,582 copyrighted sound recordings and 782 unique registered copyrights.  Yet, Grande states the music company – in this case, Universal Music Group – only owns 421 of the 782 registered copyrights.  As Universal lacks proof of ownership of the remaining 361, the ISP has requested a partial summary judgment in its favor.
You can check out the complete motion for summary judgment below.
---
Featured image by Roger Gregory (CC by 2.0)