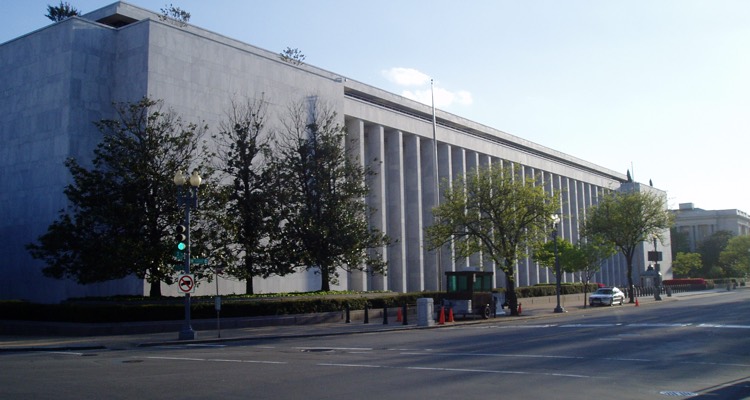 After a heated and contentious battle, the U.S. Copyright Office has chosen its winner to run the Mechanical Licensing Collective (MLC).
The award is going to the self-named 'Mechanical Licensing Collective,' a coalition created by major music publishers and larger indie pubs like Downtown Music Publishing.  The selection edges out a spirited bid by the American Mechanical Licensing Collective, or AMLC.
The winning bid was principally driven by three major organizations: the National Music Publishers' Association (NMPA), the Nashville Songwriters Association International (NSAI), and the Songwriters of North America (SONA).  That group solidly rallied a long list of organizations across other music industry sub-sectors, and quickly boasted an 'industry consensus'.
We're hearing the winning group will be known as 'MLC Inc.' — but that hasn't been confirmed.
David Israelite, head of the NMPA, quickly blasted an email to Digital Music News on Friday morning.
"This has been a long, deliberative process and we are pleased with the result," Israelite wrote. "The Copyright Office set a high bar and the team behind the MLC submission was transparent, thorough and representative of the entire music publishing and songwriting community. We look forward to seeing the benefits of the Music Modernization Act come to fruition."
In its dueling bid, the AMLC proposed far lower overhead costs while promising higher royalty payouts to indie publishers and songwriters.  A chief concern expressed by the AMLC is that major publishers are conspiring to use the MLC to funnel more than a billion dollars in unmatched mechanical licensing royalties into their coffers, instead of matching those amounts to the actual owners.
We've reached out to the AMLC for comment and will update accordingly.
Israelite, meanwhile, used the moment to issue a warning shot to major streaming platforms.
"As we now move to the funding phase, it is critical that the digital services commit to supporting the MLC properly and become more transparent, starting with disclosing the amount of unmatched money currently at their companies," Israelite emailed.
The tone of that message is unmistakable and comes against a tense backdrop with major streaming platforms.  In the statement, Israelite is flatly suggesting that streaming platforms like Spotify and Amazon Music are failing to account properly to publishers and songwriters.  That follows a contentious set of volleys with Spotify, Amazon, Google/Alphabet, and Pandora, all of whom are battling a major rate increase for publishers and songwriters.
Even more contentiously, Spotify recently notified publishers that they were overpaid in 2018, at least according to the stepped-up rate schedule.
The designated MLC's board has already been named, and will include chairman Alisa Coleman (ABKCO) and directors Jeff Brabec (BMG), Peter Brodsky (Sony/ATV), Bob Bruderman (Kobalt), Tim Cohan (peermusic), Scott Cutler (Pulse Music Group), Paul Kahn (Warner/Chappell Music), David Kokakis (UMPG), Mike Molinar (Big Machine Music), Evelyn Paglinawan (Concord Music), Kara DioGuardi (Songs by KDG), Oak Felder (Crow's Tree Publishing), Kevin Kadish (We Are Made of Music), and Tim Nichols (THiS Music).
Non-voting members will include NMPA EVP & GC Danielle Aguirre and NSAI Executive Director Bart Herbison.
The selected group also informed Digital Music News that implementation work will begin immediately.
Looks like the champagne-popping was quick — if it happened at all.  In a Friday morning email, the group outlined some next steps.
"Now that the consensus MLC has been selected, the group will formally begin operations. This will include the negotiation of a budget with the digital streaming services who, by law, must fund the collective. It will also include partnering with a vendor to provide administration and matching services and development of a user portal through which publishers and songwriters will be able to manage rights and royalties."
That 'vendor' is widely believed to be SoundExchange, based on a long-standing, cozy deal between the players involved.  But that raises further questions over the level of royalty-matching that will actually be conducted.  Further concerns surround SoundExchange CEO Michael Huppe, whose outlandish $1.4 million non-profit salary has raised a few eyebrows industry-wide.
SoundExchange has been panned for continued matching problems, major issues with artist outreach, massive holding balances in the hundreds of millions, and significant failures involving Pandora.  The non-profit recently acquired CMRRA, with insiders pointing to a broader strategy to deploy the mechanical-focused body towards the MLC.
As for the streaming platforms themselves, a boilerplate approval of the MLC selection has been uttered.
The Digital Media Association (DiMA) emailed a muted nod to DMN on Friday morning.  In an earlier conversation, DiMA CEO Garrett Levin said he was non-committal on who should be selected.  That made sense, given the tense relationships between major streaming platforms and the NMPA's Israelite.
"DiMA and its member companies welcome today's announcement from the Copyright Office that it has designated MLC Inc. as the mechanical licensing collective (MLC) under the terms of the Music Modernization Act (MMA)," DiMA stated. 
DiMA represents Amazon Music, Apple Music, Google/YouTube, Pandora, and Spotify, among others. That's a group that has some internal disagreements, with Apple opting against protesting recent publisher royalty increases.  For the most part, however, DiMA's clients are at war with major publishers, at least at the moment.
'MLC Inc.' is aiming to officially launch by January of 2021.
More as this develops!