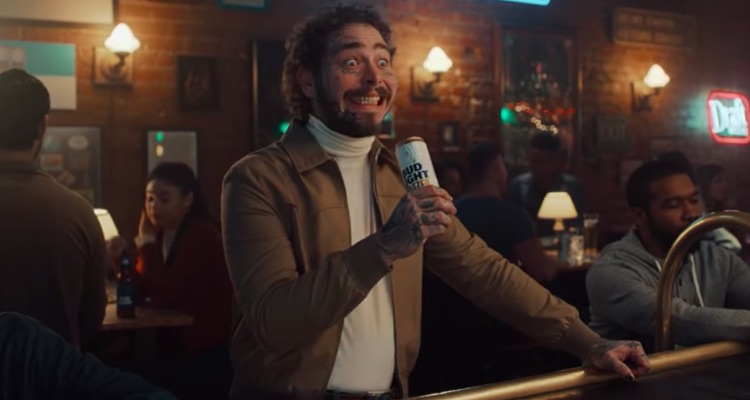 Bud Light is taking its Post Malone
ownership

sponsorship to an entirely next level.

Having featured the rapper's image on special-edition Bud Light cans last year, the Anheuser-Busch brand recently revealed that one of two Post Malone commercials would air during this year's Super Bowl. It'll be up to fans to decide which makes the cut.

Bud Light will measure each commercial's social-media likes, comments, and shares through January 30th, at which point a winner will be crowned. Fans can voice their opinions on Facebook, Twitter, and Instagram.

The first video, #PostyStore, features Post Malone entering a convenience store, asking the cashier if Bud Light is available for purchase, heading to the back of the establishment, and stopping in front of a display case stocked with Bud Light Seltzer. Next, Malone is thrust around the store, knocking shelves down, as a team of humans in his brain (each of whom has the same distinct tattoos) argues over whether the new drink is worth trying.
The second video, #PostyBar, centers on a similar premise, except Post Malone enjoys a Bud Light Seltzer in a bar, and more of his "internal team" is showcased.
On February 4th, Post Malone will initiate the second leg of his Runaway Tour. The 67-stop concert series began in September of 2019, and the currently scheduled performances will keep Malone busy through most of March.
Additionally, the 24-year-old has a lead role in Spenser Confidential, an upcoming Netflix film starring Mark Wahlberg and Winston Duke. The movie is scheduled for release on March 6th.
Malone was nominated for two 2020 Grammys — 'Record of the Year' and 'Best Pop Duo/Group Performance' — but the former was awarded to Billie Eilish, and the latter was won by Lil Nas X and Billy Ray Cyrus.
Super Bowl LIV, a meeting between the San Francisco 49ers and the Kansas City Chiefs, will take place this Sunday, February 2nd, and will air on Fox. Jennifer Lopez and Shakira are set to perform during the halftime show.