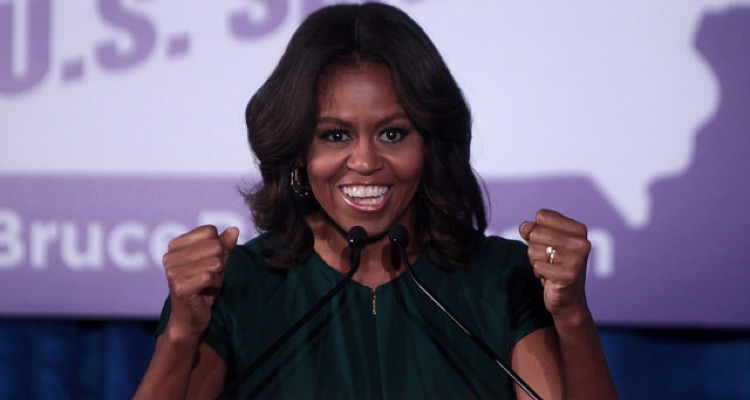 Leading music streaming service Spotify has added another podcast — this time from Michelle Obama — to its quickly growing library of exclusive programs.
Spotify announced the high-profile podcast deal (part of the agreement it struck with Barack and Michelle Obama's production company, Higher Ground, last June) this morning, via an official release. Aptly titled The Michelle Obama Podcast, the series will deliver one episode per week beginning on Wednesday, July 29th. This initial season is reportedly set to encompass 10 episodes, though the release didn't specify an exact figure.
On the podcast, Michelle Obama will invite guests to discuss "topics ranging from sibling relationships and raising children to girlfriends, women's health, mentorship, and marriage," per the release. The former first lady laid out additional conversation subjects – namely "topics and issues we're all dealing with" – in a nearly 90-second-long promotional spot.
Though the aforementioned Spotify-Higher Ground podcast deal was said to involve both the Obamas, it's unclear where the former president will fit into the mix. To be sure, the 44th chief executive's name is conspicuously absent from the list of special guests that The Michelle Obama Podcast will welcome (ranging from The Washington Post's Michele Norris to The Office star Craig Robinson).
Moreover, Michelle Obama didn't mention her husband in the 90-second promotional video, indicating instead that she will speak with "some of the people I'm closest with. My mom, my brother, my friends, my colleagues, and many others." Spotify hasn't yet unveiled a podcast involving Barack Obama specifically.
It bears mentioning that Dawn dish soap and Tide laundry detergent are listed as "presenting sponsors" for the podcast's entire first season – a point that may shed light on how Spotify will go about monetizing its other exclusive podcasts.
Spotify (SPOT) shares began gaining value in May, shortly after the streaming service revealed a multiyear contract (reportedly worth $100 million) that will see it become the exclusive home of The Joe Rogan Experience. Subsequently announced podcast deals with Kim Kardashian West (a criminal justice program) and WarnerMedia (including scripted shows from the DC Comics world) further elevated Spotify's stock, which touched $109.18 per share during the domestic onset of the COVID-19 crisis.
Investors are responding positively to The Michelle Obama Podcast's imminent arrival on Spotify. At the time of this writing, the Stockholm-based streaming platform's stock had added nearly four percent to its value on the day, with shares hovering around $268 apiece. Notably, SPOT shares approached $272 during the first hour of trading, and a small selloff appears to have briefly pushed the stock into the $266 range.