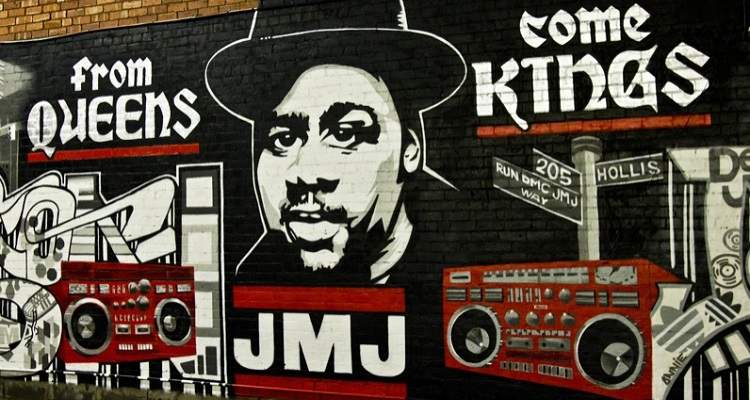 Yesterday, Digital Music News was first to report that police had made two arrests in connection with the 2002 murder of Jam Master Jay. Now, the legendary Run-DMC member's family has addressed the development in a statement.
The family of Jam Master Jay – whose full name was Jason Mizell – recently published a statement on Run-DMC's official Twitter account (as well as the group's Instagram profile). Beginning by thanking those who have "reached out in support," Mizell's relatives proceeded to emphasize that they have "mixed emotions" about the arrests.
"We truly hope that these indictments are a solid step towards justice being served in the murder of Jay," the statement continues. Preliminary evidence suggests that the fatal recording-studio shooting stemmed from a drug-related dispute. One of the suspects, Ronald Washington, is currently serving time on robbery charges, while the other suspect, Karl Jordan Jr., is now in police custody.
From there, the brief message notes "that there are other families out there who have lingering pain" from the 2002 shooting and the previous lack of investigative progress. The sister of a Jam Master Jay associate claims to have been forced under a table by one of the shooters, and Urieco Rincon, a friend of the late DJ, suffered a gunshot wound. Randy Allen, another friend of Jam Master Jay's, was also present.
In closing, the statement reflects upon "all the tragedies we've seen this year alone" and strikes a hopeful tone in discussing "time's ability to heal all." Lastly, the Mizell family requested that the public respect their privacy as the case proceeds and once again thanked fans for their support.
Darryl "DMC" McDaniels, a founding member of Run-DMC, responded to the indictments with a separate statement. "It's been a difficult 18 years not having him around while knowing that his murderers were not yet indicted for this heinous crime," the message indicates in part. "I realize this is a first step in the judicial process, but I hope Jay can finally Rest in Peace."
It's unclear what exactly led to a break in the 18-year-old case, which NYPD detectives previously described as "cold." However, additional evidence, a new testimony, or even a confession from one of the alleged killers may well have helped investigators to finally levy charges. To be sure, police identified Ronald Washington as a possible suspect soon after the 2002 episode; Washington admitted that he was at the Queens studio on the day of Mizell's passing, but said that he wasn't involved in the murder.