Apple is blocking Facebook from informing users about the 'Apple Tax.' It's the latest move in a battle Spotify helped start.
Apple says Facebook's update violates its App Store rule against showing irrelevant information to users. Facebook recently introduced a new live streaming concert feature, where users can buy virtual tickets to attend.
Here's how the controversy started: First, Facebook announced that it would take a 0% cut of sales for the first year. It was Facebook's answer to giving musicians a platform to support themselves during the COVID-19 pandemic. But despite Facebook waiving their fee, they couldn't waive Apple's 30% surcharge on digital goods. Facebook asked Apple to waive their fee (as they were doing), but Apple declined.
The feature is now available, but the messaging has been changed. On the image below, on the left, you can see Facebook's original message. "Apple takes 30% of this purchase." That message has been changed to read, "Facebook doesn't take a fee from this purchase."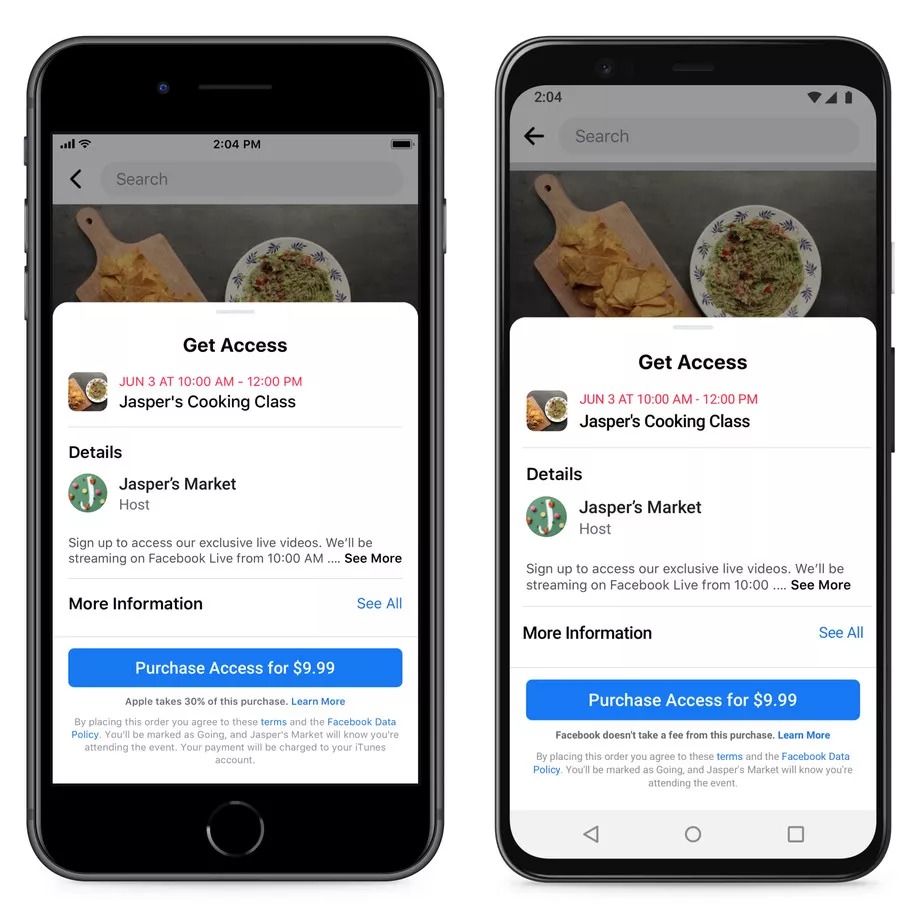 "Now more than ever, we should have the option to help people understand where the money they intend for small businesses actually goes," a Facebook spokesperson says. "Unfortunately, Apple rejected our transparency notice around their 30% tax, but we are still working to make that information available inside the app experience."
Apple is notoriously strict about what information can and can't be shared. For example, Spotify, Netflix, and other streaming services can't mention that users can pay for a subscription elsewhere. Apple wants to ensure that if an iOS user is considering using a subscription service – it continues to get its share of the sale.
The broader battle against the 'Apple Tax' kicked off with a Spotify complaint in the EU. Other subscription-driven companies like Match Group, Microsoft, and Epic Games have since joined the row. Accordingly, Facebook knew that publishing this public disclaimer would fly afoul of the App Store rules.
Facebook's move is intended to drive home just how many digital goods generate that 30% 'tax' for Apple. It's not just music, games, and other forms of entertainment that are impacted, either.
The Apple Tax impacts email subscriptions, DJ apps with extensions, and lots more. Perhaps an honest conversation about how much an infrastructure fee should be is a starting point. But Epic Games is also fighting for the right for other storefronts to exist on iOS.
The continued 'Apple Tax' battle is creating some unlikely allies of major tech companies. As this continues to play out, expect more subscription-based companies to speak out.