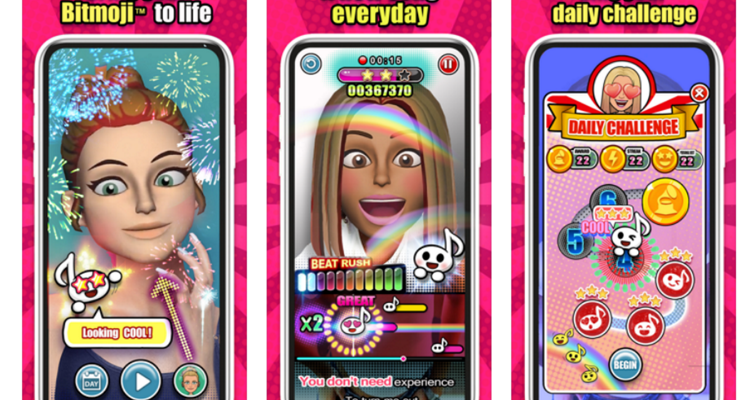 Twitch Sings is shutting down, but Snapchat is launching a new karaoke game called SingHeads.
Twitch announced its decision to drop its karaoke game amid heated questions about its music licensing agreements. So far, Twitch has played DMCA whack-a-mole with its offending streamers.
But after the service was hit with a massive DMCA takedown request spanning two years of content – things began to change. Twitch announced it would take serious action against repeat DMCA offenders. It seems Twitch Sings is also a casualty of Twitch refocusing how it approaches music content.
Snapchat is stepping in to fill the shoes with a new feature called SingHeads – a Bitmoji karaoke game.
Users can log in with their Snapchat account to see their Bitmoji spring to life. It will track the player's head and lip movements, similar to Apple's Animoji. Players can choose a song from a list that is updated daily with current hits and karaoke classics. Snapchat partnered with the development team behind SingStar to bring this new karaoke game to life.
SingHeads is entirely free to play, with no subscription required. The app also introduces and retires one new song per day, so there's always a reason to check out new tunes. The developers say replacing real faces with SingHeads also lessens karaoke embarrassment. "No need to be embarrassed about your singing face, your Bitmoji has you covered," Snapchat proclaims.
SingHeads karaoke sessions can be shared and edited directly in Snapchat – bringing the service closer to TikTok. Snapchat isn't the only service drawing inspiration from TikTok's karaoke roots. Instagram's Reels draws much of its inspiration from TikTok, too.
Snapchat also appears to be capitalizing on TikTok uncertainty in the United States. Earlier today, Oracle announced that it had reached a deal with ByteDance to become its US 'trusted technology partner'. But the deal still needs approval from the US Government and President Trump to proceed. Meanwhile, services like Snapchat, Facebook, and YouTube are rolling out new short-form video features at a breakneck pace.
Meanwhile, Spotify is potentially preparing a karaoke entrant.
Spotify's rumored plans for karaoke would be more detailed than just online karaoke with friends. The new karaoke mode would allow users to change the volume of vocals like professional karaoke machines.
The new karaoke mode combined with real-time lyrics makes Spotify a decent option for family karaoke night – if the feature launches. For now, it's still a behind-the-scenes thing revealed by an app reverse-engineer. Sometimes features revealed this way may take up to a year to be revealed publicly, if they make it into the app at all.