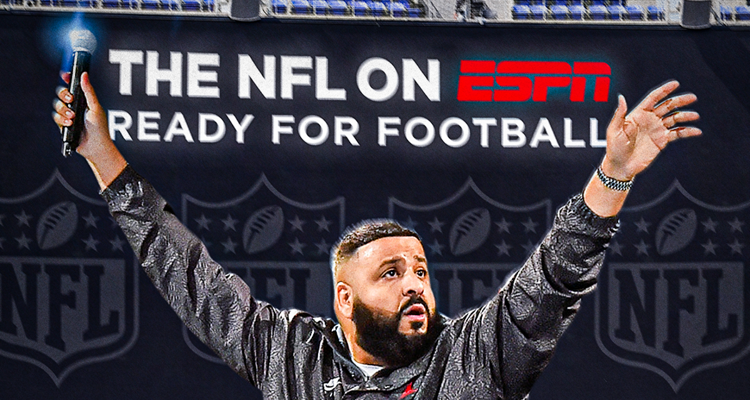 ESPN is overhauling its entire music strategy after dumping Hank Williams Jr. from Monday Night Football. The network has announced a season-long music collaboration with DJ Khaled, naming him music curator.
DJ Khaled says he will work directly with ESPN to choose tracks that reflect the energy and intensity of Monday Night Football. The curated music will appear in Monday Night Football promotional spots, live telecasts, and pre-game shows for five games this season.
The first game to feature curated music will be the Chiefs/Ravens match-up on Monday, September 28th. DJ Khaled is also selecting a song to celebrate Hispanic Heritage Month for the Chargers/Saints game on October 12th.
"I'm excited to collaborate with the NFL and ESPN again as we celebrate the return of the 2020 season," DJ Khaled says. "Last year was a movie, kicking off the Super Bowl in Miami, and now I am providing the vibes for fans everywhere as a music curator for Monday Night Football."
ESPN appears to be overhauling its entire music strategy this year with the DJ Khaled feature. Hank Williams Jr.'s "All My Rowdy Friends" was dropped as the intro from MNF. Replacing it is "Rip It Up," a 1956 hit from Little Richard.
At the time, an unnamed executive said the Williams Jr. hit would feel out of place, calling for a Monday night party during a pandemic with empty stadiums. Other potential issues related to racial politics were not mentioned. The familiar Williams Jr. tune has been the catchphrase of MNF since 1989.
Meanwhile, NFL viewership is plunging this year, despite pent-up demand for sports. Most NFL games are witnessing sharp, double-digit ratings declines, with millions of fans simply tuning out.
ESPN removed Williams Jr. from the slot in 2011 for comments made about President Obama. Williams Jr. was eventually returned to the spot in 2017. Emeka Ofodile, Vice President of Sports Marketing at ESPN, says the network is thrilled with the DJ Khaled collaboration.
"We're incredibly excited to collaborate with DJ Khaled to curate music for Monday Night Football throughout the season. Music is one of the greatest tools we have to connect with fans, and the NFL on ESPN brand is a place to work with some of the best DJs and producers in the industry."
"This curatorial role really resonated with audiences when we first introduced it with Diplo last year. And this year, we're tapping into DJ Khaled's talent and influence at the intersection of sports and music to provide this season's soundtrack."
So get ready for another one, courtesy of DJ Khaled.