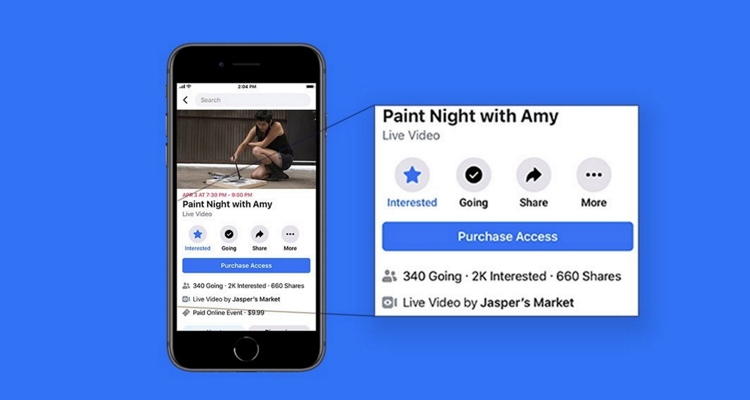 Apple will temporarily pause collecting a commission from paid virtual events on iOS.
Apple's reconsideration comes after Facebook blasted the company for taking 30% of Facebook Live events revenue. Facebook tried to update its app to clarify that Apple is taking the revenue cut – but Apple rejected that update. Now Apple says it has reconsidered given the pressure that businesses are facing during the COVID-19 pandemic.
While this change applies to all Facebook Live events that charge a fee, Apple says it will not collect any paid events' fees. Google also agreed to allow a waiver for paid Facebook Live events when the feature launched, avoiding bad press.
"Apple has agreed to provide a brief, three-month respite, after which struggling businesses will have to, yet again, pay Apple the full 30% App Store tax," a Facebook spokesperson says.
Apple is receiving criticism on all sides for its 'Apple Tax,' a 30% cut of all digital goods sold on iOS devices. Epic Games updated Fortnite to bypass Apple's payment system – a direct violation of its policies. That move resulted in Fortnite getting kicked from the App Store – a move that a federal judge upheld.
Mark Zuckerberg says the App Store deserves the scrutiny that it gets. He said Apple charges "monopoly rents" on its platform, preventing competition from thriving. It's the same argument that the Coalition for App Fairness is making while seeking more developers to join. The Coalition, which counts Spotify as a lead member, is fighting against the Apple Tax and Apple's favoritism for its in-house apps over others.
Waiving the Facebook Live events revenue share for three-months is lauded as customer-friendly. But the truth is, the 30% revenue share is an out-dated business model.
Epic Games maintains its own App Store-like storefront for PC gamers, where it charges a flat 12% fee for many of the same features Apple offers. Apple's 30% revenue share makes it hard for services like Spotify, Deezer, and TIDAL to remain competitive with Apple Music.
While Facebook hasn't directly joined the Coalition for App Fairness, it does support many of the same ideals. Facebook also suggested that being unable to set a new default messaging app on iOS is anti-competitive.
Apple's three-month respite from its fees is great for businesses now, but what happens in 2021? Will businesses who turned to live streaming suddenly have to adjust for a 30% loss in digital revenue?
Many businesses transitioning to live streaming are doing so for the first time. They might not understand all the fees associated with collecting payments online.