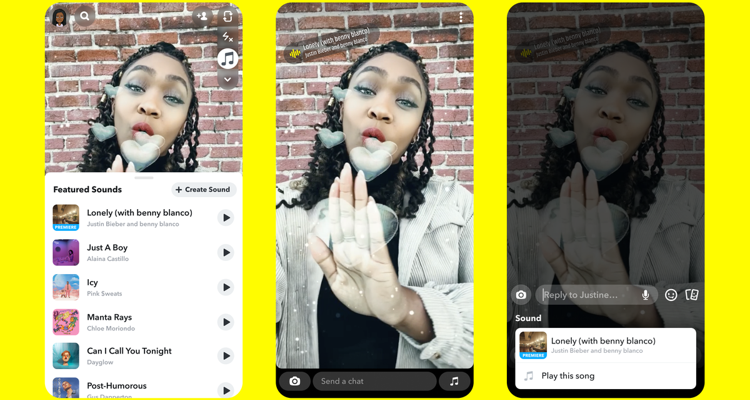 Snapchat has finally released the ability to feature music in your Snaps. Here's how to add music to Snapchat.
Over the summer, Snapchat announced it would soon debut a feature to rival TikTok. Now, Sounds on Snapchat has launched on iOS, bringing music to the platform. Snapchat's release offers a curated catalog of emerging and established artists for users to feature.
Music can be added to Snaps either in pre or post-capture. There are no limitations on where the music can be shared, either. The clip can be shared to your Snapchat Story or directly to friends – the choice is yours. The Snapchat music catalog will offer "millions" of tracks at launch, thanks to its music industry partners.
Snapchat formed several multi-year agreements with major labels and independent publishers. Those labels include Warner Music Group, Merlin and its independent label members, Universal Music Publishing Group, Warner Chappell Music, Kobalt, BMG Music Publishing, and the NMPA.
After receiving a Snap with Sounds, users can view information about the music included. A swipe up reveals the album art, song title, and the name of the artist. The Snap will also include a link to "Play This Song" on the users' default streaming platform. That includes support for Spotify, Apple Music, and SoundCloud.
Snapchat's implementation of music sharing works more in the artists' favor. It means sharing music on Snapchat could quickly become important for music discovery. Snapchat now reaches 90% of all 13-24 year-olds and 75% of all 13-34 year-olds in the United States. That's more than Facebook and Instagram combined, making it much more valuable for artists.
How to Add Music to Snapchat
1. Check to see if you have the Sounds on Snapchat update.
Snap Inc. is rolling out the new music feature in waves. Right now, it's only available to iOS users who have auto-updates turned on for Snapchat. You can check if you have the update by looking in the upper right-hand corner of your phone screen with the camera open. A tiny music note like the one below will appear there.
2. If you have the new music icon, tapping it will take you to the Sounds on Snapchat interface.
3. Simply select your favorite music and integrate it into your Snap.
Right now, you cannot add your own music to Snapchat. If the music is licensed through one of the previously mentioned partners, it may appear in Snapchat's catalog.
Currently, the music selection is pretty limited compared to rivals like TikTok and Instagram. But Snap Inc. is serious about turning Snapchat into a TikTok rival. Expect the available music catalog to grow as Snapchat continues to ink deals.
DistroKid Now Offers Snapchat Distribution
DistroKid is one of the first independent artist distributors to strike a deal with Snapchat for fast-tracking music onto the platform. It opens a new revenue channel for artists and helps with music discovery on social media platforms that target the younger demographic (13-24 year-olds).
New music uploads on the platform now have a 'Snapchat' checkbox next to other distribution channels. Music already on the platform can be added by following these steps.
Sign in to DistroKid.
Select 'Add to more stores' on your dashboard.
Check the 'Snapchat' checkbox that appears.
If 'Snapchat' doesn't appear, it's because the track is already there.
Snapchat is continuing to grow its partnerships with music labels to help rival TikTok and Instagram's Reels.