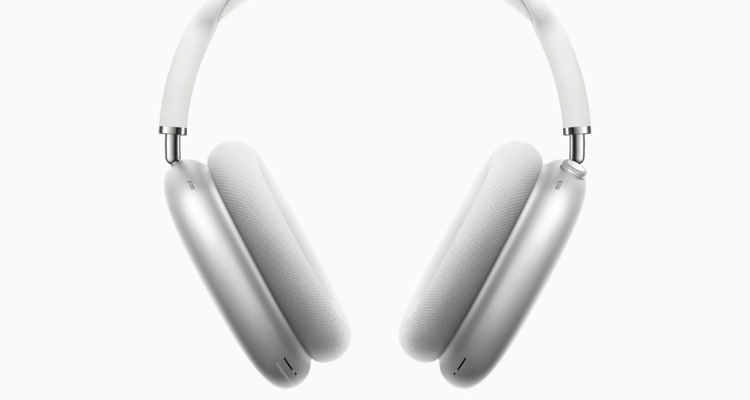 Apple is going all-in on its AirPods brand with the new AirPods Max — with a hefty $549 price tag.
The AirPods Max is the long-rumored AirPods Studio that Digital Music News has been reporting for nearly two years. These headphones are a long time in the making — and pack some hefty features for that hefty price tag. Apple promises that the AirPods Max will deliver high-fidelity audio, adaptive EQ, active noise cancellation, and spatial audio. Spatial audio is becoming increasingly important for VR and AR applications – which Apple is dabbling in behind the scenes.
The AirPods Max features Apple's H1 chips. It also packs what Apple calls "advanced software to power computational audio," which powers the adaptive EQ feature. They also feature a 40mm Apple-designed dynamic driver to provide rich bass and accurate mid-ranges.
They also have a dual neodymium magnet to allow the AirPods Max to maintain a total harmonic distortion of less than 1% across the entire audible range. Apple says that this level of control can be maintained even at maximum volume.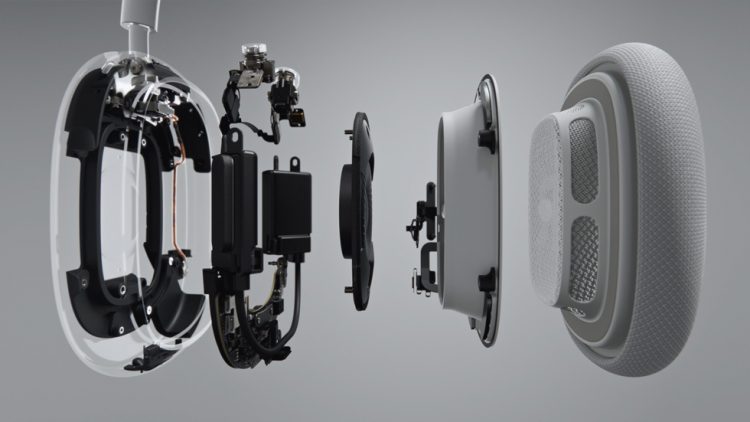 The adaptive EQ feature allows the AirPods Max to adjust the sound to fit the seal of the ear cushions. The headphones measure the sound signal delivered to the user and adjust the low and mid-range frequencies in real-time. They also feature a Transparency mode to allow listeners to have music and environmental sounds at the same time.
AirPods Max also features active noise cancellation (ANC) so users can focus while they're on. Each ear cup features three outward-facing microphones to detect environmental noise. There's also a microphone inside the ear cup to monitor the sound that reaches the listener's ear. The headphones use computational audio to create noise cancellation that continually adapts to a user's surroundings in real-time.
Finally, the AirPods Max also features spatial audio, which is becoming increasingly important. The AirPods Max uses dynamic head tracking to place sounds virtually for a theater-like experience. They also feature a gyroscope and an accelerometer to track the motion of a user's head and remaps sound in real-time, so it stays anchored even as the user's head moves.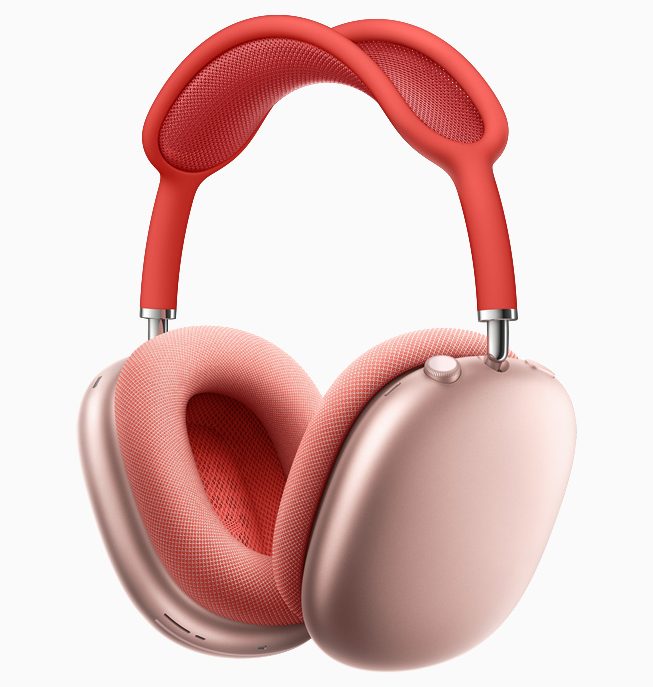 They'll be available in five colors at launch, including space grey, silver, sky blue, green, and pink. They're also available to pre-order today, with the AirPods Max launching on December 15th. Apple says you can expect to get about 20 hours of battery life from these – even with ANC and spatial audio enabled.
Apple has packed a lot of audio tech into these, and the price reflects that. But you can bet they'll be a hit this holiday season, despite the price tag. AirPods and AirPods Pro remain the top-sellers in the hearables category. High-end luxury headphone makers like Bose, Sony, and Sennheiser are on notice with the AirPods Max.