Spotify has been working on its music video strategy behind the scenes for a while now. It may finally be ready for prime-time.
Back in June, Digital Music News reported on Spotify's possible pivot into video. App engineer Jane Wong reported finding references to video in a new version of the Spotify Android app released around that time. That test version of the app included a redesign to accommodate the videos with three tabs. One for standard album art, one for the new video player, and one for Spotify Canvas.
Spotify Canvas was the music streaming service's first experiment with video – short looping videos.
Video is becoming an increasingly important part of reaching new crowds. Back in July, Facebook added official music videos to its app. Apple launched the new Apple Music TV in October. Amazon Music Unlimited subscribers now have access to music videos, too.
In this regard, Spotify is behind the times when it comes to providing music videos in the app.
Spotify has invested heavily in podcasts and spoken word shows, but video is also a part of that strategy. The Joe Rogan Experience is the first video podcast to launch on the service, with others sure to follow. While Spotify hasn't said anything official about music videos coming – their documentation says otherwise.
A new help document for the app tells users how they can use the Spotify app to watch music videos. "Watch music videos, documentaries, and exclusive video series, all from within the Spotify app," the header says. It contains instructions for where to access videos on both iOS and Android.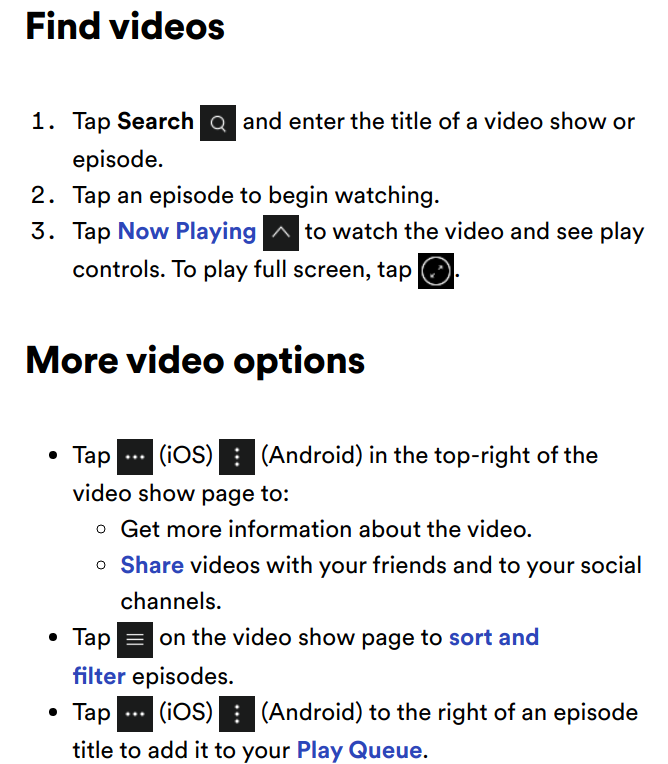 The instructions are slightly pre-emptive, though, since you can't actually follow the steps. Aside from the new video podcast news from July, Spotify has not announced music videos. Other exclusive content that could be coming include 'documentaries and exclusive video series' from a now-deleted Spotify Community moderator comment.
That suggests Spotify could be seeking to become not just #1 in streaming audio, but also music videos.
We've seen the effect that exclusive content can have on music streaming platforms in the past. But adding podcasts and music videos to that mix changes up the equation. Suddenly, music streaming services have more to offer than just the latest releases. It's also worth noting that the help documents say Spotify's music videos are for Premium users only.
Spotify is facing stiff competition from other players in the video realm, though. Netflix is investing heavily in music documentaries like the new Selena series to keep people interested in artists. HBO's Leaving Neverland documentary brought more attention to Michael Jackson's catalog of songs.