Post Malone crocs are all the rage after five collaborations. Here's a peek at them all.
Post Malone Crocs started off as exclusive designs that sold out quickly. But his latest also feature an exclusive molding to set them apart. Let's take a visual journey through a look at all of the Post Malone Crocs collaborations.
Post Malone Crocs – Series 1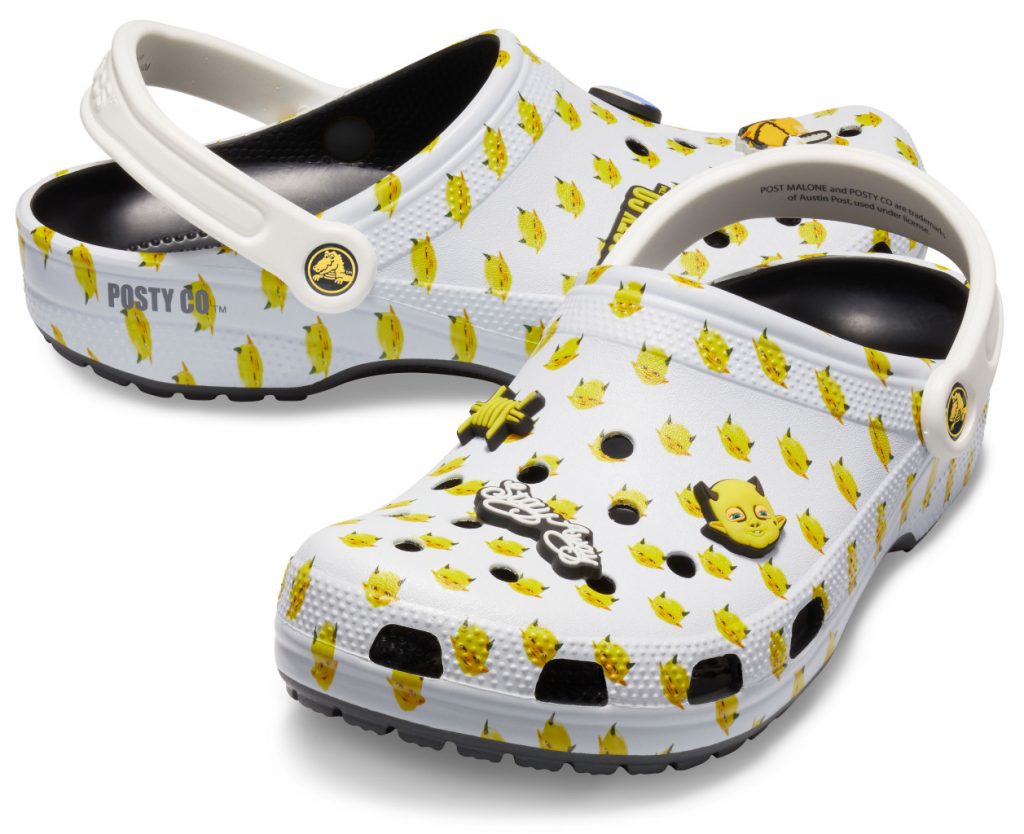 Post Malone started his collaboration with Crocs with a few basic designs that didn't really alter the mold of the clog much. Posty Co. is listed alongside the exclusive design, along with three charms to put on the clogs themselves. They sold out rather quickly and prompted a second series collaboration between Posty and Crocs.
Posty X Crocs – Series 2
The second series of Posty x Crocs leaned heavily into the yellow color, with barbed wire looped around in a design. Once again, Posty Co. features along the side of the clog with three exclusive charms to feature on the top of the clogs. The Series 2 collection sold out very fast, warranting more collaborations.
Posty X Crocs – Series 3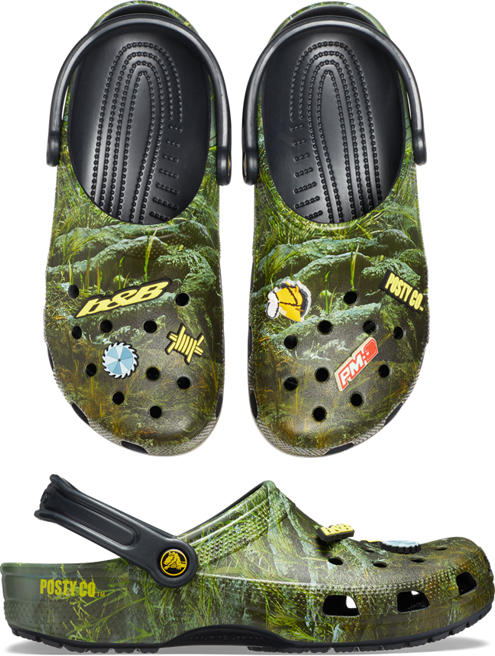 The Series 3 Crocs collaboration features an outdoor image printed with the yellow Posty Co. label. It also featured six more unique charms to collect on top of the clog. Those include PM3, Posty Co., barbed wire, and a saw blade.
Posty X Crocs – Series 4
The Series 4 Posty X Crocs are perhaps the most 'normal' of the entire series. They sold out quickly, since they featured a mottled black and blue look with custom crocs insoles. They also featured a custom strap hook along the front and were the first Crocs collab to feature a different design.
Posty X Crocs – Series 5
The Post Malone x Crocs Duet Max Clog II is the fifth collaboration between Posty and Crocs. The exaggerated, chunky outsole is intended to provide a different look than standard clogs. They also feature a pivotable backstrap with adjustable hook and loop closures. Post Malone reserved 5,000 pairs to give away to fans as a thank you. This collection quickly sold out when they launched for $59.99.