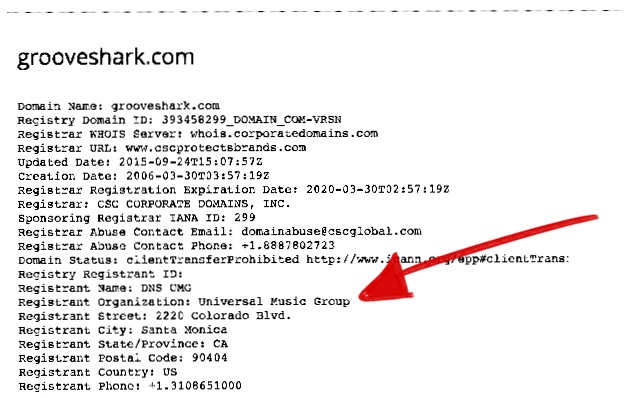 What's left after burning the village, raping the women, and killing the first born?  Well, seizing the valuable domain, of course.  According to details now confirmed by public registration records (above), grooveshark.com is now owned by Universal Music Group, who successfully destroyed Grooveshark and its owner, Escape Media, in a multi-year 'legal jihad'.
Grooveshark employed a costly legal troupe that included Rosenberg & Giger and McPherson Rane, but was decisively defeated by an alliance that included Universal, Warner Music Group, and Sony Music Entertainment.  After unplugging their entire site in April following a decisive federal court ruling in UMG's favor, Grooveshark was forced to issue a public apology on grooveshark.com, with insiders additionally pointing to millions in restitution.

Roughly one month later, Grooveshark co-founder Josh Greenberg was found dead in his apartment at age 28, for reasons that remain unknown (autopsy results remain forthcoming).  Prior to the defeat, Samuel Tarantino, also a founder, publicly admitted to being financially broken.