Reports of major label deaths have been greatly exaggerated!  Not only is Universal Music Group not dead, they're experiencing strong, double-digit growth.
If you're wondering who's making money off of streaming, you've found the answer.  Because not only is Universal Music Group cleaning up on platforms like Spotify, they're now experiencing double-digit revenue growth as a result.
Actually, there are plenty of other winners as well, including Spotify employees.  But streaming gains are now powering a Cinderella story at the major labels, of which UMG is the largest.  According to details released by UMG parent Vivendi, Q1 revenues jump 12.7 percent during the most recent quarter.  And that's after currency exchange normalizations (it was 14.8 percent before).
In total, Universal Music Group raked in €1.284 billion ($1.39 billion) during the first three months of 2017.   That's the best first fiscal quarter in 15 years.
Here's a quick breakdown from Vivendi's financial books (top line is UMG).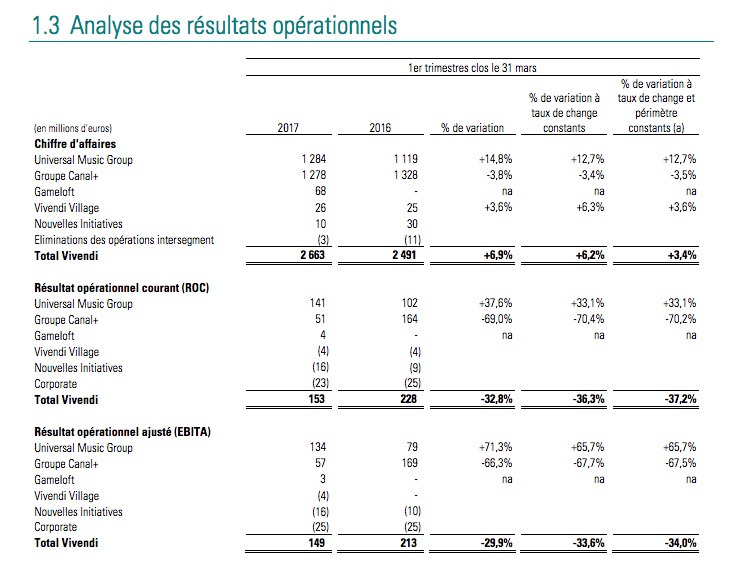 Isolating subscription and ad-supported streaming, and the revenue gain was an astounding 49% year-over-year.
That's 46% of the entire revenue pie, with downloads accounting for a ever-slimming 15.3%.  That download figure is quickly-dropping towards oblivion.
+ I'm Warning You, Universal Music Group. Don't Make This Stupid Mistake…
That's not the case for physical product, thanks largely to a continued vinyl resurgence.  After a ten year spurt largely spurred by streaming, vinyl sales are pulling tangibles up.  During the period, aggregated physical assets (CDs and vinyl) accounted for a modest 22.2% of the pie.
Other sectors were also showing gains.  Publishing improved 14%, while merchandising gained 13.3.
In a nutshell: streaming, vinyl and merchandising are gaining, while downloads and CDs continue to plunge.  Add it all up, and UMG is solidly in the green.
+ Why Deregulation Destroys Spotify, Pandora & the Music Industry Comeback
In terms of talent, it's no surprise that streaming-heavy artists powered the rebound.  Topping the list are Drake and Weeknd, both of whom owned platforms like Spotify and Apple Music during the period.  Indeed, it would have been a very different quarter without those gents, though other several soundtracks also contributed to the gains.  That includes soundtracks to La La Land, Fifty Shades Darker, and Moana.
But is streaming cooling down?
That's the nervous question bouncing around major label boardrooms these days.  And for UMG, it's definitely a concern.  During the same quarter last year, UMG's streaming revenue bounced 59.7 percent.  Then again, the 49% year-over-year again is happening on a higher base, which makes it tricky to compare.  In fact, paid subscriptions remain a robust growth area, and that's where the biggest pound-for-pound cash is coming in.
+ Breaking: Epic Records Chairman & CEO Antonio 'L.A.' Reid Exits
Oh, and let's not forget: if (and when) Spotify strikes its IPO, Universal Music Group stands to collect a king's ransom.   As a massive shareholder and preferred stockholder, Lucian Grainge has ensured that windfalls will be captured appropriately.
Now if Grainge could just figure that YouTube problem…