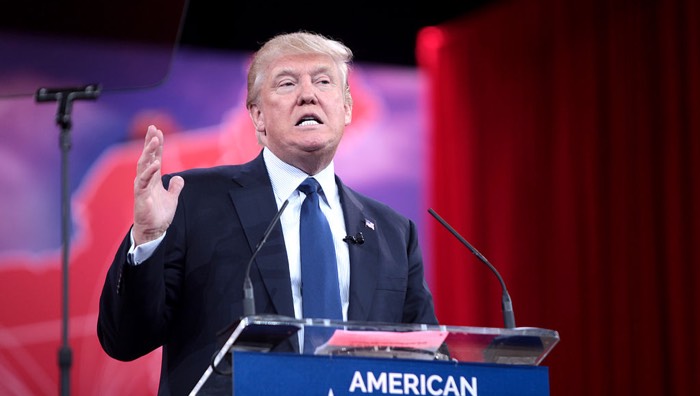 This is an issue that always bubbles up during the political season, but one in which artists have very little recourse.  Enter Aerosmith, which is now protesting Donald Trump's heavy use of their mega-classic, "Dream On," during campaign rallies.  According to the Hollywood Reporter, the band has now issued two cease-and-desists against Trump, with both demanding the immediate termination of the song during rallies.
"Trump for President does not have our client's permission to use 'Dream On'…"
The problem for Aerosmith is one of association, with the perception that the band is supporting Trump's candidacy (even though they're not). "Trump for President does not have our client's permission to use 'Dream On' or any of our client's other music in connection with the Campaign because it gives the false impression that he is connected with or endorses Mr. Trump's presidential bid," the cease-and-desist letter states, according to the Reporter.
Unfortunately for Aerosmith, Trump can probably ignore the legal threat, or even worse, make the band look stupid with it.  Just recently, Survivor protested the use of 'Eye of the Tiger' at an anti-gay marriage rally, with little result.  The reason is that as long as the even coordinators have secured proper public performance licenses from PROs ASCAP, BMI, SESAC, and GMR, they're in the clear.

Other issues related to association, and even damages in the event that a proper PRO license wasn't obtained are largely untested in courts.  And even if there is a case here, Trump would likely relish the opportunity to fight it, in the most high-profile way possible.
Image of Donald Trump speaking at CPAC 2015 in Washington, DC, taken by Gage Skidmore and licensed under Creative Commons Attribution-ShareAlike 3.0 Unported (CC BY-SA 3.0).