How important are fan-created, unauthorized Facebook videos to artist careers?  Now, we have a much better idea.
As the music industry battles with Facebook over royalties and what's fair, there's always been this lingering question.  How important are Facebook videos to artist careers, anyway?  And more importantly, how important are fan-created, unauthorized videos to artist careers?
Now, thanks to a groundbreaking, multi-month study, we have a much better idea.  According to the data, Facebook not only played a defining role in Adele's latest smash hit, 'Hello,' but its fan-created videos were the biggest piece of that victory.  "Interestingly, our research also found that video copies uploaded by fans were responsible for much of the buzz surrounding Hello's music video," research firm Plexeso relayed.
But this wasn't just limited to Facebook.  It covered all fan-created videos, across multiple platforms.  People just interact with user generated stuff more often.  And, more deeply.
"Cumulatively, all copies of the music video received over 2.5x more engagement than the source video over the course of 101 days."
+ Facebook Is Aggressively Ripping Down Cover Videos (Thanks to the Idiots At Universal Music Publishing Group)
The finding is interesting because of the extreme success of 'Hello'.  According to data from Nielsen Soundscan, 'Hello' is the fastest single to reach one million downloads in a week.  But that was just one of several record-breaking accomplishments.  Adele's album, 25, is now one of the best-selling releases in modern music history.
All of which strongly indicates that Facebook engagement boosted sales, instead of hurting them.
Original vs. 'Fan-Created' (ie, 'unauthorized) Videos.
The 'source' video is the official version, sanction by the label and Adele.  'Fan-created,' on the other hand, refers to unauthorized versions of the video that were copied, altered, or outright spoofed.  And, in many cases, ripped down by the copyright owner.  All in all, Facebook's unauthorized videos not only eclipsed the number of original videos, but absolutely crushed them in terms of engagement.
In fact, one could easily conclude that Facebook's user-uploaded videos of 'Hello' drew more interest and engagement than YouTube.   But YouTube had a lot more copies, which were viewed differently.  So that's another debate entirely.
Now here's a critical part of this analysis.  Overall, the number of takedowns for 'Hello' was relatively small, according to Pexeso.  That makes it a great case study, given that fans were mostly allowed to do what they wanted with the video.  And not only were they super-engaged with derivative copies, they were buying a lot of the original copies.  In fact, millions of them.
+ Stop Blaming the Victims of Facebook's Blatant Copyright Theft
Actually, here you can clearly see that most of the interest and activity around the video was happening on Facebook, not YouTube.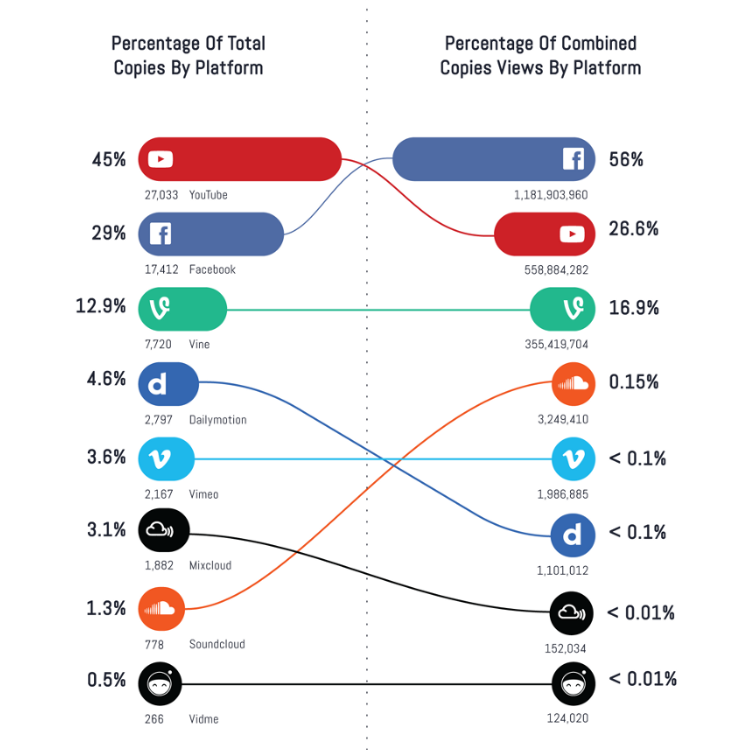 Beyond that, it's also obvious that copies were eclipsing the original versions.  That signals massive engagement, but not exactly in the form Adele's label intended.
In its study, Pexeso tracked how fan-created videos spread across video networks.  That includes YouTube and Facebook, as well as platforms like Vine and Dailymotion.
+ Old Music Business Is Yelling at New Music Business Again
Initially, the company addressed whether Facebook eclipsed the importance of YouTube.  At this stage, that's incredibly difficult to determine.  And part of the reason is that Facebook measures a simple 'view' far differently than YouTube.  According to Pexeso, a Facebook view comes after 3 seconds, while YouTube's view requires a 30-second commitment.
YouTube also has a lot more quantity, and is used quite differently.  "Out of all copies we identified online, 45% were published on YouTube. Interestingly, Facebook accounted for a mere 29% of copies, followed by Vine, which accounted for 12.9%.
The Pexeso study report can be found here.