Which high-worth rappers will purchase the latest Bugatti?  Looks like Chris Brown is on the short list, thanks to some 'lavish spending habits'.
It's the new status symbol for Russian billionaires, Saudi princes, and successful rappers alike.  It's a Bugatti, one of the most expensive luxury vehicles in the world.
How expensive?  Try several million dollars, for starters.  The Bugatti Veyron, for example, listed at $2.3 million.  That price tag was pocket change for a number of ultra-wealthy musicians and rappers, including Justin Bieber, Jay Z, Drake, and Chris Brown himself.
Now, there's a brand-new prize.  The recently-released Bugatti Chiron, pictured above, retails for $2.9 million.  And it's the the latest focus for rappers looking to expend extreme amounts of disposable cash.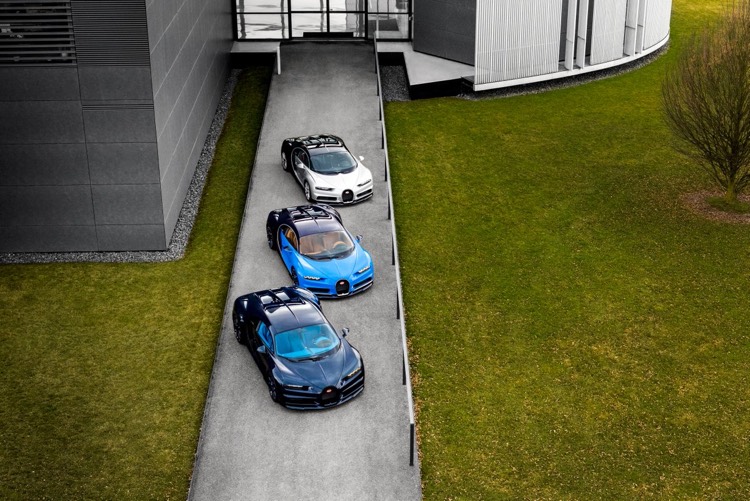 The Chiron is one mean ride.  The car's 8-liter W-16 engine delivers an astounding 1,500 horses, with a top speed of approximately 300 mph.
+ Chris Brown Refuses to Perform for Hundreds of Pissed-Off Fans
Now, this limited-run extremity is going to a select group of buyers.  Already, Brown's name is popping up alongside potential buyers like Drake, Bieber, and even Snapchat co-founder Evan Spiegel.  In fact, Chris Brown is quite likely to splurge again on the dazzling ride, according to details recently divulged by his ex-manager.
In court paperwork filed in Los Angeles in December, former manager Michael Guirguis alleges that Chris Brown is lavishly spending beyond his means.  Price tags are essentially irrelevant to the singer, with budgets hardly a consideration.
As a result, Brown could crash into bankruptcy if financial restraints aren't imposed.
But maybe that's for later.  "I have worked with Brown since 2012 and have witnessed firsthand Brown's lavish spending habits," Guirguis' testimony details.  "For example, Brown's music video shoots often have exceeded his record label's budget and Brown has paid out-of-pocket for the additional costs.  These were, at times, six-figure overages."
+ Chris Brown Is 'On the Brink of Bankruptcy,' Ex-Manager Says
Aside from automobiles, Brown is also dropping hundreds of thousands on mandatory private jet transportation.  "Brown also travels on private jets domestically and internationally, and spends anywhere from $50,000 to $200,000 per trip.  He pays for this himself."
Just recently, Brown sacrificed millions after sabotaging his relationship with Drai's nightclub in Las Vegas.  But the singer managed to re-start his high-priced residency, despite calling club owners 'racist' in July of last year.   "In July 2016, Brown was fired from his Las Vegas residency at Drai's Nightclub.  Drai's had paid Brown approximately $3 million a year.  Prior to terminating Brown, Drai's Management Group, LLC had sent a letter warning Brown about his behavior."
Guess that means more millions to blow!
+ Chris Brown Faces $1.5 Million Lawsuit After 'Going Rihanna' on Manager
Despite accusations of physical attacks and non-payments, Guirguis lost his case against Brown.  Guirguis, also known as 'Mike G,' was seeking to obtain $1.5 million in Brown's assets.
Back to the Bugatti, the Volkswagen-owned company isn't disclosing its buyers.  But we'll probably see a few flashy examples on the streets of major cities soon.