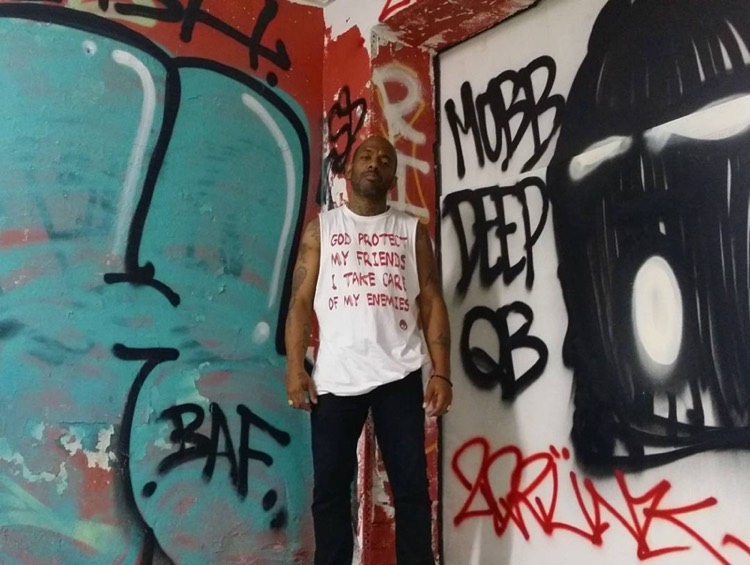 We're not sure who snapped this photo of Mobb Deep's Prodigy right before his death.  But it's eerie.
This isn't an Illuminati conspiracy theory piece.  But a photo taken just three days before Prodigy's sudden death is a little strange.
The photo was posted from Las Vegas, while Mobb Deep was on the 'Art of Rap Tour'.  At this stage, we're not sure exactly where this photo was taken, or who the photographer was (please offer more details if you have them).
In the upper right hand corner, behind Prodigy, appears 'RIP Mobb Deep QB'.
But that's only one way to read this.  Even stranger, the positioning of the 'RIP' is perfectly situated around the rapper.  So you have R, I, then Prodigy himself.
Incidentally: 'QB' is shorthand for 'Queensbridge,' Mobb Deep's home neighborhood.
Surely, a coincidence.  Though not everyone believes that.  And to their credit, a few strange facts are surfacing after the rapper's death.  All of which are fueling conspiracy theories or ideas of foul play:
(a) An official cause of death has not been disclosed.
That's not too unusual.  Autopsies can take months to complete.  But there also hasn't been any statement from the family.  And leaks suggest that Prodigy suffered from 'accidental asphyxiation,' not sickle cell anemia as previously revealed.
+ Prodigy Died of 'Accidental Asphyxiation,' Autopsy to Show
We'll leave it at that.
(c) A mural commemorating the Mobb Deep rapper in Queensbridge was vandalized twice.
One explanation for this is that the Mobb Deep rapper had some old enemies.  And rap beef dies hard.  But murals of other rappers and luminaries haven't been subject to such abuse.
Prodigy died unexpectedly on June 20th, 2017 while on tour in Las Vegas.  The death shocked the entire rap community, particularly those hailing from 90s-era New York.  Mobb Deep's fame was indeed worldwide, and the rapper's funeral drew a who's who of New York and East Coast rappers.
Not to mention a massive crowd of faithful fans.