I often run into people working in corners of the music industry who just can't understand why so many musicians' guards are up so high. This scam Atlantic Records email is the latest reason why.
Musician scams, of course, have been going on for as long as I've been in music professionally (about 12 years). And probably much longer. In this case, a sham Atlantic Records email purporting to be the label itself is taking money from hard-working artists trying to make it.
How these scams work is, someone usually claiming to be "A&R", finds musicians online (they used to use Myspace, now it's ReverbNation and BandCamp and soon, no doubt, Instagram) and sends them an email stating they like their music and want them to submit for consideration. The most egregious offenders, as illustrated below, are the ones who don't provide their name or company email address. Or give any indication that this is legitimate other than using a well-known company name (Atlantic Records in this case). Others will claim to be able to get you followers, streams, plays, views, Likes, you name it. And may be able to actually deliver – withholding the fact that the tactics they are against all companies' Terms of Service. And may result in your accounts being deactivated or blocked.
But let's focus on the scam at hand.
Someone claiming to be "Atlantic Records A&R" is requesting music for review.
Review for what? Well, this doesn't say. Most would infer a potential record deal. Why anyone would want a record deal with Atlantic Records when they just signed the Cash Me Outside girl is beyond me. But that's besides the point. People who fall for this scam are looking for quick fame and instant success. And don't understand how the music industry actually works. But unfortunately, that is many, many musicians. If not most.
When there are "legitimate" submissions platforms that charge musicians to submit to "real" opportunities or for feedback or consideration, such as SubmitHub, Fluence, MusicXray, Sonicbids and ReverbNation, how is a musician supposed to know these other avenues are not legitimate?
And for the record, anyone who says that no "legitimate" company would use platforms that charge musicians for submission, I'd urge you to educate yourself a little more.
Glassnote Records has used MusicXray to accept submissions. The extremely popular blog IndieShuffle uses (and created) SubmitHub for submissions. A prominent KCRW DJ uses Fluence. "The World's Largest Music Festival" Summerfest and the actual Atlantic Records uses ReverbNation for submission. Noise Pop Festival uses SonicBids. Music supervisors, production companies, wedding photographers and ad agencies use SongTradr to find music to use in TV, film, internet videos and commercials. And the National Association of Campus Activities (NACA) charges musicians directly to submit to showcase (and charges to showcase if selected) at the conference. All of these require fees.
I can see why so many are confused.
This email (below), however, is an obvious scam no better than a Nigerian Price requesting your bank account numbers to deposit a "lump sum" into it.
Instead of asking for your bank account and promising money, these perpetrators are asking you to pay them $79 via a PayPal.me link for them to review your music for consideration. They state: "Legally we can not officially review any material until a payment is received which then makes it legal material." Which is total BS. But it sounds official, I guess.
The email they are using is "[email protected]" – which should setoff immediate red flags. Anyone actually employed by Atlantic Records would have an Atlantic Records email address like "[email protected]" or something like that. And if Atlantic Records (or any record label) A&R was actually interested in you, a human (using their own name) would say as much. They wouldn't charge you to submit. They would send you an email (from their company email address) and ask you to meet, to send more music or for guest list spots to an upcoming show.
Someone at Atlantic should send an immediate cease and desist letter to this gmail address. And contact PayPal immediately requesting they remove this account.
It is giving them a very bad name.
Help me shut these predators down. Click this PayPal.Me link and click "Report This Page" at the bottom. It will open your Mail app to send an email directly to PayPal telling them to investigate this link. If enough people do it, they will shut this down.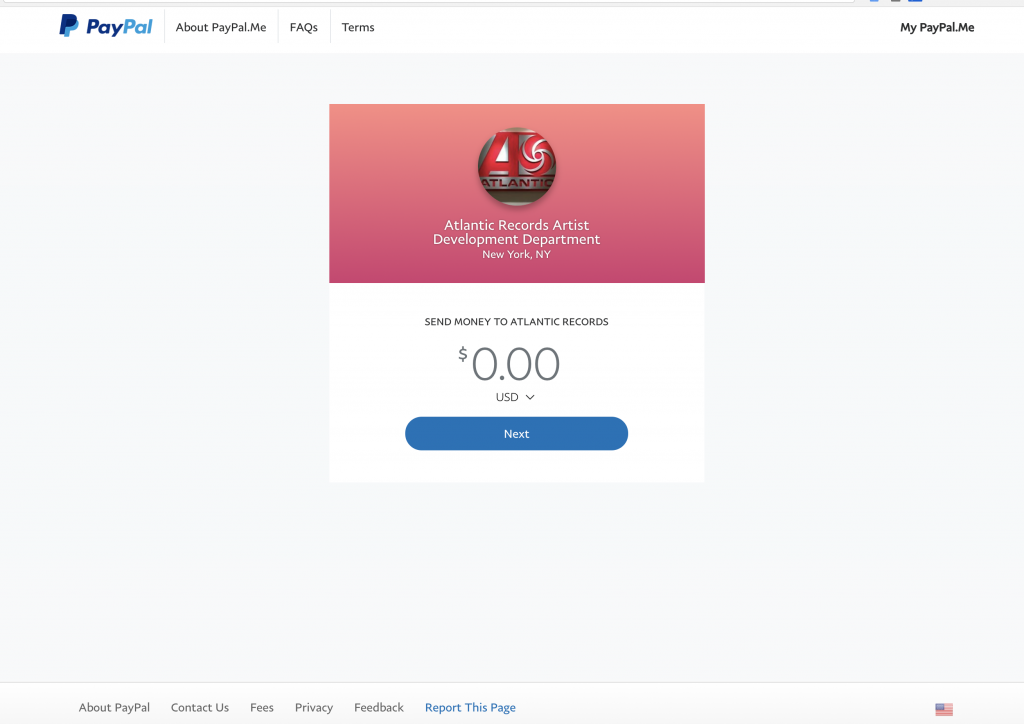 See the email in question below

No one at Atlantic Records returned a comment in time for publication.