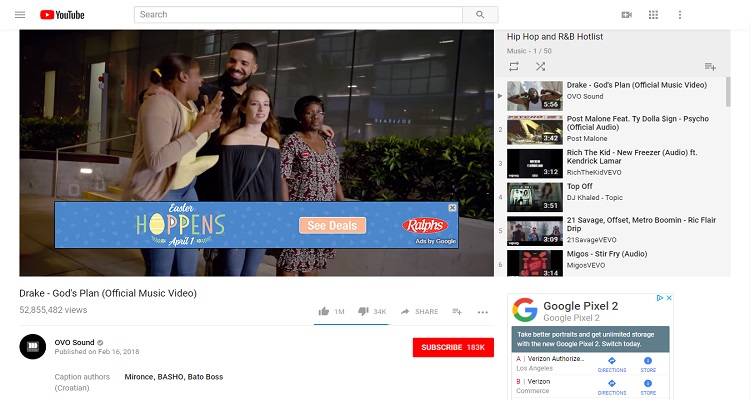 Lyor Cohen outlines why YouTube's new music service will succeed. Here's why it won't.
Last week in a keynote at SXSW, Lyor Cohen, YouTube's Global of Head of Music, confirmed that the video platform would launch a new music service. Code-named 'Remix,' multiple reports had placed the launch of Google's (3rd) subscription-based music platform launch in early March.
It will now likely launch at the end of this month.
Speaking about the new service, Cohen stated that YouTube's music platform would have "the best of Google Play Music." It would also have the video platform's "breadth and depth of catalog." But, with Google already owning Play Music and YouTube Red, how will the company attract users to its new music service? Simple.
The answer: flood current YouTube music video watchers with ads until they have no choice but to subscribe.
But, why would people pay for music when they can already listen to it for free?
Speaking at SXSW, Cohen underscored how people who listen to music on YouTube actually want to pay. Of course, he didn't provide a clear strategy on how it would compete against Spotify, Apple Music, and Amazon Music. Instead, in true smoke-and-mirrors fashion, Cohen merely stated,
"The only place in the industry where you can play both in-commerce and direct-to-consumer is YouTube. Let's use it."
The company faces a truly difficult battle to convert current users. Last year, the IFPI found that video streaming makes up more than half of all on-demand music streaming. Because of its non-existent price tag, YouTube accounted for 46% of all time spent listening to on-demand music.
This gets worse. Only 23% of users around the world listened to music through a paid audio streaming subscription. That explains why Play Music and YouTube Red last reported nearly 7 million total subscriptions combined after several years on the market.
7 million is a lot of people — but not for behemoths like Google and YouTube combined.
With its past subscription-based services, Google has proven that it has yet to build an appealing streaming music platform. So, to convert users, Cohen shared YouTube's new strategy.
Why YouTube's 'frustrating ads' strategy will most likely backfire.
In an interview with Bloomberg, Lyor Cohen said that passive music listeners on YouTube will encounter more ads. They'll face so many ads, he added, they'll most likely subscribe.
"You're not going to be happy after you are jamming 'Stairway to Heaven' and you get an ad right after that."
In addition, Cohen admitted that with YouTube's music service, it hopes to put an end to criticism from the music industry. The company, despite a historically poor relationship with the music industry, recently managed to score major licensing deals. With the service's success, it hopes that major labels will finally become "good partners" with major labels.
Thus, people won't write any negative 'noise' against the video platform.
"There's a lot more people in our funnel that we can frustrate and seduce to become subscribers. Once we do that, trust me, all that noise will be gone and articles people write about that noise will be gone."
In fact, Cohen remains so confident that the music service will succeed, he added that the music industry may finally learn to appreciate YouTube.
"They will appreciate in time the advertising. Everyone is drunk on the growth of subscription."
Yet, frustrating current YouTube users with ads might not entice them to subscribe.
Doing a quick Google search, you'll find many videos demonstrating how to watch videos ad-free on the platform. You'll also find sites dedicated to allowing you to watch YouTube videos without any 'frustrating' ads.
In addition, Ad-Block Plus, an add-on for Firefox, Chrome, Safari, and Opera, as well as iOS and Android, provides ad-free viewing. More than 100 million people around the world use this add-on program. Plus, many of the apps in our MP3 music downloaders list come with built-in ad blockers for YouTube.
In short, if YouTube starts swamping music lovers with ads, why would they subscribe? Just look at Spotify, the global streaming music leader. It currently has 71 million subscribers. With 159 million monthly active users, 88 million people around the world use the service's free, ad-supported service. The service provides 30 minutes of ad-free listening just for viewing a 30-second ad.
No, YouTube's new ad-swamping strategy won't lead to a successful streaming music service. Not at all.
Instead, it will ultimately push users to seek other services, or jump on Spotify 'Freemium.' The company's new music service will end up joining the ranks of Play Music and YouTube Red, both of which are all-but-forgotten.
Update: In a statement to Digital Music News, Google attempted to spin Lyor Cohen's statement. In amazing double-speak, a YouTube spokesperson confirmed that yes, it will swamp users with ads. And, no, you can't do anything about it, unless you subscribe, that is.
Our top priority at YouTube is to deliver a great user experience and that includes ensuring users do not encounter excessive ad loads. We do not seek to specifically increase ad loads across YouTube. For a specific subset of users who use YouTube like a paid music service today – and would benefit most from additional features – we may show more ads or promotional prompts to upsell to our paid service.
So much for changing the music industry's mind about YouTube.
---
Featured image by YouTube (screengrab)