May 22nd came and went.  So, why do so few people have access to YouTube Music?
You've probably heard the announcement by now.
Google's 'potential' game-changing streaming music service – YouTube Music – finally had the support of the music industry.  With over 1.4 billion monthly active users, and major licensing deals locked down, it appeared that the search giant had everything ready to finally take over streaming music as we know it.  YouTube Music was well on its way to become a much-needed game changer in the streaming music arena.
Investors felt the same way.  In fact, once Google confirmed the date – May 22nd – Spotify shares fell 2.5%.  Pandora and Apple dipped 2% and 0.4%, respectively.  YouTube Music was set to debut in the US, Mexico, New Zealand, Australia, and South Korea.
There was just one tiny problem.  May 22nd has come and gone.  And very few people – outside of USA Today, Variety, and a few other journalists and execs – actually have access to the service.
Google's major misfires.
YouTube Music marks the search giant's third attempt to finally break into the streaming music industry (with actually paying customers).
So, after launching Google Play Music and YouTube Red, the company should've learned something, right?
Right?
Wrong.
First, company executives decided to change the service's name.  That's fine.  Yet, they somehow decided that launching its new streaming music service into two tiers with very similar names was a great idea.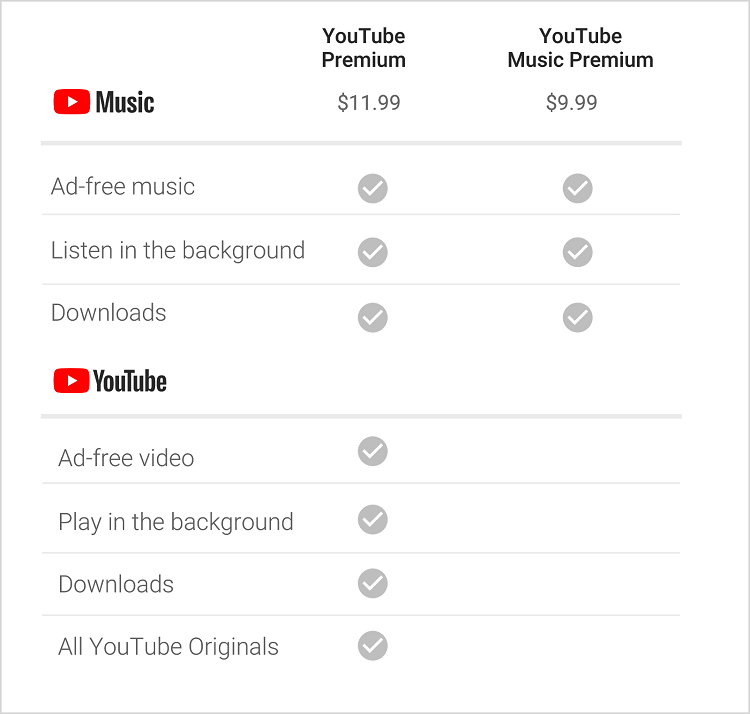 Let me break it down for you.  Do you want to listen to your favorite music without listening to ads?  Would you also like to listen to music in the background – a unique YouTube Red feature – for $9.99 a month?  Then, you'll want YouTube Music Premium.  Never mind that almost all streaming music services already include that feature.
Oh, did you also want to watch Cobra Kai?  And, would you like to watch your favorite videos on the platform without any ads at all?  Then, prepare to pay $2 more for YouTube Premium, a service that once cost $9.99 a month.  Existing Red subscribers will only get that additional $2 waived for a short time.  Again, never mind that you can already watch YouTube videos ad-free on a number of third-party apps and websites including SnapTube and TubeMate.  Oh, and that Apple Music doesn't charge extra for its videos.
So, YouTube Music Premium for music.  YouTube Premium for ad-free videos across the platform and Cobra Kai.  Got it?
Second, company executives haven't outlined a feasible strategy on how they'll convince YouTube's 1.4 billion+ users to finally pay up.  And no, Lyor Cohen, swamping users with ads won't work.  Nor its multi-million dollar push with Cardi B.  As stated above, users will likely jump ship to third-party apps and websites.  As the old saying goes, you can't teach an old dog new tricks.  So, you won't convince YouTube viewers who have streamed music for free to now pay after 13 years.
Third, just check out the reviews.
According to The Verge, no, YouTube Music doesn't have power features.  It also doesn't have a Spotify Discovery Weekly competitor nor desktop software.  Apple Music does.  So do Spotify, Amazon Music, and Napster.  Even Deezer has one in beta.  So, why not Google?  After all, the search giant has apps and software for just about every product it owns.
Amateur mistake.
According to Engadget, YouTube Music doesn't offer a way to click through to specific genres.  It also doesn't make it easy to find new releases.  Oh, and it's "recommended new releases" only has around 10 new albums.  As writer Nathan Ingraham wrote,
"It's a little hard to recommend unless you love music videos"
According to Variety, the service, with few unique features, has arrived "too late for the average listener."
"Most people have already carefully tailored their Spotify experience with curated playlists, that it makes the act of switching over to an entirely new platform for essentially the same experience a chore."
But, hey.  At least Google's algorithm works well.
According to CNBC, YouTube Music – a basic service – only works well for people "who want to listen to music and enjoy music videos."  Yet, don't expect your personalized playlists to transfer from Spotify or Apple Music.  As writer Todd Haselton noted,
"I'd also miss Spotify's personalized daily playlists and discover features that are automatically generated to my tastes.  Google doesn't have that yet."
According to USA Today, YouTube Music's playlists are sometimes spot on.  Sometimes.  Yet, for the most part, they're off.  You'll likely encounter buggy "endless mixtapes" repeatedly shown on the service's front page.  Don't enjoy mixtapes?  Oh, well.
In short, every single reviewer agrees on one point – Google has created its best streaming music service ever.  Despite all my complaints, the search giant could very well finally launch the service to everyone tomorrow.  It could even end up proving a much-needed game changer.
Yet, with its amateurish rollout, and few people actually recommending the service, it makes little sense to actually get a YouTube Music Premium subscription.  Unless you really want to watch Cobra Kai.  Then, please, feel free to pay $11.99 a month.
---
Featured image by William Murphy (CC by 2.0)