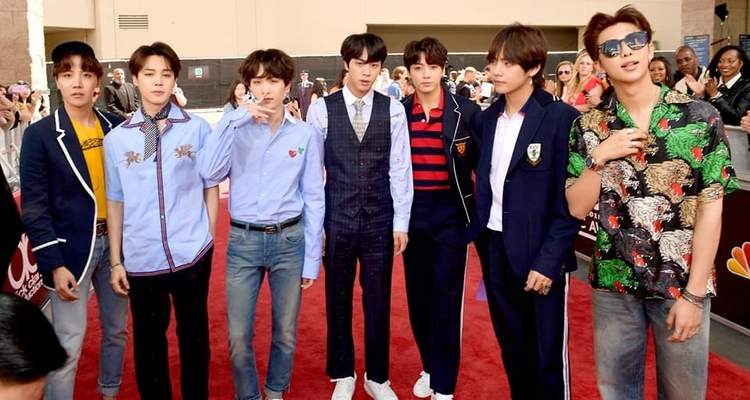 A host of a Mexican show is receiving a lot of backlash for calling BTS gay during the airing of "Farandula 40."
Korean Pop music — aka K-Pop — is definitely becoming a popular genre in the scene everywhere, even in North America.
And one of the most popular K-Pop groups to have emerged is BTS, who debuted in 2013 with their single, "No More Dream." They've performed and won Top Social Artist Award at the 2017 Billboard Music Awards and won Best Korean Act at the MTV Europe Music Awards.
The seven-member group recently attended the 2018 Billboard Music Award and won the Top Social Artist Award.  And while some artists were praised for their outfits, not everyone was happy with BTS' choice of style.
Talk show host Horacio Villalobos made fun of the group's attire when they received their award at the 2018 Billboard Music Awards.
"It doesn't matter if they wear Gucci clothes. This collection is a fail," said Villalobos. "They look like an LGBT group."
The host continued, "They are all men? They look like they would work at a gay club."
The roast also included a dish on the group's "skinny bodies and bad hairstyles," not to mention Rap Monster's multi-colored Bahamas-style shirt.
According to the hosts, the mismatching made the Bangtan Boys look like "an LBGT group lost in Cancun".
+ Is BTS Addicted to Plastic Surgery? We Asked a Plastic Surgeon in Beverly Hills
Of course this didn't sit well the BTS fans, who gave the host a lot of hate.
Villalobos took to Facebook on Monday to apologize to those he offended, including the fans.
"We never intended to offend fans of BTS or anyone in our fashion section of 'Farandula 40.' If we did, we offer you a sincere apology," wrote Villalobos.
Despite the host's apology, the fans were not accepting and many were still furious by his comments.
"I watched that video and they did more than just call them gay they really went in on BTS as if they had personally wronged them it was so weird to witness. After everything they said its hard to believe the apology is genuine," tweeted one fan.
Of course, Villalobos was using 'gay' and 'LGBT' as derogatory insults, one wrapped in a fashionista roasting.  Strange stuff, but hate nonetheless — and something BTS will undoubtedly encounter again as their global popularity increases.
https://www.youtube.com/watch?v=T2GHcfdh660