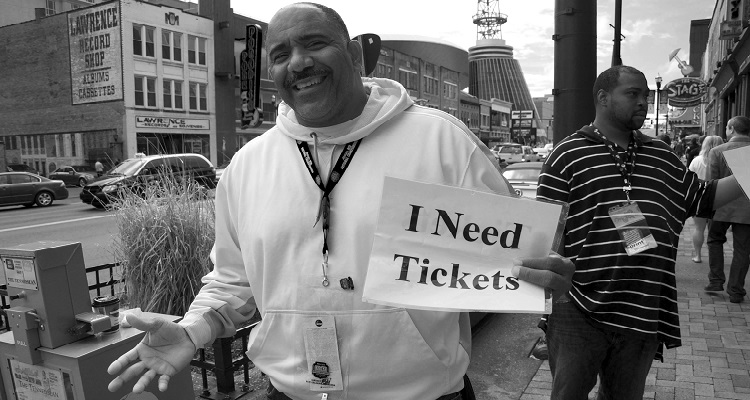 So, how much will Ticketmaster's unethical reseller program cost the company?
Several weeks ago, the Canadian Broadcasting Corporation (CBC) and the Toronto Star unearthed Ticketmaster's dirty little secret.
In order to maximize revenue, the ticketing giant has allegedly worked in tandem with scalpers.  Known as 'resellers,' Ticketmaster's resale unit turns a blind eye to scalpers who use bots and fake IDs to purchase bulk tickets.  Through TradeDesk, a members-only program, the ticketing giant then supposedly allows 'resellers' to sell the tickets for inflated prices.
The company charges scalpers fees for the initial ticket purchase, then again when the tickets are resold.
Despite the damning investigation, Ticketmaster stood its ground.  In an interview, Jared Smith, the company's President, seemingly defended the practice.
"Resale is a much, much smaller portion of where the company makes money.  The resale market does exist, and it needs to be serviced, and if we weren't in it, then other people would be."
Now, after talks of possible legal action against the company, one consumer has led the charge against the company's unethical practice.
Taking on the ticketing giant.
Filed in the US District Court of North California, Allen Lee has alleged Ticketmaster and Live Nation have failed to treat consumers fairly.
The class-action lawsuit claims Ticketmaster has "facilitated the sale of tickets to the secondary market."  In a unique narrative style not normally seen in lawsuits, Lee and his legal team wrote,
"Have you ever wondered why Ticketmaster has been unable to rid itself of scalpers who purchase mass quantities of concert or sport tickets…then resell them for much more minutes later?  A better question all along may have been why did Ticketmaster not want to."
Through its TradeDesk program 'built expressly for resellers,' Lee writes the company failed consumers just to obtain more revenue.
Listing an example, he writes,
"If Ticketmaster collects $25.75 on a $209.50 ticket… when the owner reposts it for resale for $400 on the site, the company stands to collect an additional $76 on the same ticket."
Citing multiple stories against the ticketing giant in the wake of CBC and Toronto Star's investigation, Lee summarized Ticketmaster's pro-scalper actions.
"In other words, 'If you can't beat 'em, join 'em.'"
Lee and his legal team listed four factual allegations explaining Ticketmaster's unethical actions against consumers.
First, the ticket resale market is worth $5 billion.
Scalpers use bots to purchase a large number of tickets at inflated prices.  This, writes Lee, has "become a curse for the concert-going public."
So, what is Ticketmaster – 'the largest player in the ticketing industry' – doing to deal with the problem?  Citing the Los Angeles Times' take on the original report, the ticketing giant is reportedly "cashing in – twice."
Second, undercover investigation has revealed Ticketmaster's illicit scheme.  The company permits, facilitates, and actively encourages secondary market sales using its own online resale systems.
Citing the original CBC/Toronto Star investigation, Lee stated a company representative admitted to turning "a blind eye to scalpers."
But, why?  Simple, writes Lee.  "Greed."
"The 'pricey resale tickets include extra fees for Ticketmaster.'"
Further breaking down the investigation, Casey Klein, a Ticketmaster Resale Director, closed off a session to the media.  At the closed-door meeting, he proudly proclaimed to insiders,
"We appreciate your partnership: More brokers are listing with Ticketmaster than ever before."
In fact, prior to the CBC/Toronto Star report, the company had "closely guarded" the existence of TradeDesk.  Lee writes the company hadn't mentioned its professional reseller program on its website or corporate reports.
Citing a Live for Music report, Lee adds,
"It seems as though the ticket-selling giant has [kept] the program under wraps…"
In addition, Ticketmaster's 39-page 'Professional Reseller Handbook' reveals several key facts.  This includes the existence of the TradeDesk Marketplace, which allows resellers to "view and purchase inventory from fans."  The marketplace exists, writes Lee, in spite of 'Fan-to-Fan Resale' and 'Official Fan-to-Fan' marketplaces.
In fact, as a company representative admitted, Ticketmaster doesn't care whether scalpers purchase tickets en masse.  Citing the rep's exact words in the investigation, Lee wrote,
"We've spent millions of dollars on this tool.  The last thing we'd want to do is get brokers caught up to where they can't sell inventory with us."
Thus, the ticketing giant has actively rewarded scalpers for selling on its secondary market.
Third, Ticketmaster has admitted 'inappropriate activity.'
In a statement lambasting the CBC/Toronto Star report, the company didn't deny the existence of TradeDesk.  It also didn't deny its resale division actively encourages violations to "unload mass quantities of tickets on the secondary market."  In fact, seemingly admitting guilt, the company wrote,
"Moving forward, we will [put] additional measures in place to proactively monitor…this type of inappropriate activity."
Fourth, US Senators have opened an inquiry into Ticketmaster's resale program.
Two US Senators – Richard Blumenthal (D-CT) and Jerry Morgan (R-KS) – have written a letter to Live Nation CEO Michael Rapino demanding answers.
As the Senators have demanded an account of the practice, Lee posits Ticketmaster and Live Nation have engaged in "unlawful and unfair business practices."  Thus, he seeks restitution, attorneys' fees, and costs of suit.
You can read the lawsuit below.
---
Featured image by jive667 (CC by 2.0).