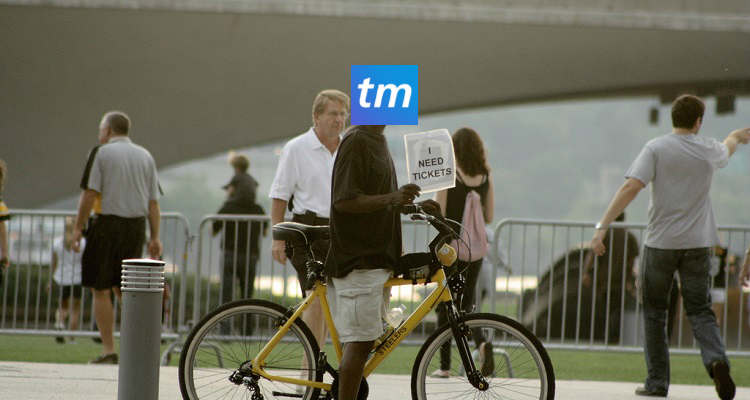 Has Ticketmaster inadvertently admitted to allowing scalpers to buy tickets en masse?
Ticketmaster hasn't been having a good month.
Last Wednesday, the Canadian Broadcasting Corporation (CBC) and the Toronto Star revealed that the ticketing giant has worked closely with scalpers.
Ticketmaster's resale unit reportedly turns a blind eye to 'resellers' who use bots and fake IDs to purchase tickets en masse.  Using TradeDesk, its members-only program, they then resell the tickets for inflated prices.
Or at least that was the secretly-recorded admission of a TradeDesk rep.
The reveal was pretty straightforward.  TradeDesk allows scalpers to sync their Ticketmaster.com accounts to resale operation sites on StubHub, Vivid Seats, and its own website.  The company charges resellers fees for the initial ticket purchase, then again when the tickets are resold.
Of course, the ticketing giant quickly spun the news.  Instead of actually addressing the TradeDesk platform used by scalpers, a Ticketmaster representative dismissed the allegations.
Citing its own Sellers Code of Conduct the company has clearly violated for profits, the company wrote,
"Our policy also prohibits the creation of fictitious user accounts for the purpose of circumventing ticket limit detection in order to amass tickets intended for resale."
The company added it doesn't condone the statements made by the employee.  Ticketmaster has now undertaken an internal investigation into the unethical practice.
Clearly, people don't buy it.  Following 'Scalpergate,' the ticketing giant now faces a $100 million class-action lawsuit.
Lawmakers in the US are also skeptical of Ticketmaster's excuse.  Two US Senators – Richard Blumenthal (D-CT) and Jerry Morgan (R-KS) – have written a letter to Live Nation CEO Michael Rapino demanding answers.  Live Nation purchased Ticketmaster in 2010.
Now, Jared Smith, Ticketmaster's President, has spoken out.
In an interview with Billboard, Smith said the company doesn't "turn a blind eye to the misuse of our products."  Of course, this doesn't dismiss the notion that his company has chosen instead to allow the misuse for gain.
Writing that the ticketing giant's tools are imperfect, Smith added that Ticketmaster continues "to improve those tools that identify suspicious activity."
"We have gotten pretty effective at blocking people from buying lots of tickets, and we take it seriously.  Where the distinction has been made and where we have to improve, I think, is on the backside of those products.  We probably don't do enough to look into TradeDesk even though it's hard and it's not as obvious as people are suggesting it is."
Describing the CBC/Toronto Star story as "frustrating," Smith defended the company's tools, including TradeDesk.  Hinting the company may actually approve the practice, he added,
"They believe that all resale is bad and scalpers are buying tickets and selling them for massive profit.  The reality is, there's a clear distinction in the resale market between ticket brokers, generally, most of which are legitimate and play a role in the ecosystem that lots of people rely upon."
Again, spinning 'Scalpergate' as a generally accepted practice, and defending the resellers who use TradeDesk, Smith continued,
"That is separate and distinct from cheaters and people who use bots and make up fake accounts, doing all of these things to try and get as many tickets as they can, mostly for the high-demand shows.  Those are the people that we're absolutely waking up every day trying to find."
Describing TradeDesk as an "inventory management tool" for professional, 'legitimate' resellers, he explained other platforms use similar tools.  StubHub, for example, has Ticket Utils.  Vivid Seats has SkyBox.
"We do not provide preference in any way for any group of people, professional or otherwise, nor do we provide tools or programs that allow them to buy tickets in bulk or gain an advantage over fans. Period.  We do not do that.  We never have [and] never will."
Yet, he admitted resellers could easily use the 'inventory management tool' to sell above the allowed ticket limit.  Defending the scalpers as 'resellers,' Smith added,
"They could have bought them from other resellers or directly from the venue.  You can't just go back and say, 'Hey, you have 50 tickets.  The ticket limit was 10 and therefore you're a criminal and we're canceling all your tickets.'  It's not that easy."
The company, claims Smith, ultimately doesn't make that much money off TradeDesk.
"Resale is a much, much smaller portion of where the company makes money.  The resale market does exist and it needs to be serviced and if we weren't in it then other people would be."
---
Unedited featured image by Brian Donovan (CC by 2.0).