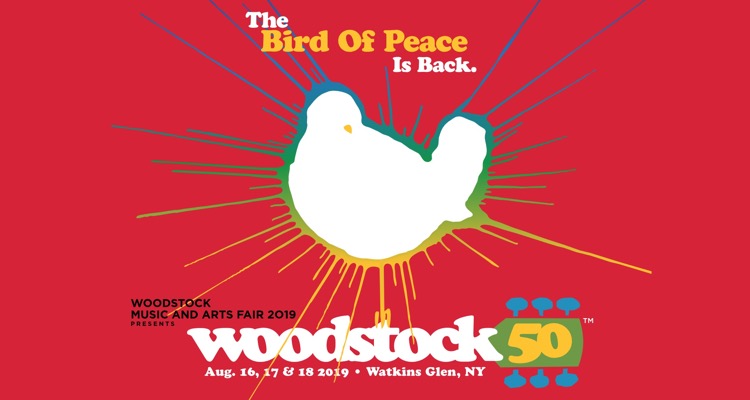 After delaying its ticket sale date, an investment group behind Woodstock 50 has officially cancelled the event.  But not everyone seems to agree on the death sentence.
The warning signs were piling up, and now it's official — at least according to one of the organizers and lead investors.  Woodstock 50, heralded as a monumental celebration of the iconic 1969 festival, was cancelled earlier this morning.
Or, we think it was cancelled.
The cancellation was confirmed in a letter issued to attendees and the media by event organizers/investors Dentsu Aegis Network.  Specific reasons for the cancellation were omitted, though rumors pointed to numerous problems, including serious logistical challenges and delays in securing proper land-use permits.
Soft ticket sales may have also been a culprit, though performing artists were apparently paid their initial deposits.  In terms of refunds, we're guessing that fans will be fully refunded for their tickets.  Unfortunately, expenses like flights, hotels, and other event-related expenses will almost certainly not be covered.
Dentsu-owned Amplifi Live, which is overseeing aspects of the festival, issued this official statement.
It's a dream for agencies to work with iconic brands and to be associated with meaningful movements. We have a strong history of producing experiences that bring people together around common interests and causes which is why we chose to be a part of the Woodstock 50th Anniversary Festival. 

But despite our tremendous investment of time, effort and commitment, we don't believe the production of the festival can be executed as an event worthy of the Woodstock Brand name while also ensuring the health and safety of the artists, partners and attendees.

As a result and after careful consideration, Dentsu Aegis Network's Amplifi Live, a partner of Woodstock 50, has decided to cancel the festival.  As difficult as it is, we believe this is the most prudent decision for all parties involved.
Sounds kaput, except that there seems to be some disagreement over whether Dentsu has the right to cancel the event.
"Woodstock 50 vehemently denies the festival's cancellation and legal remedy will be sought," a second group of Woodstock 50 representatives told the Poughkeepsie Journal.
Woodstock 50 cofounder Michael Lang has emphatically declared that the festival isn't being cancelled.  After initially declining comment, Lang has now issued the following statement:
"We are committed to ensuring that the 50th anniversary of Woodstock is marked with a festival deserving of its iconic name and place in American history and culture.  Although our financial partner is withdrawing, we will of course be continuing with the planning of the festival and intend to bring on new partners."
"The bottom line is, there is going to be a Woodstock 50th Anniversary Festival, as there must be, and it's going to be a blast."
Sounds like exactly the type of in-fighting that ruins a great festival idea.  Ironically, the in-fighting is now focused on whether the event has been terminated or not.
Artists slated to perform at the event included Jay-Z, Miley Cyrus, Chance the Rapper, and Imagine Dragons, along with Robert Plant, Santana, David Crosby, John Fogerty, and Dead and Company.  The Black Keys dropped out of the event, though it's unclear if that had any connection to the festival's growing issues.
Woodstock 50 had quite a bill, though the announcement of the festival's lineup was seriously delayed.  Lang, who also produced the original 1969 Woodstock, immediately downplayed rumors of trouble ahead when questions about the lineup surfaced.
"There's always been lots of rumors around Woodstock.  We have excellent partners and an incredible talent lineup of over 80 artists which will be announced within the next couple of weeks.  We're preparing a once-in-a lifetime event."
Shortly thereafter, the on-sale date for tickets was postponed, raising another red flag.
An e-mail sent to ticket agents read,
"There's currently a hold on the Woodstock 50 on-sale date.  We're waiting on an official press statement from [organizers] regarding updated [announcements], ticket pricing, and overall festival information.  We'll get this information to you as soon as we receive it."
The event was slated to take place August 16-18 at Watkins Glen in New York.  And hey, maybe it will still happen (stay tuned).
Billboard estimated that more than $30 million had already been spent on the event, with both Live Nation and AEG rejecting $20 million bailout investment offers.