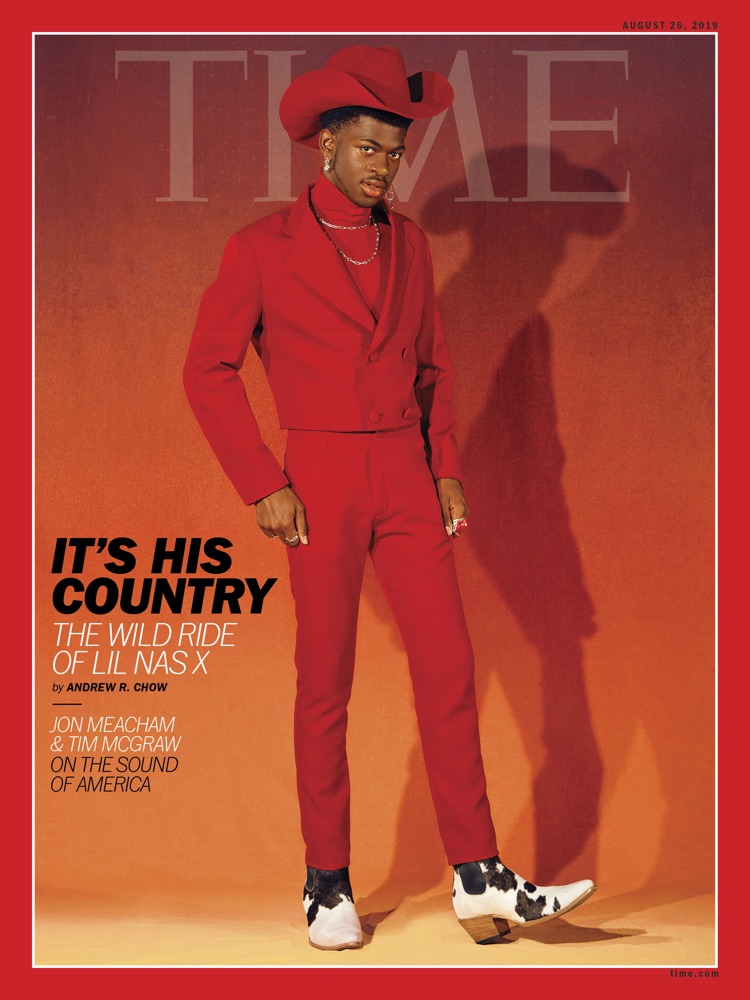 Four months after the rise of "Old Town Road," rapper Lil Nas X is on the cover of TIME Magazine.
Detractors thought the rapper's meteoric rise to success would fade quickly. But Lil Nas X has dominated the top of the charts for months, blocking out singles from Taylor Swift, Ed Sheeran, and Justin Bieber.
"Old Town Road" is a combination of country and hip-hop that caused a national debate when it landed. The song itself was disqualified from Billboard's country charts, drawing accusations of racism.  That imbroglio only strengthened the song's meteoric rise, and the initial removal prompted a remix with Billy Ray Cyrus that drove the song to further success.
Lil Nas X purchased the beat he used in the song online for $30 and wrote the lyrics himself. He went from being a college drop-out living on his sister's floor to a mega-star overnight. He's carved out a niche for himself, not only as a black man in country music, but as a gay black country star.
He used the internet to beat Nashville at its own game. The country capital has a long-held tradition favoring its version of country music.
Unfortunately, the numbers tell this tale of exclusion.  "Old Town Road" stalled at number 50 on Country Airplay, and most Nashville DJs ignored the song.
The fame Lil Nas X has achieved is welcomed, but not without its problems.
"It gets overwhelming. I just shut down on everybody — I'm still a loner in a lot of ways."
But Lil Nas X can't stop interacting with his fans on Twitter. Sharing memes, reacting to their comments; it's how the rapper keeps the social media generation engaged. And his success has sparked a lot of competition.
Atlantic Records recently signed Sueco the Child, whose song "Fast" went viral on TikTok.  Y2K and bbn0$ signed with Columbia after their song "Lalala" went viral — also thanks to TikTok. In fact, most of Lil Nas X's competition seems to be from stars rising to fame on the TikTok platform.
Whether country trap becomes a brand-new genre is anyone's guess.  Though Nashville isn't exactly embracing the possibility.