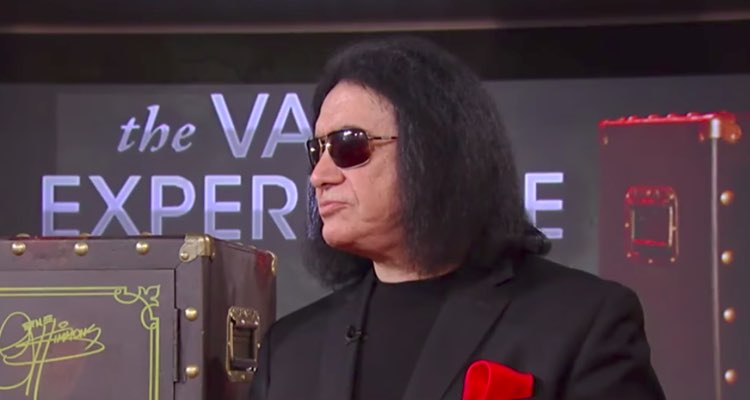 Gibson has unveiled a joint venture with Gene Simmons to develop electric guitars and basses – as well as "new entertainment content" – under the G² banner.
The Nashville-headquartered guitar manufacturer announced its partnership with the Kiss cofounder today, in a formal release that was emailed to Digital Music News. Gibson – which turned in a record 2020 and acquired boutique amp maker Mesa/Boogie earlier this week – will work with Gene Simmons to "introduce new collections of right and left-handed electric guitars and basses" across the Gibson, Epiphone, and Kramer brands, the release indicates.
Gibson is set to kick off the joint venture "later this year" by releasing the G² Thunderbird Bass, including a main ebony model featuring either silver or "blood red" appointments. Haifa, Israel-born Gene Simmons, the release notes, debuted the Thunderbird at Kiss's 2020 New Year's Eve concert in Dubai, United Arab Emirates.
And after the Thunderbird becomes available for purchase, Gibson "has plans" for both a Flying V guitar and a Flying V bass. In a brief clip from an interview with Gibson (the full video is slated to release on Monday, January 18th), Gene Simmons said that CMO Cesar Gueikian conceived the G² venture, which is pronounced "G squared" and stands for "Gene and Gibson."
Addressing his company's deal with Gene Simmons in a statement, Gibson CMO Cesar Gueikian emphasized that G² will encompass both new instruments and new digital content.
"When we first connected, we immediately engaged in the most interesting conversations about guitars, entertainment, and business," said Gueikian in part. "Our shared vision compelled us to explore a partnership that would include developing instruments and creating a new platform to entertain and inspire new generations of Gibson and Gene Simmons fans to create music. Expect epic things."
The Rock and Roll Hall of Famer Gene Simmons said, in part: "Gibson is an outstanding company and has earned its place as a leading guitar brand with fans around the world. These guitars and basses will all be handmade, with a sound that is off the charts. The design is so beautiful and collectible that they are simply works of art."
Gibson, which has developed technology that can make its newly crafted guitars look "aged" and worn, continues to battle Germany-based Warwick in a high-profile trademark lawsuit. And back in November, the 119-year-old business revealed that a pallet of 13 Gibson Adam Jones 1979 Les Paul Custom electric guitars (worth a total of $95,000) had been lifted from a truck.
While it doesn't appear that law-enforcement professionals have yet identified the thieves, Gibson quickly announced that it would remake the limited-edition guitars, adding a "special notation" to their headstocks so that they can be differentiated from the stolen units. Gibson expects to ship the second batch of guitars in early February.