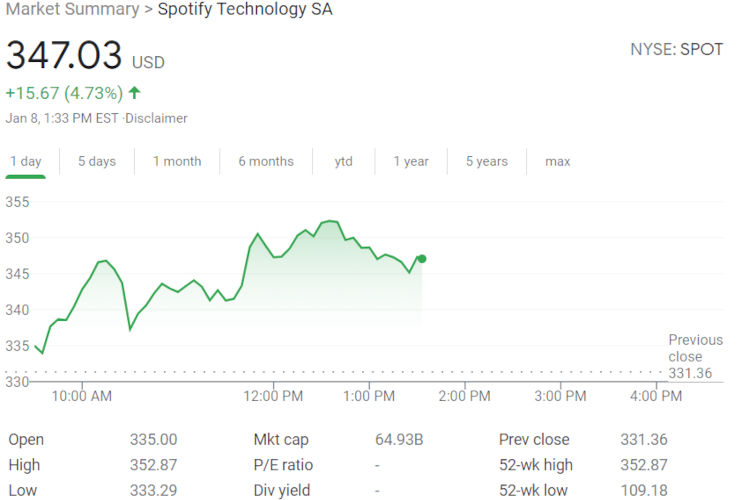 Bank of America has dramatically increased its Spotify stock target price; the Stockholm-based streaming service is slated to release its Q4 2020 earnings report in about one month.
Bank of America analyst Jessica Reif Ehrlich recently set a $428-per-share target price (from $357) for Spotify stock, which has quietly climbed to nearly $350 per share (from $311 per share) since Monday, January 4th. SPOT shares were trading for $347.03 apiece at the time of publishing – close to yet another all-time-high price point and more than double their roughly $150-per-share value in early 2020.
In spite of these record stock-price jumps, however, the Bank of America financial professional believes that additional gains are forthcoming. Explaining her bullish view of SPOT's earning and growth potential, Jessica Reif Ehrlich cited Spotify's expansion into new markets (including a long-awaited arrival in South Korea, population 52 million, in 2021's first half) and the rollouts' presumed positive impact upon MAU and premium-subscribership totals.
For reference, Spotify added 21 million users – including six million paid accounts – during 2020's third quarter, bringing total MAUs to 320 million and premium users to 144 million. In Q3 2019, Spotify had 113 million paid users and 141 million ad-supported users, and Spotify's churn rate in Q3 2020 dipped below four percent for the first time.
Additionally, Bank of America pointed to the potential growth-related impact of Spotify's continued emphasis on podcasting.
The ultra-popular Joe Rogan Experience – which appeared to kick off SPOT's months-long ascent – became available exclusively via Spotify in December. Plus, the company bought podcast platform Megaphone for $235 million in November.
During July, August, and September of 2020, podcasters uploaded some 400,000 new programs to Spotify, upping the total podcast library to 1.9 million. Even so, just 22 percent of users "interacted with" the shows, up one percent from Q2 2020. With new JRE editions accessible solely through Spotify – and with the influx of other podcasts arriving on the service – it'll be interesting to see how the interaction figure changed during the final three months of 2020.
Also worth noting, in the broader context of Spotify stock, is that other financial professionals have taken bearish positions on SPOT. Even as shares approach $400 apiece, Credit Suisse has maintained its $315 target price and downgraded the stock's rating from "outperform" to "neutral." Credit Suisse analyst Brian Russo indicated that the company's short-term podcast earnings are already factored into the price.
Earlier this week, Spotify's ongoing effort to remove hundreds of thousands of indie tracks over "artificial stream" violations began making headlines.