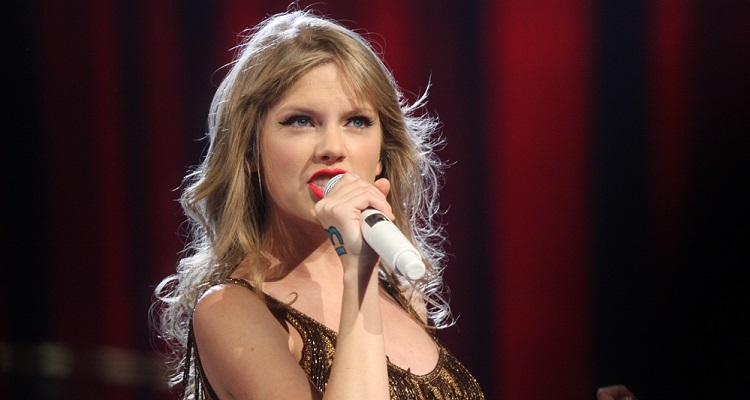 Taylor Swift has officially re-recorded her second studio album, Fearless, including each of the 2008 work's original tracks as well as six "never before released songs."
The 31-year-old singer-songwriter formally announced the updated version of Fearless today, in a lengthy message to her fans. Worth noting at the outset is that the latest Fearless edition is set to release in early April, as 10 mid-word capital letters in Taylor Swift's post spell out "April Ninth"; the delivery date listed on Swift's webstore confirms the timetable.
Pennsylvania-born Taylor Swift has long spoken of her desire to re-record the albums she originally released with Big Machine Records – a total of six works, against the three projects she's made available to fans via UMG's Republic Records thus far. Moreover, her much-publicized dispute with Big Machine appeared to reach a fever pitch in late April of 2020, when her former label released an album entitled Live from Clear Channel Stripped 2008 without her prior knowledge or direct consent.
Swift indicated in a message that the live-performance album had originally been recorded when she was 18, during a radio set, before doubling down on her intention to begin re-recording her studio albums in November, when she stated that she would be contractually able to do so.
On cue, November saw Swift skip the American Music Awards (despite receiving the top honor for the third year running) because she was in the process of re-recording the works. That same month, manager Scooter Braun – who, via his Ithaca Holdings, had acquired Big Machine Label Group (and the masters from Swift's first six albums) in 2019 – sold the Lover artist's catalog to Shamrock Holdings in a deal that was reportedly worth north of $300 million.
"I'm thrilled to tell you that my new version of Fearless is done and will be with you soon," Swift wrote today when announcing the quick-approaching rerelease. "It's called Fearless (Taylor's Version) and it includes 26 songs.
"I've decided I want you to have the whole story, see the entire vivid picture, and let you into the entire dreamscape that is my Fearless album. That's why I've chosen to include 6 never before released songs on my version of this album," continued Swift.
Additionally, Swift specified that the newest version of "Love Story" – which she previously licensed for a Match.com commercial crafted by Deadpool actor Ryan Reynolds and his Maximum Effort company – will release tonight. Moving forward, it'll be worth monitoring Shamrock's response to the rereleases, including in terms of how the Roy E. Disney-founded company works to recoup its investment.