Analysts' stats predict Spotify podcast listeners will surpass Apple this year. Here's a peek at the data.
Spotify spent much of the last two years acquiring various podcasting properties. From snapping up Gimlet Media and hosts like Anchor, it appears that investment is starting to take fruit. Analysts' models predict that Apple will surpass Apple in monthly podcast listeners in the United States.
Spotify Podcasts overtook Apple Podcasts already in the rest of the world. Europe, India, and South America all greatly prefer to listen to podcast content via Spotify. But Apple Podcasts has reigned supreme in the United States, where the iPhone enjoys considerable market share.
Analysis from the two apps by eMarketer predicts Spotify's monthly podcast listeners will reach 28.2 million this year. It will beat out Apple's monthly podcast listeners at just 28 million for the first time in the US. Apple has been growing its podcast strategy, but not as the same clip as Spotify over the last two years.
Analysts predict the Spotify monthly podcast listeners' stats will continue to surpass Apple into 2023.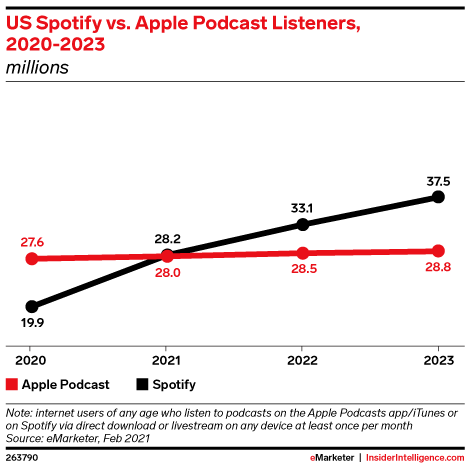 Official numbers show analysts believe Spotify's podcasting efforts could reach 37.5 million monthly listeners by 2023. That's in contrast to Apple's monthly listeners at just 28.8 million in the same period. Apple's share of the podcast market has dropped significantly in the last five years.
In 2018, Apple Podcasts held a 34% share of US podcast listeners. That number has dropped to only 23.8% share in 2021.
Spotify's mixture of music and podcasts has introduced many new people to spoken word content. It's a strategy that has paid off in the short-term, but it creates an awkward user experience for music-only listeners. eMarketer's Peter Vahle says Apple will have to play catch-up to surpass Spotify now.
"Apple was the de facto destination for podcasts for a long time, but in recent years, it has not kept up with Spotify's pace of investment and innovation in podcast content and technology," Vahle told Digital Music News. "Spotify's investments have empowered podcast creators and advertisers through its proprietary hosting, creation, and monetization tools."
Podcast advertising in 2021 will surpass $1 billion and is expected to reach $2 billion by 2024. Apple is in talks to launch a podcasting subscription service as part of its Apple bundle. We've also covered the same rumor on the Spotify side of things. Right now, Spotify podcasts still contain ads for Premium listeners which has rightfully miffed many people who pay for an ad-free experience.